Sheetz, Inc. President/CEO Travis Sheetz and Executive Vice President of People and Culture Stephanie Doliveira will present "People and Culture: A Panel Discussion" at Indiana University of Pennsylvania on March 22 from 11:30 a.m. to 12:20 p.m.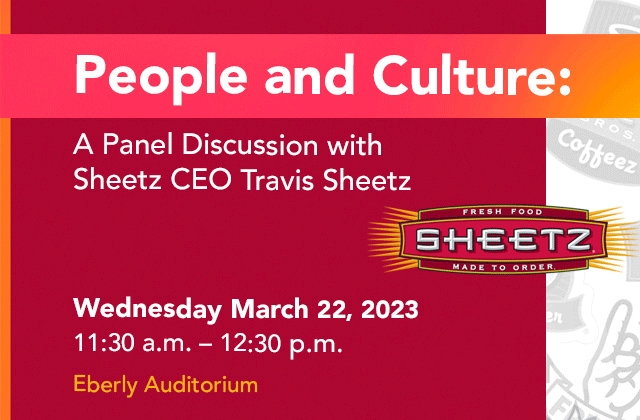 The presentation, free and open to the community, will be held in the Eberly Auditorium in the Eberly College of Business.
Sheetz, Inc. public relations manager and Indiana native Nick Ruffner, a 2006 IUP graduate and 2002 graduate of Marion Center High School, will serve as moderator for the program.
Sheetz, a family owned and operated convenience retailer based in Altoona, has more than 24,000 employees throughout the company's six-state operating area. Recognized by Fortune as one of the 100 Best Companies to Work For, Best Retailers to Work For, Best Places to Work for Women, and Best Workplaces for Millennials, Sheetz is committed to offering sustainable careers built on an inspiring and authentically inclusive culture. The company began in 1952.
The discussion is sponsored by the IUP Office of Strategic Partnerships and the Division of University Advancement.
"We are thrilled to welcome Travis, Stephanie, and Nick to IUP," IUP Vice President for University Advancement Khatmeh Osseiran-Hanna said. "The Sheetz family is an inspiration and leader in their industry—the wealth of knowledge and experience the group plans to share with our students is invaluable. I am confident this event will be a valuable learning experience for all who attend."
Sheetz, Inc. is the 2013 recipient of the IUP Center for Family Business Distinguished Family Business award.
About the Panelists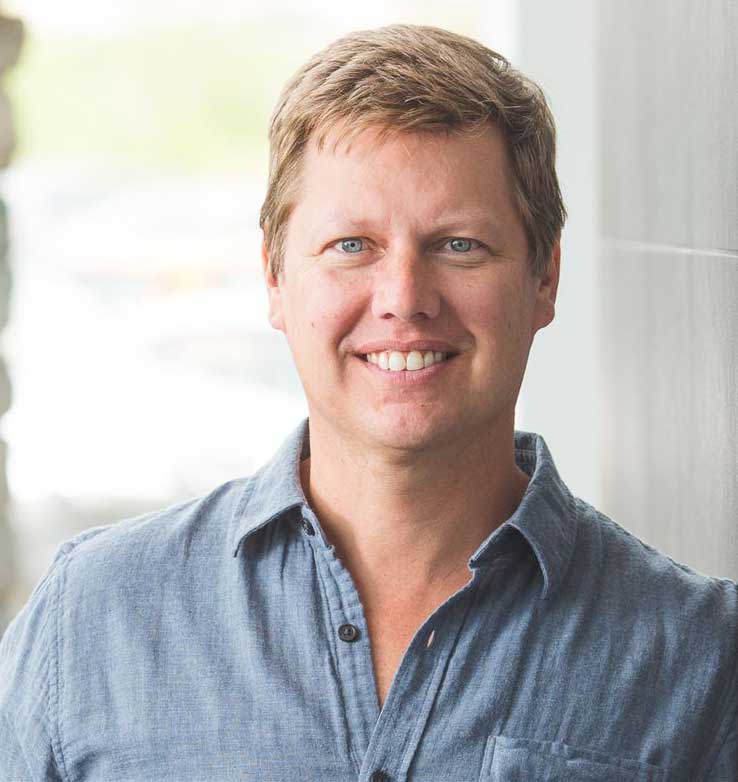 Travis Sheetz was named president/CEO of Sheetz, Inc. in 2022. Beginning his career with Sheetz in 1995, he previously served as real estate site selector in the Pittsburgh and Cleveland markets, director of real estate, director of sales, vice president of operations, and recently as chief operating officer. His education includes a BS in finance from Penn State University in 1992, along with an MBA in marketing from the Owen Graduate School of Management at Vanderbilt University.
He currently serves on the board of directors for Sheetz, Inc. as well as Sheetz for the Kidz, a charity started by Sheetz employees in 1992 to buy toys, clothes, and other necessities for needy children during the holiday season.
He previously served on the boards of various local organizations, including the Hollidaysburg Library on the Hollidaysburg YMCA and Big Brothers-Big Sisters, and was on the Board of Trustees for St. Francis University. He has been a volunteer coach for numerous youth sports programs in the Hollidaysburg community throughout the last 18 years. He and his wife, Erica, reside in Hollidaysburg and have four children: Max, Jenna, Ava, and Ella.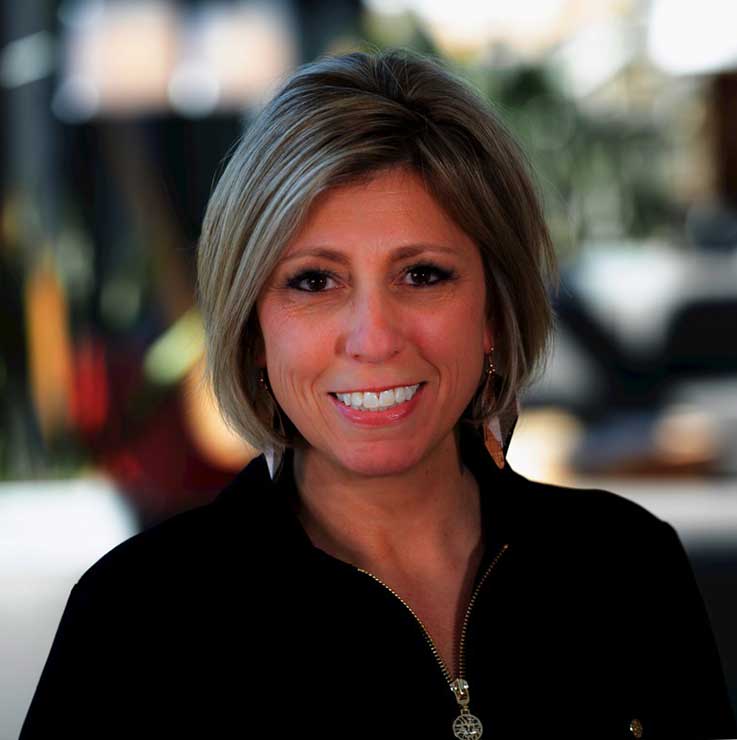 In her role with Sheetz, Inc., Stephanie Doliveira is responsible for strategic planning and execution of people-centric initiatives. She is also the executive sponsor of the company's commitment to IDEA: Inclusion, Diversity, Equity, and Accessibility, an integral part of the overall corporate strategy. 
She is an advocate for children, childcare, and early learning. She is a member of the Pennsylvania Governor's Early Learning Investment Commission (since 2008) and currently serves as the co-chair. She also serves on the Sheetz Family Charities board of directors, an employee-driven charity focused on children in need. 
The Great Place to Work Institute awarded Stephanie the inaugural Great Place to Work for All Leadership Award in March 2018. Convenience Store News recognized her with the Top Women in Convenience honor in 2016 and 2020. In October 2020, S&T Bank and Pittsburgh Magazine recognized her for leadership in a feature series on Women and Business. 
Prior to joining Sheetz, Doliveira practiced labor and employment law representing employers at a firm based in Pennsylvania. She received a bachelor of science degree in labor and industrial relations from Penn State University and a juris doctorate from the Widener University School of Law, Commonwealth Campus. She has two sons, Gabriel and Carter.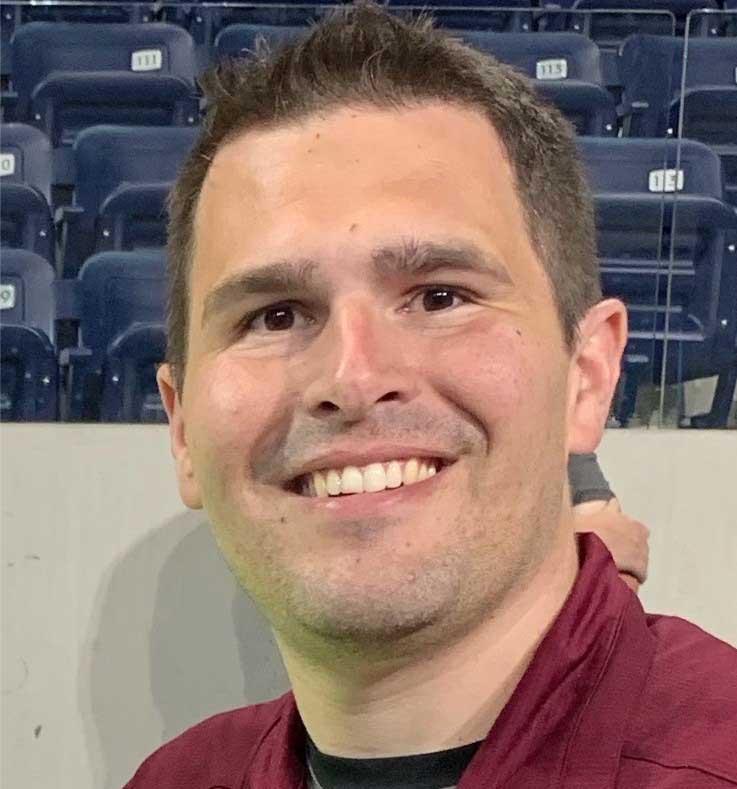 As public relations manager, Nick Ruffner leads the external communications efforts for Sheetz, Inc., which as of March 2023 has more than 670 store locations across Pennsylvania, North Carolina, Virginia, West Virginia, Maryland, and Ohio. Ruffner's responsibilities include all media relations, crisis communications, event planning, new store openings, and donations and sponsorships. 
In addition to his IUP degree, Ruffner graduated with a master of science in broadcast journalism from the S.I. Newhouse School of Public Communications at Syracuse University.
Ruffner began a career in broadcasting in 2007, working as a television anchor/reporter at WJAC-TV in Johnstown up until late 2011. He then served as the news director for a group of seven radio stations in Indiana and Punxsutawney, where he also hosted a daily radio talk show focused on local current events. 
His career in public relations began in July 2013 as a communications coordinator for the Pennsylvania House of Representatives. In that role, he was responsible for the public relations efforts of seven Pennsylvania state representatives. He later was hired as the communications director for Congressman Glenn "GT" Thompson, handling all public relations activities for the Congressman's office. Ruffner served in that role through November 2016, when he moved to the Altoona area to work for Sheetz.
Ruffner lives in Duncansville with his wife, Zoleanne, and three children: Christian, Claire, and Carter.