Five graduates of Indiana University of Pennsylvania have been selected for the 2022 IUP Young Alumni Award.
This award was created to recognize recent IUP graduates identified as being outstanding in their professions. IUP has more than 150,000 alumni all over the globe.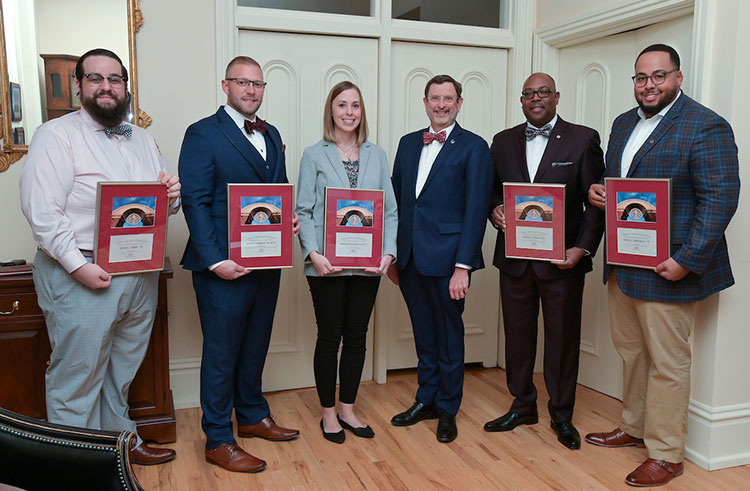 IUP graduates of less than 15 years are eligible for this award. Recipients are selected by the deans of their colleges. When award recipients return to campus for the award ceremony, they are hosted by members of IUP Ambassadors, the student-alumni group, and make presentations to IUP classes in their fields.
Recipients include:
Stephanie Perkovich Kline, of Clymer, originally from Commodore. She is treasurer and chief data analytics officer of S&T Bank, Indiana. Kline earned a bachelor's degree in economics/mathematics in 2007 and her MBA in 2013.

Andrew Longacre, of Presto, president and CEO of Millennium Family of Companies. Longacre earned two bachelor's degrees in safety science and political science in 2013 and his MBA in 2019.

Derrick L. Maultsby Jr., of Pittsburgh, associate attorney at Frost Brown Todd LLC in Pittsburgh. He earned his bachelor's degree in criminology in 2017.

Wayne N. Walters, of Pittsburgh, superintendent of Pittsburgh Public Schools. He earned his doctor of education in administration and leadership Studies in 2007.

Samuel J. Orsi-Weiser, of Princeton Junction, New Jersey, a member of the New York City Metropolitan Opera. He graduated in 2014 with a bachelor of science in music education.
"IUP is very fortunate to have many rising stars among our young alumni," IUP Vice President for University Advancement Khatmeh Osseiran-Hanna said. "It says something very special about our Young Alumni Award recipients that they make time to meet with students on campus in addition to returning for the recognition event. It's very meaningful to our current students to have these alumni share their career accomplishments and offer tips on careers and making the most of the resources that IUP offers.
"We also appreciate how these alumni give back to IUP in many ways," she said. "Several of our recipients provide ongoing mentoring to students, and direct assistance to students through scholarships," she said. "The bonds of the IUP Crimson Hawk family are strong, and the support and networking opportunities that alumni provide to one another is for life."
Stephanie Kline, daughter of Joe and Andrea Perkovich, is a 2008 graduate of Purchase Line High School. She was selected by the Eberly College of Business.
A Cook Honors College alumna, she went on to earn the University of Pennsylvania's Wharton School of Business's ABA Stonier Graduate School of Banking Diploma and Wharton Leadership Certificate.
As a student at IUP, Kline's econometrics research project received the Best Paper Award at the IUP Undergraduate Scholars Conference. She then presented her research at the Pennsylvania Economics Association Conference.
In her current role at S&T, she oversees the bank's asset liability management, data analytics, and other strategic initiatives. She is active in the community, serving as treasurer/secretary on the board of directors of the Indiana County Community Action Program and treasurer on the board of directors of Clymer Little League.
As an active alumna, Kline serves on the Eberly Business Advisory Council and has visited campus regularly as a classroom speaker, as well as speaking for Economics Club events.
She and her husband, Jason Kline, a 2004 graduate of IUP with an education of exceptional persons major, have two children.
Andrew Longacre was selected by the Kopchick College of Natural Sciences and Mathematics.
While a student, Longacre served as student trustee on the IUP Council of Trustees, a student senator and vice chairman of the University Senate, finance committee member and board treasurer for the Student Cooperative Association Board of Directors, and is a founding father of Phi Delta Theta fraternity. He was also a member of the IUP Ambassadors, Student Government Association, IUP Safety Sciences American Society of Safety Engineers student section, and the track and field team.
He continues his strong affiliation with IUP, serving as a member of the Foundation for IUP Board of Directors and the Leadership Society Advancement Council and participating on alumni speaker panels. Longacre recently established the Wallwork Memorial Scholarship Endowment to honor the memory of his friend and former IUP trustee, Gealy Wallwork.
Originally of Danielsville, he is the son of Charles and Pamela Longacre. He is married to Meghan Longacre.
Derrick Maultsby was selected by the College of Health and Human Services.
Following his graduation from IUP, he graduated from Duquesne University School of Law.
While a student at IUP, Maultsby was an executive board member of the Student Philanthropy Council, a team member of the Frederick Douglass Debate Society, received the 2017 W.E.B DuBois Outstanding Student Award, and helped to found the Give to the Grove Project. He also worked with the Penn student newspaper.
In his current position, he is a member of the corporate and intellectual property practice groups. He serves on the firm's Diversity, Equity, and Inclusion Committee and currently serves on the Venture for America Regional Advisory Board and the Executive Board of the Duquesne University Black Alumni Network.
As an attorney, he has received a number of professional recognitions, being listed in 30 Under 30 by the Pittsburgh Business Times (2020), Trailblazer in the Law by American Lawyer Magazine (2021), and Lawyer on the Fast Track by Legal Intelligencer (2022). Additionally, he is currently in the Advanced Leadership Institute's Emerging Leaders program with Carnegie Mellon University and is a Fellow in the National Bar Association's Associate Academy for Excellence Fellowship.
Maultsby has remained committed to IUP as an alumnus, serving on the Leadership Society Advancement Council and the African American Alumni Scholarship Committee. He has created the Maultsby Diversity in the Law Scholarship at IUP, designed to provide Black pre-law students at IUP financial support as well as mentorship and networking opportunities.
He is the son of Rebecca Palatino.
Wayne Walters was selected by the College of Education and Communications.
He began his college career attending Carnegie Mellon University at the age of 16, where he received a bachelor of fine arts in music performance/music education, then at Duquesne University earning a master's degree in music education/technology.
Working his entire professional career in the Pittsburgh Public Schools, Walters started teaching at King Elementary on Pittsburgh's North Side. Following that, he served as principal of the Frick International Studies Academy 6–8, and then as the first principal of Pittsburgh Barack Obama Academy of International Studies. While remaining as principal of Pittsburgh Obama, he became assistant superintendent of 6–12 schools. In 2017, he became assistant superintendent of Professional Development and Special Programming. In July 2022, Walters was named as the superintendent of Pittsburgh Public Schools, the second largest school district in Pennsylvania.
Samuel Orsi-Weiser was selected by the College of Arts and Humanities.
After earning his degree at IUP, he went on to earn a master's in music vocal performance from Roosevelt University and artist diploma from Chicago Opera Theater. In November, Orsi-Weiser made his debut in Don Carlo with the Metropolitan Opera in New York City.
As an IUP student, Orsi-Weiser was a member of Phi Mu Alpha Sinfonia and participated in numerous choral ensembles.
Among many performances and competitions, Orsi-Weiser has placed first in the Bel Canto Foundation Competition, received the Richard Gaddes Career Grant from Opera Theater St. Louis, was the finalist for the 2018 Luminarts Cultural Foundation, and received the John Moriarty Award from Central City Opera, placing third in the Midwest Region.
In 2021, he was named a winner of the Utah district of the Laffont Competition, formerly known as the Metropolitan Opera National Council Auditions. This year, he made his Nashville Opera debut as Alberich in Richard Wagner's Das Rheingold, noted by the Music City Review as "perhaps the most fully formed Wagnerian voice in the ensemble and the biggest surprise."
While with Washington National Opera's Cafritz Apprenticeship during the pandemic, he performed in the Pop-Up Opera Truck program, bringing opera to diverse communities around the Washington, DC metropolitan area. He also spent time during the pandemic to appear on IUP voice professor Joseph Baunoch's YouTube show, Fireside Live, a project to help voice students stay connected and augment their learning by talking with professionals in the music industry.
Originally from Browns Mills, New Jersey, he is the son of Lisa Tarsan and Ian Orsi-Weiser. He is married to Natalie Orsi-Weiser.