Focus is on Student Scholarships, Assistance Fund, and Food Pantry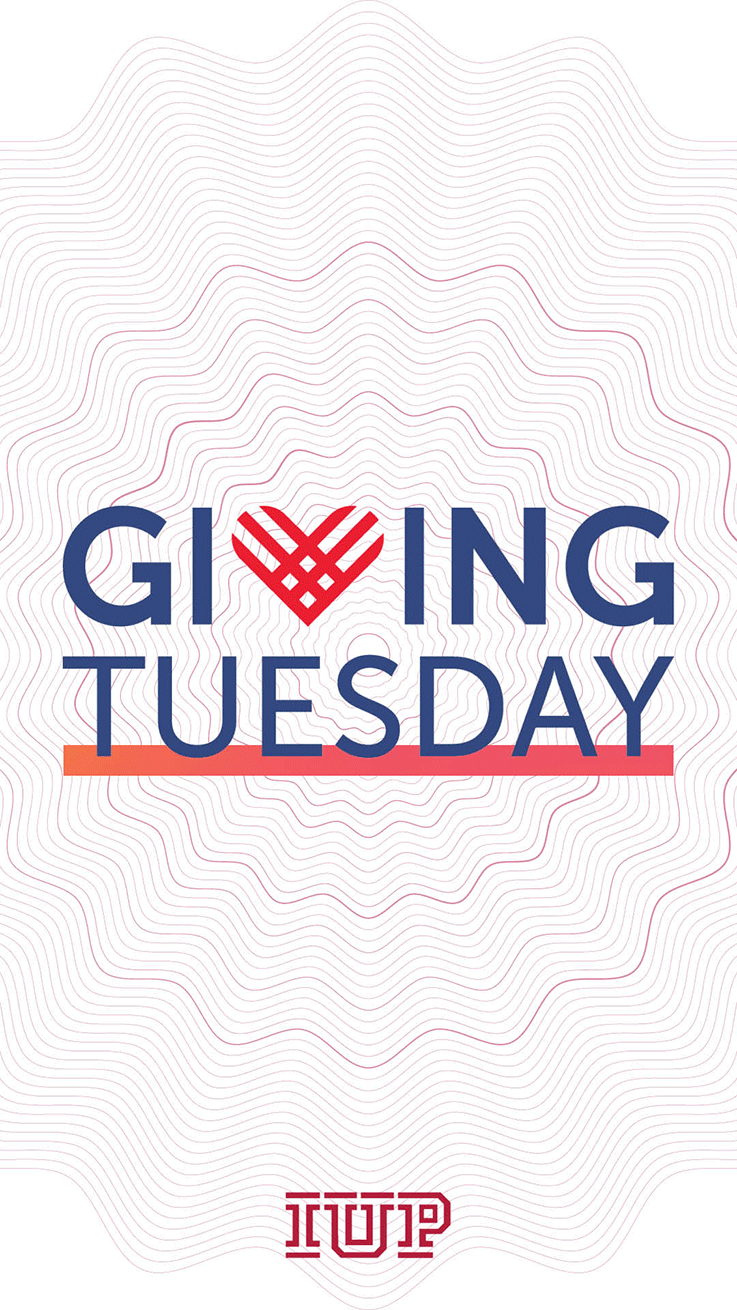 Indiana University of Pennsylvania employees, alumni, students, and friends continued the tradition of shattering the annual Giving Tuesday goal again this year.
IUP raised $41,337, more than doubling the goal during the 24-hour effort, with 204 gifts from 175 donors.
Bergitta Cotroneo, a 1980 IUP graduate from Alexandria, Virginia, matched gifts to the African American Alumni Scholarship; an anonymous donor matched gifts to women's volleyball.
In addition, Col. Stephen Abel, a 1973 graduate from Washington Crossing, continued his tradition of offering the Giving Day Student Challenge to support the IUP Food Pantry and Help Center and the Student Assistance Fund, matching the first 500 students who made a gift of $5 or more with a $10 gift split between the two funds. Col. Abel's match applies to student gifts from July 1 to June 30, 2023.
This year's total exceeded the 2021 amount raised by $12,000, and also increased donor participation.
Giving Tuesday is a national effort, scheduled each year for the Tuesday after Thanksgiving. IUP began its Giving Tuesday tradition in 2017. With this year's total, Giving Tuesday has raised $146,550 for IUP students and student-focused projects.
"Members of the IUP family continue to demonstrate how dedicated they are to meeting the needs of our students, including alumni who provide the matching gift challenges," IUP Vice President for University Advancement Khatmeh Osseiran-Hanna said. "The care and concern that our alumni, staff and faculty, students, and friends have for the IUP family are just inspiring. We truly appreciate the incredible donations of time, talent, and treasures that they continue to offer to our students and to the university."
Overall, funds donated will support 48 different projects across the university, all focused on direct support to students. Highlighted initiatives for this year's Giving Tuesday include the Eberly College of Business, IUP volleyball, the African American Alumni Scholarship, the Student Assistance Fund, and the IUP Food Pantry and Help Center.
The IUP Food Pantry and Help Center provides food, some school supplies, and necessities; over the last three years, it has served more than 1,000 students. In August, IUP was recognized by Pennsylvania First Lady Frances Wolf and Acting Secretary of Education Eric Hagarty as one of seven colleges and universities in the state selected for the Pennsylvania Hunger-Free Campus Initiative for the university's work to address food insecurity. The focus of Giving Tuesday in 2018 was the establishment of the Food Pantry and Help Center.
The Student Assistance Fund, which was established in 2020 as the Emergency Assistance Fund to help students cover costs associated with unexpected technology, travel, and other needs, including those related to the pandemic, continues to support students with emergency financial needs. The 2020 Giving Tuesday campaign focused on the Student Assistance Fund.