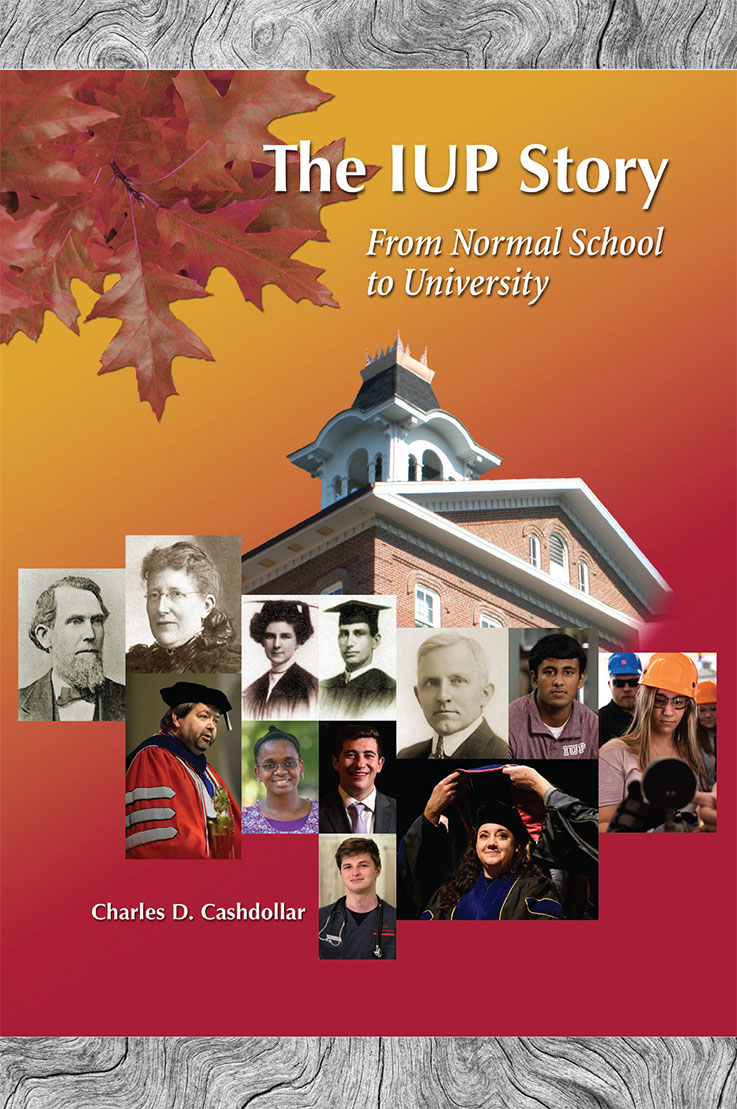 The IUP Story, From Normal School to University is available for purchase at the IUP Co-op Store or by visiting the Co-op Store website. It is also available at the Book Nook in downtown Indiana, 711 Philadelphia St.
While two of her namesake buildings have come and gone, Jane Elizabeth Leonard's legacy – and Indiana University of Pennsylvania's respect for her and appreciation for Dr. Charles Cashdollar and Donna Cashdollar – continues to stand tall.
On Nov. 28 at 5:30 p.m., IUP will dedicate Jane E. Leonard Hall (formerly the Humanities and Social Sciences building) in honor of Leonard's legacy and in recognition of the Cashdollars' ongoing impact on the university.
The dedication event is free and open to the community, and will feature remarks from IUP President Dr. Michael Driscoll, Dean of the College of Arts and Humanities Dr. Curt Scheib, and Dr. Cashdollar.
In May 2021, IUP's Council of Trustees approved naming the building as Jane E. Leonard Hall – as requested by the Cashdollars -- in honor of Leonard's "incredible dedication" and in recognition of the many contributions from the Cashdollars.
Leonard was one of the original staff members at IUP (then Indiana Normal School) when it opened on May 17, 1875, with 150 students and one building. Leonard outlasted all other faculty who began work with her on that opening day, serving IUP for 46 years through financially challenging times.
Dr. Cashdollar, a 1965 graduate of IUP, is an IUP Distinguished University Professor, history faculty emeritus, and Distinguished Alumni Award recipient. He is the founding director of the liberal studies program at IUP and served as the committee chair that led to the establishment of the Cook Honors College.
The Cashdollars recently completed a book about the history of IUP, The IUP Story, From Normal School to University, which includes a separate chapter on Leonard. Donna Cashdollar, an independent graphic designer, has served IUP in a number of leadership roles, including as a long-time member of the University Museum Board of Directors.
"Thankfully, Jane Leonard's name is now transferred to this building, which appropriately houses the academic departments to which she was connected," Dr. Cashdollar said.
"I say thankfully because there is no one in this institution's history who is more important or who is more deserving of being immortalized by a building name than Jane Leonard," he said.
"I am happy if what I have written in my history book or my gentle, if persistent, prodding has helped this to happen. I cannot think of a better way for the university to thank Donna and me for The IUP Story. We are much pleased and very grateful," he said.
Sales of "The IUP Story, From Normal School to University" benefit the Foundation for IUP to promote and support the educational purposes of IUP. The book tells IUP's story from beginning to the present, focusing on its people and campus life.
Prominent themes throughout its more than 400 pages are the school's commitment to excellence and its resilience—through war, depression, and pandemic. The hardcover book is organized in 14 chronological chapters and has many illustrations. It is the first IUP history in 30 years.
"The Cashdollars have been passionate advocates for the need for a building on the IUP campus to honor Jane Leonard," IUP President Driscoll said. "In addition to their work to keep Jane Leonard's legacy alive and documenting the history of the university through their book, the Cashdollars have impacted the lives of thousands of IUP students, including through their philanthropic support for scholarships," Driscoll said.
"It is humbling – but not surprising -- to see that the Cashdollars, who are so worthy of recognition themselves, have insisted that Jane Leonard's legacy come before any personal accolades. However, as we celebrate Jane Leonard's importance in the history of the university, I want to recognize and thank the Cashdollars for building on that important foundation to strengthen this university, and serve our students," he said.
"By all accounts, the values that Jane Leonard embodied are at the center of the principles that we continue to hold fast: a focus on students, above all," Driscoll said. "Her students praised her for her high standards, and for caring about each and every one of them," he said. 
"Aunt Jane," as she was known to generations of students, was Indiana Normal School's preceptress (similar to a Dean of Women position). She also taught English literature, history, and geography.
"Throughout her long and seminal career and influence at the beginnings of this institution, Jane E. Leonard was the central force in the life of this place and of every student who had the good fortune to be in her company," Dean Scheib said. "Similarly, the building that will now bear her name holds that same position at the center of the campus and of every student's academic experience at IUP."
Historical accounts describe Leonard as someone who shaped the character of the university, noting that she adjudicated any kind of student conduct issues, ran faculty meetings, did continuing professional education for graduates through the alumni newsletters, began alumni affairs, was career services in that she used her networks to place graduates, did religious education, and organized the library.
Leonard lived in an apartment in Sutton Hall, described as a "mecca" for students, especially, women, who were encouraged to come to her for advice and support.
She was given the title of preceptress emeritus upon her retirement and was permitted to continue to live in her Sutton Hall apartment. She died there in 1924 at the age of 83. A portrait of Leonard hangs on the first floor of Sutton Hall.
Jane E. Leonard Hall being dedicated on Nov. 28 is the third classroom facility named in Leonard's honor on the IUP campus.
The original Jane E. Leonard Hall was built in 1903, destroyed by fire in 1952, rebuilt and opened in 1954 in the same Oak Grove facing location. That Leonard Hall was razed in 2017 to make way for John J. and Char Kopchick Hall, home to the John J. and Char Kopchick College of Natural Sciences and Mathematics.
The current Jane E. Leonard Hall includes most of the departments and offices in the Leonard Hall that opened in 1954. Departments and programs currently in Jane E. Leonard Hall include English, Geography, Regional Planning, History, Philosophy and Religious Studies, and Political Science.
Ribbon cutting for this $30 million academic building took place in January 2016.
The book is available for purchase at the IUP Co-op Store or by visiting the Co-op Store website. It is also available at the Book Nook in downtown Indiana, 711 Philadelphia St.