Members of the community gathered Monday, Nov. 28, to honor Jane Elizabeth Leonard's legacy and to offer appreciation for Dr. Charles Cashdollar and Donna Cashdollar's contributions during a formal dedication of Jane E. Leonard Hall (formerly the Humanities and Social Sciences building).
IUP President Dr. Michael Driscoll, Dean of the IUP College of Arts and Humanities Dr. Curt Scheib, and Dr. Charles Cashdollar presented remarks during the event.
In May 2021, IUP's Council of Trustees approved naming the building as Jane E. Leonard Hall — as requested by the Cashdollars — in honor of Leonard's "incredible dedication" and in recognition of the many contributions from the Cashdollars.
Leonard was one of the original staff members at IUP (then Indiana Normal School) when it opened on May 17, 1875, with 150 students and one building. Leonard outlasted all other faculty who began work with her on that opening day, serving IUP for 46 years through financially challenging times.
Dr. Cashdollar, a 1965 graduate of IUP, is an IUP Distinguished University Professor, history faculty emeritus, and Distinguished Alumni Award recipient. He is the founding director of the liberal studies program at IUP and served as the chair of the committee that led to the establishment of the Cook Honors College.
The Cashdollars recently completed a book about the history of IUP, The IUP Story, From Normal School to University, which includes a separate chapter on Leonard. Donna Cashdollar, an independent graphic designer, has served IUP in a number of leadership roles, including as a long-time member of the University Museum Board of Directors.
Dean Scheib recognized Leonard's "seminal role she played in the life of this place" during his remarks.
"Her 45 years of devoted and inspirational service shaped the lives of generations of students who had the good fortune to share their journeys with her, and I would argue, continues to shape the lives of students who, while they never had the opportunity to meet her, experience and sense her presence and influence in the heart of who we are as an institution and who we continually strive to become.
" 'Go forth, be true, be brave, be successful.' Jane Leonard's charge to graduates is as important and essential now as it was when she conveyed it so long ago. It is that charge, and that commitment to students, that we celebrate, affirm, and renew this evening by the naming of this building. I am sure that Aunt Jane must be proud."
President Driscoll also spoke to the important role Leonard played in IUP past and present, and recognized the Cashdollars for their contributions.
"Today, 147 years after we began educating students, helping our students succeed is something we talk about and act upon every day here at IUP," Driscoll said.
"It's in her spirit of support that we continue the work she started nearly 150 years ago, and it's in that spirit that we look ahead to our future where students know they can come here and grow, using the support we offer to get an education that will set them up for success the rest of their life.
"I can't say enough about the work Charles and Donna Cashdollar have done for IUP by documenting our history in such an amazing and complete book. With Charles' words and Donna's design, they have created an official record of IUP that shows just how far we have come in almost 150 years, and it gives us a vision for where we need to go.
"On the surface, it may have been a bold move to give Aunt Jane her own chapter in the book, but there's no doubt she deserved it. There are a lot of people whose influence helped shape IUP into what it is today, but it's easy to see that Jane Leonard is the most influential person in the nearly 150 years of our existence, and she deserves an honor like this," Driscoll said.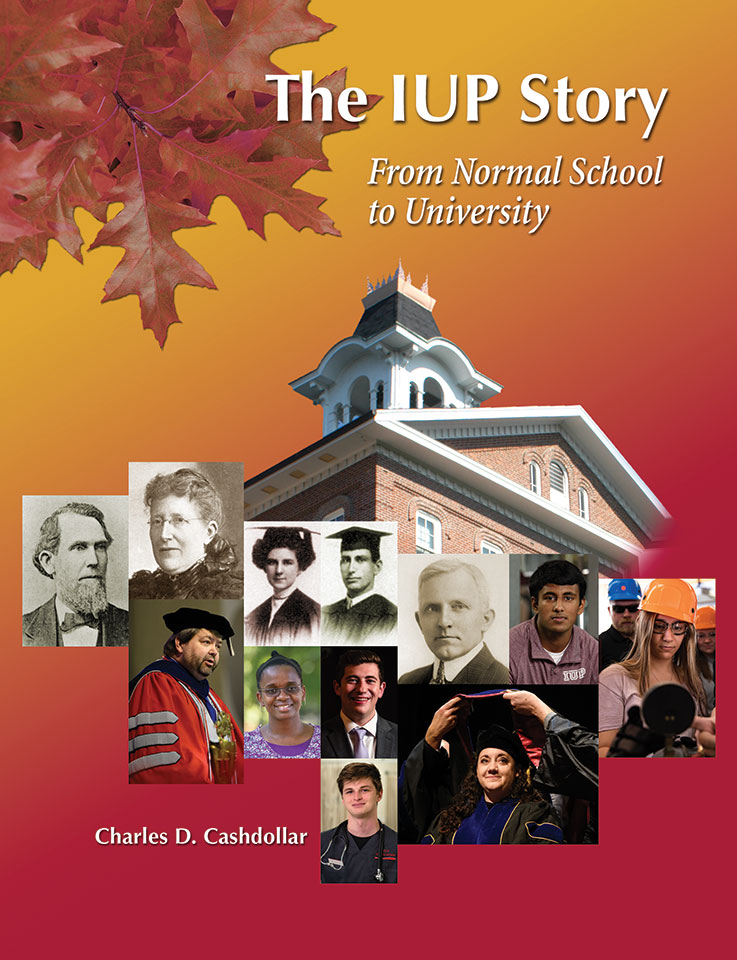 Dr. Cashdollar noted that six years have passed since the building's ribbon-cutting in January 2016.
"We are now reassembled to free it from the cumbersome, generic name that it carried," Cashdollar said. "Some of those who had migrated across campus to new offices here had hoped to carry the name of their former building with them in 2016. It is a joy now to see that wish fulfilled. This is to be Jane E. Leonard Hall.
"Thankfully, Jane Leonard's name is now transferred to this building, which appropriately houses the academic departments to which she was connected. I say thankfully because there is no one in this institution's history who is more important or who is more deserving of being immortalized by a building name than Jane Leonard.
And, I am happy if what I have written in my history book or my gentle, if persistent, prodding has helped this to happen. I cannot think of a better way for the university to thank Donna and me for The IUP Story. We are much pleased and very grateful. ( Read Dr. Cashdollar's full remarks here.)
The Cashdollar book is available for purchase at the IUP Co-op Store or by visiting the Co-op Store website. It is also available at the Book Nook in downtown Indiana, 711 Philadelphia St.
Jane E. Leonard Hall is the third classroom facility named in Leonard's honor on the IUP campus.
The original Jane E. Leonard Hall was built in 1903, destroyed by fire in 1952, rebuilt and opened in 1954 in the same Oak Grove facing location. That Leonard Hall was razed in 2017 to make way for John J. and Char Kopchick Hall, home to the John J. and Char Kopchick College of Natural Sciences and Mathematics.
The current Jane E. Leonard Hall includes most of the departments and offices in the Leonard Hall that opened in 1954. Departments and programs currently in Jane E. Leonard Hall include English, Geography, Regional Planning, History, Philosophy and Religious Studies, and Political Science.
Ribbon cutting for this $30 million academic building took place in January 2016.