US Senator Bob Casey Jr. recently convened a roundtable discussion at Indiana University of Pennsylvania to address rural healthcare workforce and economic needs—and opportunities—in western Pennsylvania, specifically connected to IUP and to Indiana Regional Medical Center.
The discussion provided an opportunity for leaders from both organizations to share and offer expertise for workforce and development needs, priorities, and opportunities.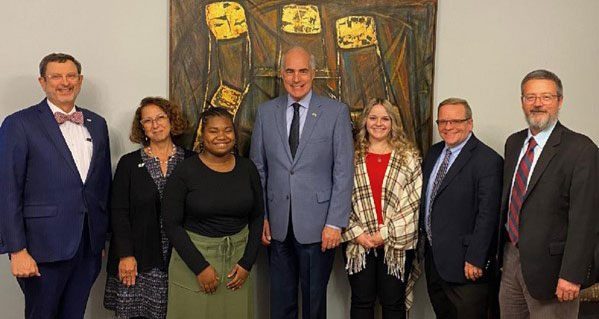 "This very timely discussion recognized the ongoing changes in the regional hospital and health care systems and how it impacts IUP in preparing our students for careers in this critically important field," IUP President Michael Driscoll said. "It was a very fruitful discussion that included exciting and innovative ideas highlighting our successes and identifying opportunities for us to help to generate more graduates in health-related fields."
President Driscoll praised Sen. Casey for his foresight and commitment to this important issue and for conveying the roundtable discussion.
"Supporting growth in health care education and workforce development, along with innovation and equipment enhancements, are key to the health of our communities, and we appreciate our legislative leaders, like Sen. Casey, for the ongoing work and focus on this issue," President Driscoll said.
IUP and IRMC continue to build upon their existing partnership in new ways, recently hosting the inaugural IRMC Day at IUP in April 2022. In May 2020, IUP worked with IRMC to have an IUP faculty member provide much-needed same-day, on-site COVID-19 testing at IRMC. IUP and IRMC are collaborating on community outreach for the upcoming National Rural Healthcare Day on November 17.
"IUP and institutions like it are best equipped to educate and train the next generation of our rural health care workforce," Sen. Casey said. "I was honored to join leaders from IUP and Indiana Regional Medical Center, as well as students, to hear about the challenges and opportunities in front of them as they work to serve rural communities in Indiana County and beyond. I'm going to keep fighting to deliver health care resources to Indiana County and all rural communities in Pennsylvania."
"Expanding the partnership between IRMC and IUP opens the door to exciting possibilities to ensure access to high-quality healthcare by addressing critical workforce shortages and expanding the reach of public health initiatives. We are fortunate to have the interest and support of our legislators in advancing our work," IRMC President and CEO Steve Wolfe said.
Roundtable participants from IRMC, in addition to Wolfe, included Jim Kinneer, chief human resources officer at IRMC. The university was represented by President Driscoll, Vice President for University Advancement Khatmeh Osseiran-Hanna, and Director of Strategic Partnerships Chris Koren. 
The university also invited two key student leaders to add special perspectives to the roundtable: Jaydn Hunter, a pre-medicine major from Norristown, and Kylee Rodkey, a chemistry major from Dilltown. The students provided information on needs for students who are pursuing STEM (Science, Technology, Engineering, and Mathematics) and healthcare careers.