Preparing Nursing Students to Remedy a Global Crisis
Posted on 10/24/22 6:00 AM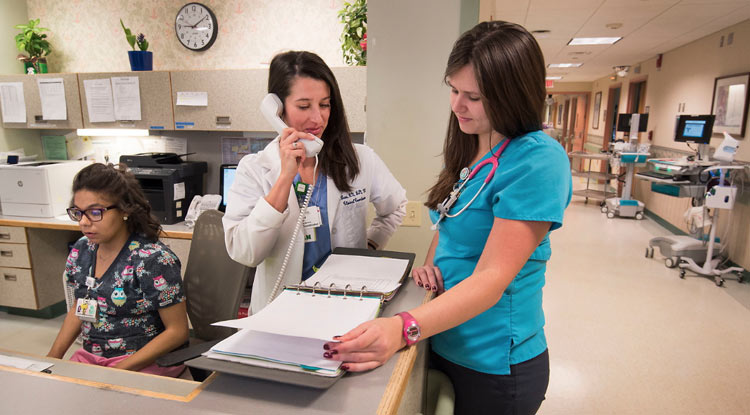 Even before the global pandemic began in 2020, there was a critical shortage of qualified nurses in the United States.
The list of reasons why hospitals, medical offices, and other companies lacked adequate nursing staff is long. There's an aging workforce that had been losing nurses to retirement faster than it was gaining them from colleges, many nurses chose to leave the field for something else because of burnout, and there's a shortage of qualified faculty to teach the next class of nursing students.
Consequently, morale in the nursing field was low, and patients sometimes suffered because of it. Now add in the fact that soon roughly one in four Americans will be 65 or older, and there's another reason for concern.
So, even though it's easy to imagine the effects the COVID-19 pandemic has had on an already thin workforce—one that was suddenly put on the front line of the battle to slow the spread—the statistics are still staggering:
The average age of a working nurse in America is 52.
A recent study suggests that 22 percent of registered nurses and 20 percent of nursing administrators plan to leave, or have already left, their jobs in 2022.
It is projected that a million nurses will leave the field by 2030.
Other studies show that roughly half of recent nursing school graduates have quit their jobs within two years of joining the workforce.
In recent years, two out of three working nurses have experienced some form of bullying from patients and/or patients' family members, while a staggering one in three has been a victim of violence in the workplace.
The American Hospital Association predicts a shortage of half-a-million nurses by 2026.
"It's easy to see where this is all leading," said Kristy Chunta M'00, a faculty member in IUP's Department of Nursing and Allied Health Professions and the coordinator of its PhD in Nursing program. "Xavier Becerra, the US Secretary of Health and Human Services, has declared a nursing crisis."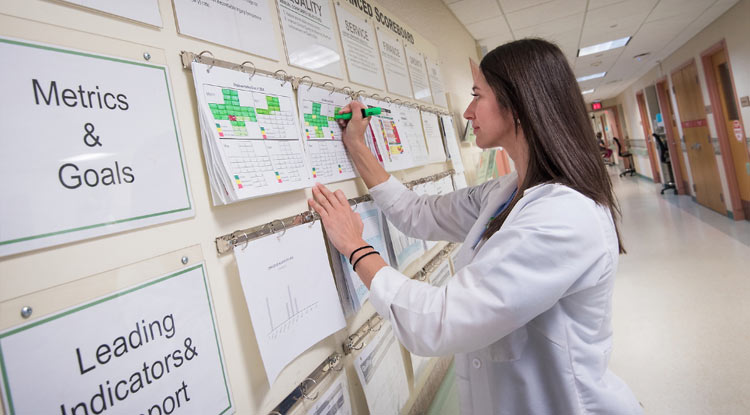 Local Teaching, Global Impact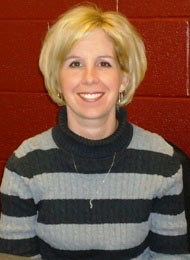 The problem is deeper than a shortage of nurses. The educators who teach nursing, many of them former nurses, were also opting for early retirement, further complicating the problem.
A survey revealed that more than 80,000 qualified nursing school applicants were turned away from baccalaureate and graduate programs in 2019 due to insufficient faculty and/or facilities.
"That starts a trickle-down effect," Chunta said, "where a shortage of nurses isn't adequately addressed because there is a shortage of the educators who can teach the nurses."
The nursing crisis is touching virtually every part of the world, yet the seeds of a solution are being sown on a smaller scale at places like IUP. Already known nationally for its undergraduate nursing program, IUP is helping by continuing to offer, and enhance, its nursing educator graduate-level programs, including the Nursing PhD, Online MS in Nursing, and the Doctor of Nursing Practice to PhD.
"We're growing the pipeline of nursing faculty, especially ones with PhDs," Chunta said. "The number of PhD-prepared faculty across the country has declined, and there's a real concern about that. We need to continue to supply nurses, and we need our programs to continue to prepare nurses for all roles."
"That starts a trickle-down effect, where a shortage of nurses isn't adequately addressed because there is a shortage of the educators who can teach the nurses."
Chunta said IUP has attracted students from all over the country to its graduate nursing programs because of its reputation, as well as its online component, which, ironically, was caused by COVID. When the pandemic started, IUP moved classes online, and when things began opening up, the IUP nursing department opted to keep some of its graduate-level nursing programs fully online. Now, working nurses from places as far away as Colorado, Utah, and California also call themselves IUP students.
Erin Welsh, who earned her bachelor's degree in nursing from IUP in 2020, is a nurse in the medical-surgical unit at Jefferson Abington Hospital in Montgomery County and a student in IUP's online master's program. She plans to continue her education and someday, as a teacher, help prepare new nurses to enter the field.
"The classes I am taking are challenging, but going back to where I got my undergrad is rewarding to see the other side of nursing," Welsh said. "It is really interesting for me to learn about both the teaching aspect and the student aspect. I want to be a nurse educator to help shape future nurses. There is always going to be a need for nurses."
It's about Outcomes
According to the US Bureau of Labor Statistics, there will be an average of 194,000 nursing openings every year for the next 10 years. That's a good thing for schools that have solid reputations for nursing, like IUP.
"People search us out," Chunta said. "They want to come to our program because of our reputation. We have a nursing program that has a great reputation for excellence," she said.
"We have a reputation for excellence because of our high state board pass rates at the undergraduate level and because our graduate programs have a unique niche that focuses on nursing education and preparing future nurse educators at the master's and doctoral levels."
Students who complete any of IUP's nursing programs don't often struggle to find a job. Many have multiple offers.
"The selling point for us is jobs," Chunta said. "Students talk to us a lot about the options they have. A lot of them have interviews and offers before they even graduate. And our faculty do a nice job of identifying the pros and cons of what's the best fit."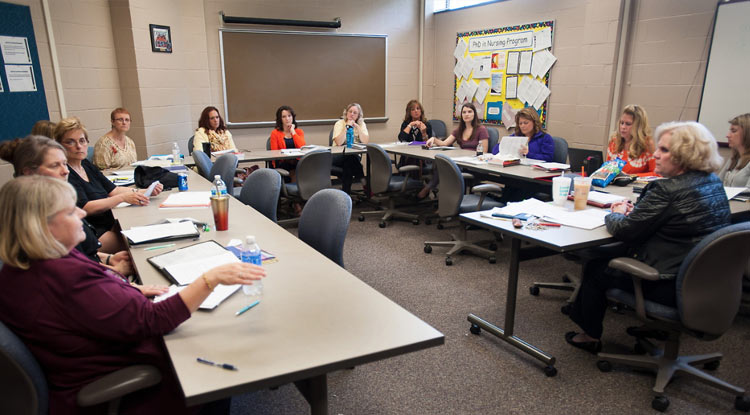 Inspired to Help
Many of IUP's graduate-level nursing students are enrolled because, in their current positions as working nurses, they deal with the shortage.
IUP graduate student Gwen Moorhead works as a traveling RN, currently at UPMC St. Margaret in the Aspinwall section of Pittsburgh. The shortage of nurses has caused concerns for her and her colleagues and strained relations with patients.
"Some days I have eight patients," Moorhead said. "Most days I have seven, and some days I'm in charge as well as having seven or eight patients. Some patients and their families do not understand the staffing issues and can become very impatient with us. It's really hard to give the best care that you can when you have so many patients."
She wants to help by addressing the lack of adequate nursing educators.
"I want to let nurses know that our patients still need us," Moorhead said. "Yes, it is tough, but if nurses can stick together and make the best of what we're dealing with, it's a less stressful situation."
At the hospital where Welsh works, there are frequently an inadequate number of nurses, causing a domino effect throughout the facility.
"I want to show students that there is still so much joy and fulfillment that comes with being a nurse. We, as educators, need to continue to show the many benefits of nursing."
"If our floor is properly staffed, but another floor is not, they take one of our nurses to their floor so they can properly get through the day," she said. "We are left with more patients and a heavier workload."
Jacquelyn Stange, a Level 1 Trauma nurse in the stroke center at UPMC Presbyterian Hospital in Pittsburgh, is enrolled in IUP's online master's program because every day she faces the intersection of the nursing shortage with the more demanding care her patients need, and it can lead to burnout, worsening the nursing shortage.
"I want to show students that there is still so much joy and fulfillment that comes with being a nurse," Stange said. "We, as educators, need to continue to show the many benefits of nursing."