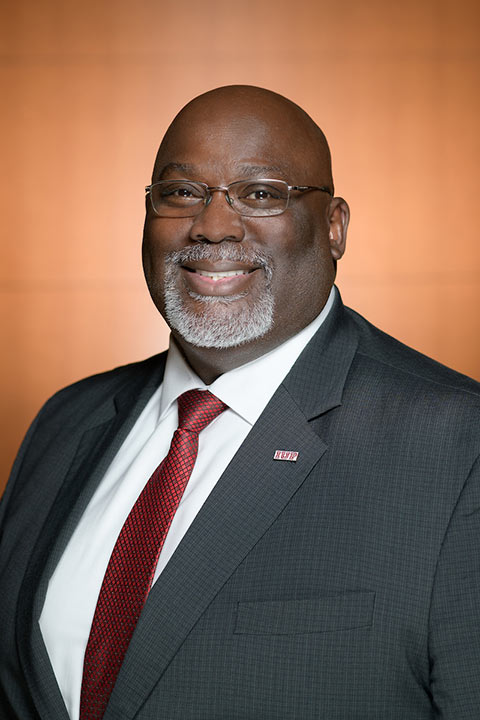 Indiana University of Pennsylvania Vice President for Student Affairs Thomas Segar has been selected for a volunteer leadership role in a national organization working to make leadership training for youth more accessible.
Segar has been named as one of only 26 inaugural Aspen Index Senior Impact Fellows, all experienced leaders in higher education, who are committed to coming together to advance the future of youth leadership development.
The Senior Impact Fellows will be exploring research, interventions, and strategies necessary to accelerate the access to and quality of youth leadership programs nationally. The goal of the initiative is to lift youth exposure to high-impact leadership programs above 50 percent over the next five years.
"In essence, our efforts are focused on making youth leadership development more accessible to youth throughout the world," Segar said.
The Aspen Institute Leadership Development Index (Aspen Index) is a digital assessment tool that measures leadership capacities to accelerate personal and professional growth. Built on 20 years of peer-reviewed empirical research, the Aspen Index offers the only national, normative dataset for benchmarking across a broad spectrum of demographic groups. Designed with statistical techniques to mitigate bias, the Aspen Index is designed and tested to be responsive to users' diverse identities and experiences.
As a doctoral fellow at the University of Maryland College Park, Segar was part of the first research team to work on the multi-institutional study of leadership which informs the Aspen Index.
"I'm very honored to be asked to serve as a senior fellow and work with an incredible team of colleagues from around the country," he said. "The hard work we did 17 years ago was rewarding then, and it's very gratifying to see that research in action. I feel like I've come full circle." 
"Higher education is all about helping our students building those leadership skills that set them up for success, and I'm very pleased to be part of this work through the Aspen Index," he said.
Segar joined the IUP community in June 2019, coming to IUP from Shepherd University, where he served as vice president for student affairs.
Since coming to IUP, he has established a number of programs focused on student success and retention, including the Crimson Scholars Circle, a program to provide mentorship and support to increase the retention and persistence of Black and Brown students. Under his tenure, he has supported or initiated the Guides mentoring program, the annual Lead@IUP Student Leadership Summit, the Folger Student Center, and increased programming within the Center for Multicultural Student Leadership and Engagement.
For the past 20 years, Segar has been an independent consultant on topics of administrative and student leadership, multiculturalism, diversity, and social justice, assisting more than 60 higher education institutions, high schools, and organizations throughout the United States to implement diversity, student or administrative leadership, community building, and social justice workshops or program reviews or multi-day training experiences.
He has delivered more than 50 national and regional referred presentations and has been an invited keynote presenter or invited presenter to more than 70 conferences and higher education instructions throughout the United States.
Prior to his work at Shepherd University, Segar worked at Gettysburg College, Shippensburg University of Pennsylvania, and the University of Maryland College Park.
He earned his bachelor's degree in psychology with a certificate in African American Studies from the University of Maryland College Park; his master's degree in counseling with a specialization in college student personnel from Shippensburg University of Pennsylvania; and his doctorate in college student personnel administration with a concentration on teaching and social justice in higher education from the University of Maryland College Park.