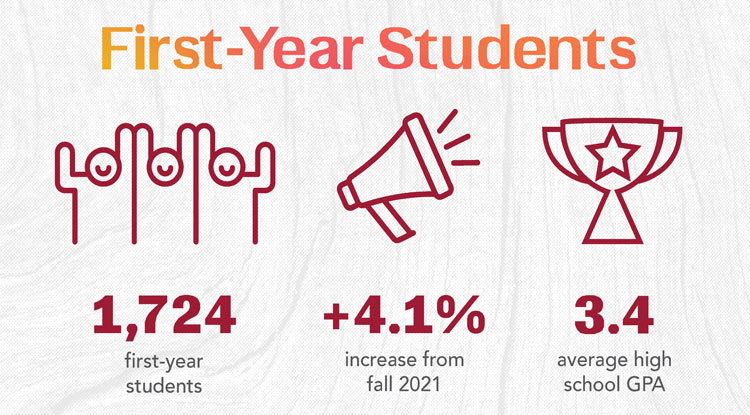 New student undergraduate enrollment at Indiana University of Pennsylvania is up by more than 4 percent for fall 2022, and the number of students in career preparation programs has increased by 14 percent, the largest number of students in these programs since 2019.
This increase in new, undergraduate, degree-seeking students reverses a five-year dip of new student enrollment and is part of a pattern of positive news related to overall fall enrollment, including the academic quality of new students at IUP.
"Enrollment is a team effort," IUP President Michael Driscoll said. "We are very pleased to see these increases, and other positive trends related to this important work, especially in light of declining numbers of high school graduates in Pennsylvania, and a decline nationally in the college-going rate," he said. "The growth in our career preparation programs in hospitality and health and safety are important to filling critical national workforce needs," he said.
According to the National Student Clearinghouse Research Center, college and university enrollment nationally in fall 2021 (the most recent numbers available) was down 6.6 percent compared to fall 2019 enrollment; this is a loss of more than 1 million students over two years.
Despite this national trend, IUP welcomed 1,724 new, first-time students this fall, an increase of 68 students from fall 2021. These new students have an average high school grade point average of 3.4 (up from 3.37, the high school grade point average of fall 2021 new students). A total of 1,234 of these new students enrolled for fall 2022—more than 71 percent—graduated from high school with a grade point average of 3.0 (or higher).
Top 5 Majors
Nursing
Criminology
Psychology
Management
Biology
A total of 322 students are enrolled in IUP career preparation programs this fall, up from 299 in fall 2021. Enrollments are as follows: Criminal Justice Training Center (28); Academy of Culinary Arts in Punxsutawney (148); paramedic training program (40); Emergency Medical Program (34); school resource officer training program (20).
The diversity of the student body also is strong and includes a 2 percent increase in international students enrolled for fall 2022.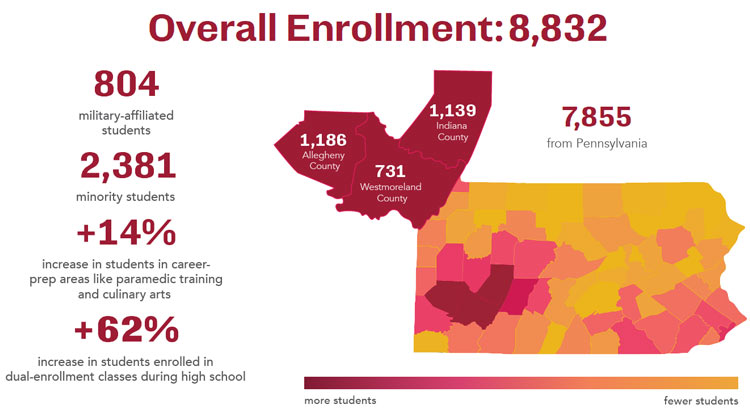 A total of 403 students from 64 countries—up from 52 countries represented in fall 2021—are studying at IUP this fall. The percentage of international students enrolled in graduate programs is at its highest point since fall 2019, and enrollment in the American Language Institute is up by 126 percent, with a total of 43 students.
Almost 2,000 students identify themselves as minority, or 19 percent, comparable with fall 2020 and fall 2021 enrollment. Overall, 27 percent of the IUP student body are international or minority students. A total of 559 students are from outside Pennsylvania.
"Our world and our country are growing more diverse, and I'm pleased to see this strong reflection of that in our enrollment," Driscoll said. "Having students from many different backgrounds enriches learning for all of us."
Dual enrollment (high school students enrolled in IUP courses) is up by 62.5 percent over fall 2021. There are 91 students from high schools throughout the commonwealth enrolled in IUP coursework, which is the highest number of dual enrollment students since 2009.
Dual enrollment at IUP Punxsutawney saw an increase of 20 students from fall 2022.
IUP discounts dual enrollment classes by 75 percent; the Punxsutawney Area College Trust, a long-time supporter of IUP and its students, now funds the cost for students at Punxsutawney Area High School, which permits students to enroll in IUP classes at IUP Punxsutawney for free. A total of 18 students from Punxsutawney High School are in IUP dual enrollment classes this fall.
"The support from PACT is intended to make a difference in the lives of students and families, by eliminating some of the financial barriers to a college degree," IUP Council of Trustees Chairman Sam Smith said. "It's wonderful to see students taking advantage of this opportunity and, speaking as a member of the IUP Council of Trustees, I want to express our appreciation to PACT for its support.
"As a member of the Trust, I also want to express our appreciation to the leadership team at Punxsutawney Area High School for their work in facilitating this opportunity for the students," Smith said.
"It is very gratifying, especially in light of demographic challenges, to see the increase in new students for fall, and the strong enrollment in our career preparation programs, including the Academy of Culinary Arts, as we move forward to enhance our facilities through the long-range building plan for the Academy," he said.
"Offering the dual enrollment opportunity for qualified and promising young students is very important to us," Vice President for Enrollment Management Patricia McCarthy said. "Not only does it provide a very affordable option for students to begin their studies, it also opens the door to new possibilities for students who may not be certain about attending college. This is a great way to acclimate to the expectations of both academics and university life, and begin this next chapter in their education," she said.
"There are positive trends across the State System, and we are guardedly optimistic about the opportunities to stabilize and possibly even grow longer term," Pennsylvania State System of Higher Education Chancellor Daniel Greenstein said.
"To me, these trends suggest that through our System's redesign our universities are positioning themselves to serve more Pennsylvanians even better—offering all affordable, high-quality pathways that lead to sustaining careers. Our work reducing the cost of attending a PASSHE university, ensuring programs of study equip students to excel in the workforce today as well as tomorrow, expanding access to high-school and community college transfer students, and reaching out to adults who need to re-skill and up-skill is beginning to bear fruit," Greenstein said.
Overall, a higher percentage of students in the fall 2021 cohort of first-time, full-time, undergraduate, degree-seeking students who were eligible to register for fall 2022 are registered as compared to any of the past three cohorts; this number exceeds the three-year average by almost 2 percentage points.
This fall, IUP saw increases in enrollment in a total of 33 counties in Pennsylvania. For the first time since 2019, IUP has increased new enrolled students from Allegheny County and has also seen an increase in the number of students from the 13-county Pittsburgh region of over 18 percent (130 students).
This increase is despite demographic challenges in the Pittsburgh region: the number of students graduating from high schools in that area has decreased nearly 6 percent from 2015–16 to 2021–22.
"We are very happy to see an increase in the number of students from the Pittsburgh region," McCarthy said. "IUP has extensive ties and strong relationships and partnerships to Allegheny County area businesses and industries, including programs like the Pittsburgh Promise. This is in addition to our more than 40,000 alumni in the region and a graduate center in Wilkins Township," she said.
The number of students from Indiana County also increased for fall 2022 from fall 2021; in fact, IUP saw the highest number of new, first-time applications and enrollment compared to each of the past seven years from Indiana County students.
"Indiana is our home, and we are very proud to welcome our local students," she said. "We often hear from our local families that they didn't realize how many opportunities we can offer, right here in their own backyard."
A total of 804 students at IUP are veterans or military-affiliated, about 9 percent of the student body. Of this population, 779 students are in graduate or undergraduate degree programs, with an additional 25 students in IUP's clock-hour programs.
Since fall 2014, IUP has increased the enrollment of veterans and military-affiliated students by almost 70 percent. IUP opened its Military Resource Center (now the Military and Veterans Resource Center) in spring 2014 to better serve these students, working collaboratively with IUP programs and services and serving as a one-stop information and referral site to help veterans and military-affiliated students transition to college life and achieve their academic goals.

Of IUP's total fall 2022 enrollment of 8,832, a total of 1,778 students are enrolled in one of IUP's 40 master's programs, and 726 students are studying in IUP's 14 doctoral programs.
"As I said in the spring and during our fall opening program, we expected to see enrollment between 8,000 and 9,000, understanding that the number of high school graduates in our region is continuing to decline," Driscoll said. "However, the number of positive trends in our enrollment tell us that our hard work is paying off."
"In addition to the work that we have done related to reducing the cost of attendance through our Tuition Affordability Plan, and keeping fees, housing, and meal costs steady, we are taking a very hard and honest look at what we can do to help our students succeed, including addressing the issue of retention and persistence.
"A group of faculty, staff, and students are working together to create an 'amped-up' Student Success Center to provide a more proactive approach to academic issues and advocacy, with one person as the single point of contact for students and families who need information or help," Driscoll said. "We expect that this initiative will launch later this academic year.
"We also are continuing to work to make sure more students have access to an IUP education, including developing additional partnerships with high schools and with community colleges and new student programs—like our Crimson Scholars Circle and expanded Welcome Week events—to help to ensure students are successful from the start," he said.
According to a report from the Lumina Foundation, 60 percent of jobs require some kind of higher education, but only 51 percent of the workforce have the level of education these jobs need—including jobs in healthcare, education, and technology.
"I am absolutely optimistic and positive about IUP's future, and the continued role we will play to prepare the well-educated leaders that our world so desperately needs," Driscoll said.
"IUP will celebrate its sesquicentennial in 2025, and we are ready for the next 150 years and beyond," Driscoll said. "IUP is just too important to our community, our region, our commonwealth, and our world to be anything but committed to looking forward to the future with optimism and excitement."