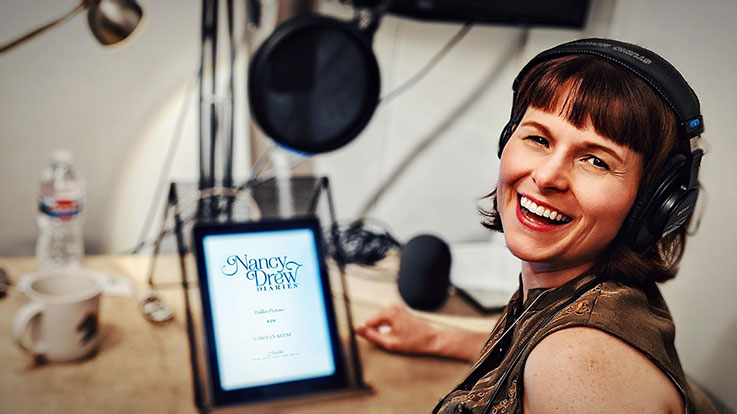 Award-winning voice actress and television writer Jorjeana Marie will offer an interactive presentation, "Writing as Play: Have Fun and Boost Your Productivity with Playful Approaches to Writing," on October 20 from 4:00 to 5:00 p.m. in Stabley Library, room 201.
The event is free and open to the community.
Marie, an Indiana native and IUP alumna, is also the author of Improv for Writers: 10 Secrets to Help Novelists and Screenwriters Bypass Writer's Block and Generate Infinite Ideas.
During her presentation, Marie will share tips and tricks to help writers to get started writing, boost writing output, and have fun in the process. A meet and greet will be held immediately following the event. Refreshments will be served, and door prizes will be provided by the Center for Teaching Excellence.
The program is sponsored by the IUP Libraries and the Center for Teaching Excellence.
Marie is an award-winning television writer and actress on the Disney show Mickey Mouse FunHouse. She is also a nationally touring comedian opening for Richard Lewis and Kathleen Madigan.
She is the "voice" on many shows on Nickelodeon and Disney and has narrated more than 400 audiobooks for authors, including Meg Wolitzer, Nina La Cour, Jacqueline Woodson, and Gayle Forman.
She has earned a prestigious Audie, more than a dozen Earphones awards, and has been named one of the best YA voices for consecutive years. She is the voice of the New Nancy Drew Diaries, and AudioFile says "Jorjeana Marie captures the essence of what makes Nancy Drew such a timeless fictional icon." As an actress, Jorjeana starred in the pilot Listen to Grandpa, Andy Ling with Randall Parks and Elliott Gould.
Other writing credits include being a staff writer on Tab Time, the forthcoming Dew Drop Diaries for DreamWorks, Mickey Mouse and the Roadster Racers for Disney, Robot Trains for Netflix, and Gumibear for Cartoon Network. Her desire to create work for herself led to becoming an award-winning playwright, creating and performing three one-woman shows in New York and Los Angeles: "Ally, MaryJane & Me," "NY, I Love," and "JoJo and Friends"—a sold-out solo sketch show with animation, puppets, and stand-up. With an endorsement from Daisy Rock Guitars, Jorjeana performs "micro-songs" in her act.
While she shares her passion for improv by teaching and speaking at Disney, Google, CBS/Scriptwriter's Network, and Cartoon Network Studios, she is often involved in many charitable organizations as a host and comedienne, including Gilda's Club, Comedy Cures, Comedy Fights Cancer, Paul Newman's Double H hole in the Wall, and Young Storytellers. She is currently working on her own comedy special and new book.