Diversity, Equity, and Inclusion Summit
November 2–4
An Indiana University of Pennsylvania Distinguished Alumni Award recipient will be honored by the Pennsylvania State System of Higher Education for her longstanding contributions to diversity, equity, and inclusion efforts at IUP.
Debra Evans Smith, a 1981 IUP criminology graduate who received the university's Distinguished Alumni Award in 2022, is an inaugural Pennsylvania State System of Higher Education Keepers of the Flame award recipient. Smith retired from the FBI after a 30-year, award-winning career.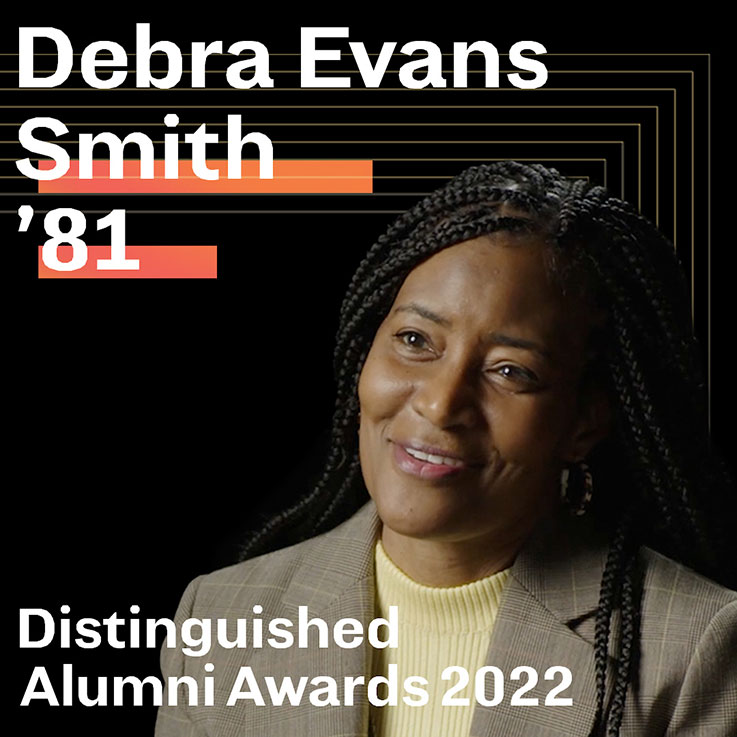 Smith will be honored on November 4 during the State System's Diversity, Equity, and Inclusion Summit. The Summit, which will be held virtually, will live-stream the award ceremony, which begins at 3:15 p.m.
Award recipients were nominated by their universities.
"Debra Evans Smith is really the gold standard of involved and committed alumni," Chief Diversity and Inclusion Officer and Title IX Coordinator Elise Glenn said.
"She has distinguished herself with an incredible, award-winning 30-year career, and continues to give back to the university and to our students in all possible ways," Glenn said. "It is our honor to nominate her for this recognition."
Students, Meet Debra Evans Smith
Tuesday, November 1
11:10 a.m.–12:25 p.m.
Eberly Auditorium
Smith currently serves on IUP's Alumni Board of Directors and the Black Experience Alumni Committee. She has made numerous presentations to IUP students and staff over the years, including serving on the Diversity, Inclusion, and Equity in a Professional Workplace panel discussion held in March 2021 and speaking during an event for students after the Derek Chauvin verdict. In her continued commitment to mentoring students, she will speak to criminology students at IUP on November 1. She was the first alumni representative on the President's Commission for Diversity and Inclusion.
The Keepers of the Flame Award honors those who are longstanding contributors to diversity, equity, and inclusion efforts at the university, whose work has contributed to the solid foundation that undergirds and motivates DEI work at their campuses.
In this inaugural year, the Keepers of the Flame Award will recognize "Foundation Builders" at each of the 14 campuses. Foundation Builders are employees (past or present), alumni, or community stakeholders who are longstanding contributors to diversity, equity, and inclusion efforts at the university.
Smith was one of the first 50 Black female FBI agents in the 1980s. A "spy chaser" for most of her career, she won top honors for her role in such cases, including the case of Robert Hanssen. Smith received the Attorney General Award for Intelligence and the United States Attorney's Award for her role in this major espionage investigation. She also received the National Intelligence Community Certificate of Distinction for her role in a national security matter.
In March 2008, Smith entered the Senior Executive Service and served in a joint duty position as chief of the Counterespionage Group at the Central Intelligence Agency. From 2009 to 2010, she served as special assistant to former FBI Director Robert Mueller III.
From 2010 to 2013, Smith served as special agent in charge at the Washington Field Office, initially over the Administrative Division, and transitioning to the Counterintelligence Division where she was responsible for all counterintelligence and espionage matters in Washington, DC, and Northern Virginia. She briefly served as the acting assistant director in charge of the Washington Field Office, prior to being promoted to deputy assistant director of the Counterintelligence Division at FBI Headquarters. Smith retired in 2014 after 30 years of service.
After retirement, she returned to the FBI and managed a priority initiative under directors James Comey and Christopher Wray to address what had been the bureau's inadequate record on diversity, equity, and inclusion. She also cochairs the Minority Inclusion: Reevaluating Real Opportunities Responsibly (MIRROR) Project, a grass-roots strategy developed by a group of retired special agents who are concerned with racial disparities within the FBI.
Sponsored by the State System Office of Diversity, Equity, and Inclusion, the 2022 Diversity, Equity, and Inclusion (DEI) Summit will be held virtually November 2–4. This year's theme is "What does it mean to belong? Cultivating relationships and centering equity in our communities."  
The Summit is open to all students and employees at IUP and throughout the State System.
Registration is free and can be made on the State System website; a complete schedule of events is posted on the event website.
On November 2 in the Elkin Hall Great Room, IUP will celebrate the DEI Summit with an in-person reception, immediately followed by a community in-person watch party of the Summit programming for the opening day. The reception and watch party are open to all students and employees.
The reception is from 2:30 to 3:00 p.m.; the watch party begins at 3:00 p.m. with showing the live-streamed opening message from Cynthia Shapira, chair of the State System Board of Governors, and Denise Pearson, State System vice chancellor for diversity, equity, and inclusion.
The in-person watch party at Elkin Hall will continue with the live-streamed presentation of the November 2 keynote at 3:30 p.m. with Terrell Strayhorn, professor of higher education and women's, gender, and sexuality studies at Illinois State University.
Strayhorn's presentation will be followed by a musical performance at 4:30 p.m. with Zachariah Julian from We Are the Seeds. Julian is from the Jicarilla Apache Reservation in New Mexico.
Refreshments will be served during the reception and watch party, and giveaways will be provided to attendees (as supplies last).