DEI Summit To Open With In-Person Reception and Watch Party Event for Opening Session
Posted on 10/21/22 11:40 AM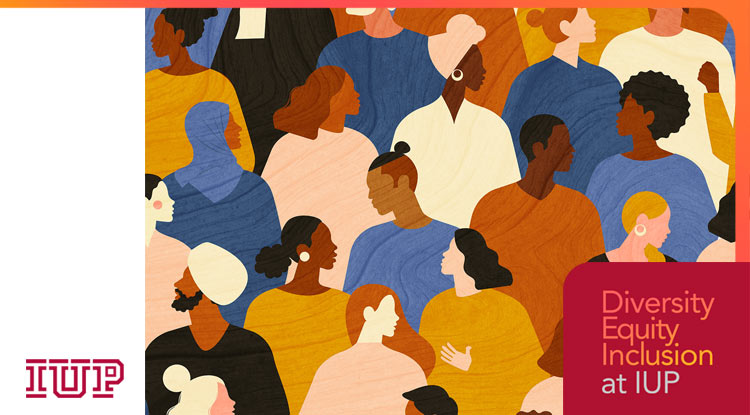 Pennsylvania State System of Higher Education DEI Summit To Open With In-Person Reception and Watch Party Event for Opening Session
Sponsored by the State System Office of Diversity, Equity, and Inclusion, the 2022 Diversity, Equity, and Inclusion (DEI) Summit will be held virtually November 2 to 4. This year's theme is "What does it mean to belong? Cultivating relationships and centering equity in our communities."  
The Summit is open to all students and employees at IUP and throughout the State System.
Registration is free and can be made on the State System website; a complete schedule of events is posted on the event website.
On November 2 in the Elkin Hall Great Room, IUP will celebrate the DEI Summit with an in-person reception, immediately followed by a community in-person watch party of the Summit programming for the opening day. The reception and watch party is open to all students and employees.
The reception is from 2:30 to 3:00 p.m.; the watch party begins at 3:00 p.m. with showing the live streamed opening message from Dr. Cynthia Shapira, chair of the State System Board of Governors, and Dr. Denise Pearson, State System vice chancellor for diversity, equity, and inclusion.
The in-person watch party at Elkin Hall will continue with the live streamed presentation of the November 2 keynote at 3:30 p.m. with Dr. Terrell Strayhorn, professor of higher education and women's, gender, and sexuality studies at Illinois State University.
Dr. Strayhorn's presentation will be followed by a musical performance at 4:30 p.m. with Zachariah Julian from We Are the Seeds. Julian is from the Jicarilla Apache Reservation in New Mexico.
Refreshments will be served during the reception and watch party, and giveaways will be provided to attendees (as supplies last).
"This is an incredible opportunity to hear, for free, from nationally respected speakers right from your computer," said Tedd Cogar, Senior Assessment Coordinator and LGBTQIA Support in the Center for Multicultural Student Leadership and Engagement, who serves as IUP's representative to the DEI Summit organizing committee.

"We also want to encourage everyone, as your schedules permit, to attend the November 2 reception and watch party," Cogar said. "It's a great opportunity to come together and to have some informal discussion about this important topic," he said.
The Summit includes 46 different presentations, including keynotes each day, and ends with the inaugural Keepers of the Flame: Foundation Builders award ceremony on November 4 at 3:15 p.m.
IUP's recipient of this 2022 award, which recognizes longstanding contributors to diversity, equity, and inclusion efforts at the university, is Debra Evans Smith '81, a 2022 Distinguished Alumni Award recipient.
Seven members of the IUP community will be presenting during the three-day event. These programs are:
November 3:
9:45 a.m., "Sick and Tired: Academic Stress Experienced by International Doctoral-Student Mothers during the Pandemic," by Dr. Crystal Machado, College of Education and Communications, and Ragia Hassan, doctoral candidate
2:45 p.m., "Using Social Media to Create Windows, Mirrors, and Glass Sliding Doors for Transnational Learning: An USA-Israel SoTL Project," by Machado with Dr. Tami Seifert from Tel-Aviv University
November 4
9:45 a.m., "Building a Teaching Circle: A Promising Model For Faculty Professional Development Training," by Rachel DeSoto-Jackson, Jacqueline McGinty, Sudipta Majumdar, and Meigan Robb, Center for Teaching Excellence; Elise Glenn, Chief Diversity and Inclusion Officer/Title IX Coordinator
9:45 a.m., "Ubora Men of IUP: Building a Legacy for Black and Brown Men," Dr. Malaika Turner, Student Affairs
Keynote presentations for the event include Lydia X.Z. Brown, policy council for privacy and data at the Center for Democracy and Technology on November 3 at 8:30 a.m.; Dr. Tracie Addy, associate dean of teaching and learning from Lafayette College on November 4 at 8:30 a.m.; Dr. Amber Sessoms, founder and chief visionary officer for Natural Inclination LLC on November 4 at 12:45 p.m.; and Dr. Jelani Cobb, Ira A. Lipman Dean of Journalism School at Columbia University on November 4 at 4 p.m.