We received word today that Armstrong and Indiana counties have been elevated from a medium to a high COVID-19 community level. The level is a measure of the illness's impact on health and healthcare systems in that area.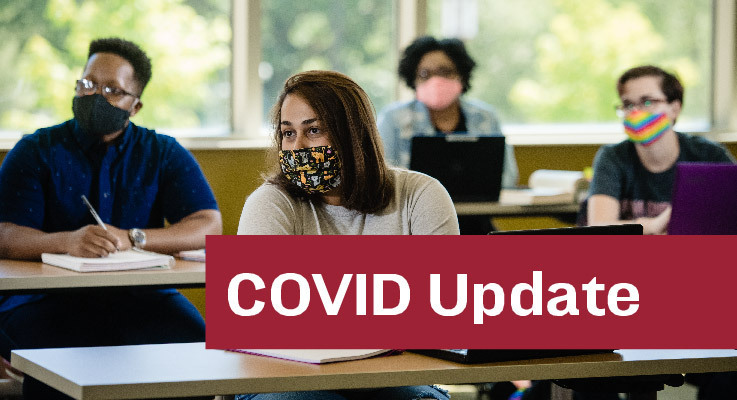 Because of this, we highly recommend that you follow CDC guidelines and wear a mask when you're indoors at any of our buildings at the Indiana or Northpointe campuses. Free masks are available at all buildings and facilities.
Jefferson County, home of the IUP Punxsutawney campus, remains designated as low in the COVID-19 community level.  Allegheny County, home of the IUP Pittsburgh East campus, remains designated as medium in the COVID-19 community level.
While masking indoors is not mandatory, we recommend it as a precaution to limit the spread of the virus, even though the number of IUP students testing positive for COVID has decreased. Recent testing has shown an elevated COVID level in Indiana community wastewater, so we must be diligent to keep one another safe.
If you are concerned or in doubt, wear a mask to protect yourself and others. The expectation also remains that every member of the university community understands, supports, and follows requests for masking in an individual's personal space (offices or residence hall rooms).
We also recommend that if you have been in close contact with someone who has tested positive for COVID-19, you should follow the directions from the CDC. Free testing is available for students at IUP Health Service (in Suites on Maple East) from 8:00 a.m. to 3:00 p.m. Monday through Friday. Testing is available on an appointment or walk-in basis.
Also, if you haven't yet been vaccinated and would like to be, free COVID vaccines are available at IUP Health Service. The most current Bivalent omicron-specific booster is not yet available at IUP Health Service but is expected to be available in the near future.
IUP continues to follow the CDC recommendation regarding masks for individuals who have COVID-19 symptoms, a positive test, or exposure to someone with COVID-19.
In addition to providing free masks, IUP will continue to follow the CDC-recommended cleaning and sanitation procedures in our buildings. IUP's COVID-19 Response Plan website has more information.
It is important for everyone to understand that this pandemic is not yet over. Please continue to be vigilant, take care of yourself, and support and take care of one another.