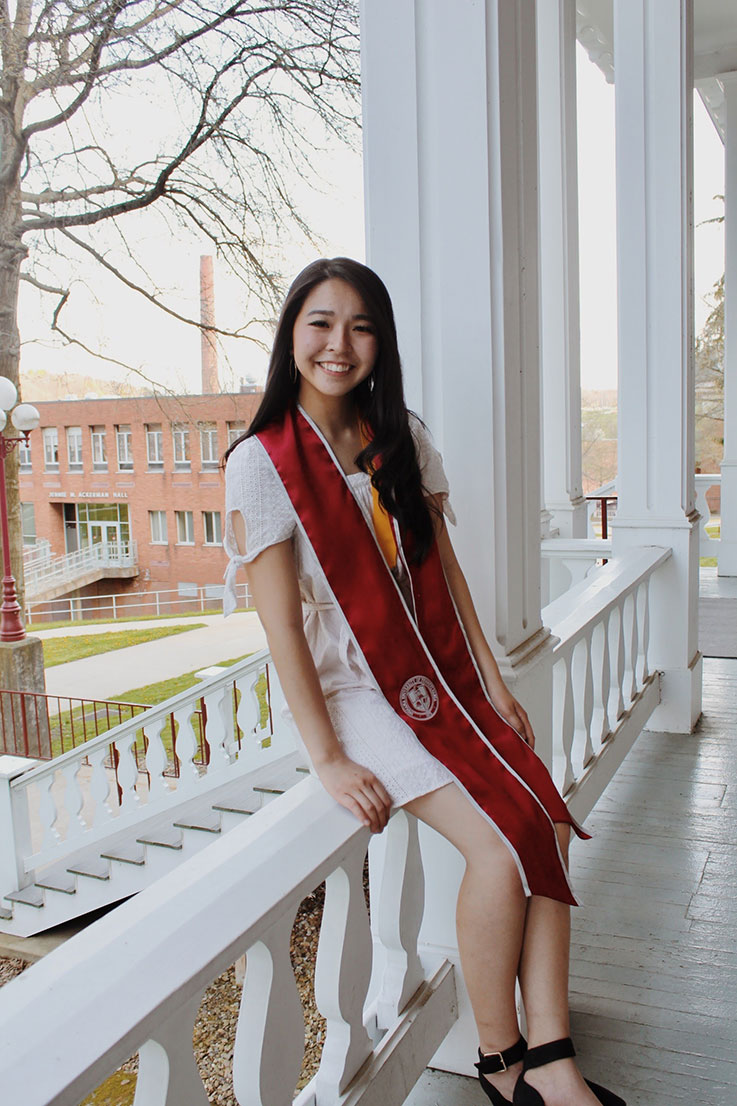 Teresa Kuo of Cabot, a May graduate of Indiana University of Pennsylvania's early childhood and special education program with a concentration in urban education, has been selected for a 2022–23 Fulbright English Teaching Assistant award to Taiwan.
She is IUP's nineteenth student Fulbright recipient since 1968, and the second IUP student selected for a Fulbright in 2022. IUP faculty and administrators have received 75 Fulbright scholarships since 1951.
As a Fulbright recipient, she will be the head English teacher on the island of Penghu, Taiwan, working with elementary and middle school students. She will be leaving for her assignment on August 5. She will complete training there in August and begin the 10-month teaching year in September.
Kuo, daughter of Hsueh-Chen Kuo of Toronto, is a 2018 graduate of Knoch High School. In Pennsylvania, she and her two sisters have made her home with the Rev. Chris Marshall and his wife, Nancy Fairman Marshall, of Cabot, while earning her associate's degree in early childhood education from Butler County Community College. At BCCC, she was selected for a scholarship through Phi Theta Kappa honor society to continue her education at one of Pennsylvania's State System of Higher Education universities. She chose IUP because of its reputation for teacher education and for its urban teaching program.
"Of all the schools I looked at, IUP was the only one that had the urban teaching concentration that I wanted, and I worked with Dr. Shirley Johnson (recently retired faculty member in the College of Education and Communications) to become part of the program," Kuo said.
"In addition, a number of members of the Marshall family attended IUP, so that helped in making my decision," she said. IUP graduates from the family include the Rev. Marshall (1979), his wife (1980); Rev. Marshall's brother Kenn Marshall (1980) and his wife, Colleen McClain Marshall (1979), and their daughter Megan Marshall (2013).
Kuo also received a two-year All-Pennsylvania Academic Team scholarship for her studies at IUP. During her studies at IUP, Kuo was involved in the international honor society in education Kappa Delta Pi and was a dean's list student and provost scholar. She was involved in the Best Buddies program at IUP, which pairs students with members of the community who have intellectual and developmental disabilities.
During the spring 2021 semester, she completed her special education field experience at Hempfield Area High School in Greensburg, teaching high school students on the autism spectrum. During her senior year at IUP, she completed a full-year student teaching experience at Faison Elementary School in Pittsburgh. During this year-long experience, she obtained experience learning to provide culturally responsive, anti-bias instruction.
Kuo had her first international travel experience in summer 2018 with a short-term mission trip to Cambodia, caring for abandoned and orphaned children. During summer 2019, she interned at a faith-based nonprofit organization, Urban Impact, in Pittsburgh.
"Growing up in an underprivileged family, education was my hope and vessel for change," she said. "Ideally, I hope to combine my passion for teaching, advocacy for human rights, and cultural exchange in my future career. My goal is to become a teacher who shows her students what it means to be a global citizen and to foster a love for learning in all contexts.
"I believe the Fulbright scholarship will give me the unique opportunity to combine my passions, with the goal of developing personally and professionally, to help promote accessible, equitable, and quality education worldwide," she said. "I am particularly interested in working with students of diverse ethnic and cultural backgrounds, which is why I have a deep desire to teach abroad for an extended period."
The school in Penghu is very rural, so it is very different than her urban experience, but she is excited to be immersed into the culture and to get to know her students and their families. Kuo is fluent in both English and Mandarin, which is the language that most people speak in Taiwan.
"When I started at BCCC, I told one of my professors there that I had always dreamed of working abroad," she said. "Then I realized that I could teach abroad. When I got to IUP, I talked with Roger Briscoe (an adjunct professor in the College of Education), and he encouraged me to apply for the Fulbright."
While the Fulbright experience spans a year, if things go well, Kuo is planning on traveling and extending her stay in Taiwan.
While she was born in America, she is ethnically Taiwanese and is looking forward to getting to know family members who are in Taiwan.
"It's very important to me to get to know my own community and my heritage," she said. "I'm very excited to meet my family members in Taiwan and learn about their history and culture, and share my diasporic experiences as a Taiwanese-American woman."