Unity Ball Celebrates Latino Culture, Intersectionality
Posted on 4/11/22 1:48 PM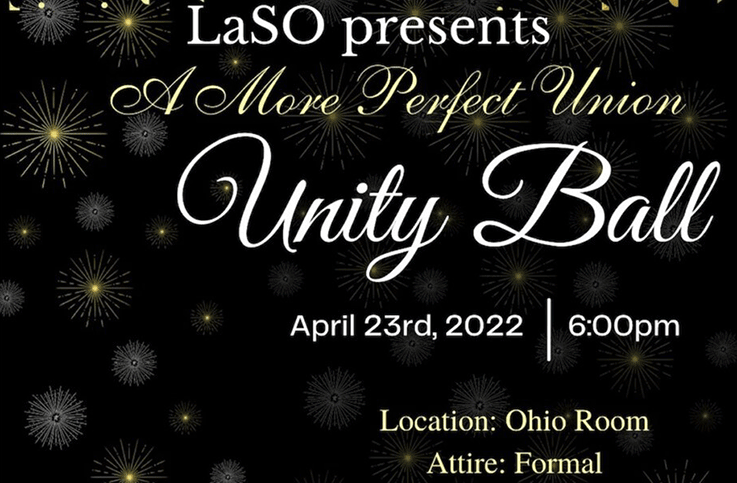 Celebrating Latino culture and intersectionality, Indiana University of Pennsylvania's Latino Student Organization (LaSO) will host the inaugural IUP Unity Ball on April 23 from 6:00 to 10:00 p.m. in the IUP Hadley Union Building Ohio Room.
The event will include refreshments catered by Casa Jaliso and dancing. Formal attire is requested. It is free and open to the community.
Norman Bristol Colón, chief diversity officer and director of Diversity, Equity, and Inclusion for the Pennsylvania Department of Community and Economic Development, will serve as the keynote speaker for the event. His presentation is titled, "A More Perfect Union."
LaSO, celebrating its thirtieth year at IUP, defines its mission as highlighting issues and honoring the Latino culture on campus. With about 18 members, the organization has a newly elected executive board focused on rebranding LaSO and expanding its presence on campus, including offering monthly events on campus for programming ranging from colorism and the Hispanic community to sexism and the machismo culture.
The Unity Ball will highlight a number of aspects of Latino culture, but its overall theme is intersectionality. Intersectionality has a number of definitions, including the acknowledgment that everyone has their own unique experiences of discrimination and oppression, and everything and anything that can marginalize people—gender, race, class, sexual orientation, physical ability—should be considered.
"While the Unity Ball will celebrate Latino food, dance, and issues, we are not a monolith," LaSO president Caio Gomes, an international studies major from Pittsburgh, said. "We are a community, but a community made up of smaller communities," he said. "We want to celebrate Latino culture, but we also want to recognize that individuals fit into many communities, and bring their own individuality to the larger community," he said.
The LaSO executive board, in addition to Caio Gomes, includes Milady Lagunas, vice president; Kendall Gomez, treasurer; Mirna Torres Ayala, secretary; and Veronica Duran Paramo, publicity chair. Donovan Daniel, assistant director of Undergraduate Admissions, is the group's advisor.
The Social Equity and Title IX Office is cosponsoring the Unity Ball with LaSO.
"I am so excited by the great work LaSO has done to make the Unity Ball a reality," Elise Glenn, IUP chief diversity and inclusion officer and Title IX coordinator, said. "Office of Student Equity graduate student Tanniel Hurt and I along with members of IUP's Students Against Racism group met with LaSO to collaborate as to how we could make the Unity Ball open and inclusive for all of our students," she said.
"The idea emerged for an annual Unity Ball sponsored each year by a different student organization. That student organization will create the theme for the ball and have food, music, speakers, and decorations that represent and highlight their culture or their mission. LaSO has run with this idea and planned a wonderful event which we are delighted to sponsor. I know I will be there, and hope IUP is excited for this fun event celebrating Latin culture and Intersectionality," Glenn said.
Colón assumed the role of chief diversity officer/director of diversity, equity, and inclusion for the Pennsylvania Department of Community and Economic Development in December 2021.
The Department of Community and Economic Development works to encourage the shared prosperity of all Pennsylvanians by supporting good stewardship and sustainable development initiatives across the Commonwealth while promoting diversity and inclusion as it provides strategic technical assistance, training, and financial resources to help communities and industries flourish.
Prior to his current work, Colón served as the director of special projects/special assistant to the Secretary of State for the department.
Colón has both government and private sector experience. He was appointed by former Governor Edward Rendell to serve as executive director of the Governor's Advisory Commission on Latino Affairs. He was the youngest appointed and longest-serving executive director in GACLA's history, serving under two governors—Governor Rendell and Governor Corbett.
Colón was one of the founders and first-elected national chair of the United States Council on Latino Affairs—an organization formed by governor's boards and commissions, nationally, to advance the status of the more than 55 million Latinos in the United States. He was also elected national chair of the Interstate Migrant Education Council, a national policy organization based in Washington, DC that advocates for the nation's migrant children and families.
He has served as campaign manager, campaign strategist, political consultant, and staff for school board, city council, judicial, mayoral, county, congressional, gubernatorial, and presidential campaigns, and most recently, he ran as a mayoral candidate.
Early on campus, he worked at Millersville University of Pennsylvania as assistant director of admissions and co-coordinator of minority recruitment, where he developed the university's first comprehensive strategy to recruit Latino students and was the advisor for the university's Society on Latino Affairs. He also was the student support specialist for the Migrant Education Program at Millersville University, a federally funded program providing educational services to students and families of seasonal farmworkers.
Colón is a graduate of Penn State University. In June 2015, he was the recipient of the first-ever Doctorate Degree Honoris Causa in Community Service from the Colegio de Formación Teologica Ministerial for his service statewide and nationally to advance the status of the Latino and other underserved communities.
While a student at Penn State, he was the junior founding father and president of Phi Delta Psi-H Hispanic Fraternity, the first Hispanic/Latino fraternity at Penn State; was a member of Skull & Bones Senior Honor Society; was president of the Puerto Rican Student Association; was a member of the Latino Caucus and interfraternity council; and participated in Penn State's THON, the largest student-run philanthropy in the world.
A native of Puerto Rico, Colón lives in the Harrisburg area, where he is an active member of the community and serves on numerous boards and committees, including HOPE Ministries and Community Services; Adelante Latino Education Committee; the Hispanic Chamber of Commerce of Central PA; Hispanic Chamber CASA (Community Advocacy Service Advancement) Boricua; First Thursday Latino; and the Pennsylvania Latino Convention, the statewide organization addressing the issues of Latinos in Pennsylvania.