IUP Celebration Weekend Honors Donors, Student-Athletes, Alumni Volunteers, Distinguished Alumni Award Recipients
Posted on 4/12/22 8:16 AM
It was a weekend of celebration April 9 and 10, 2022, for IUP, with the annual Celebration of Philanthropy on April 9, the annual Volunteer Recognition Breakfast on April 10, and the Distinguished Alumni Awards Gala on April 10.
IUP President Michael Driscoll and Vice President for University Advancement Khatmeh Osseiran-Hanna presented remarks at each of the events.
Celebration of Philanthropy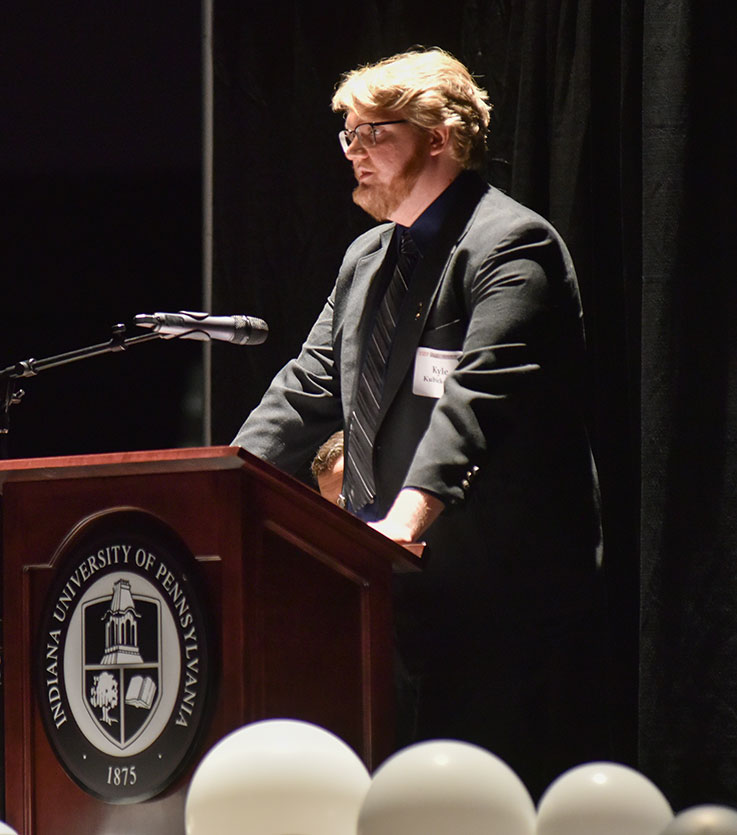 The Celebration of Philanthropy recognizes the generosity of donors to IUP. It was attended by more than 250 members of the IUP family (employees, students, alumni, and community members).
Kyle Kubicko, a senior hotel, restaurant, tourism, and event management major from Natrona Heights, was the student speaker for the event. Kubicko talked about the financial support he received from the Statler Foundation's Scholarship of Excellence. He is the first IUP student to receive this scholarship.
In addition to remarks from Kubicko, student-athletes on the football team and members of the men's and women's basketball and women's swimming and diving teams, which qualified for competition at the national level, were recognized.
Volunteer Recognition Breakfast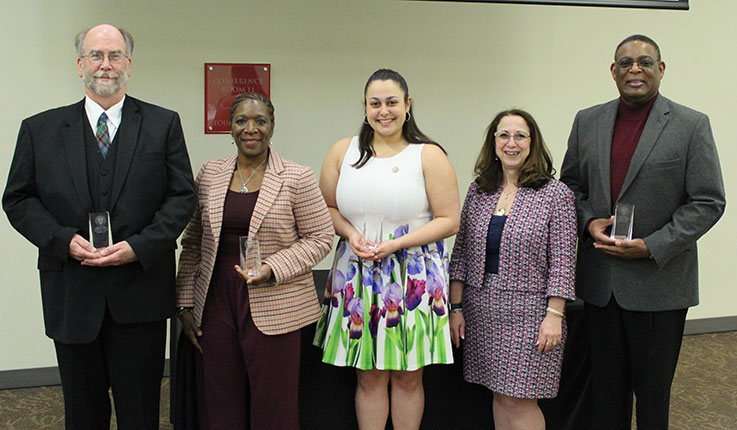 Alumni (including a May 2022 graduate) who demonstrate the spirit of volunteerism for IUP were recognized during the annual Volunteer Recognition Breakfast.
The Award of Excellence for Outstanding Volunteer Leadership was presented to five members of the IUP community in four categories: Advancement Support, Affinity Services, Aspiring Alumni, and Regional Impact. The Award of Excellence program is sponsored by the IUP Alumni Association. Members of the Alumni Association Board of Directors presented the awards.
In addition to the presentation of awards, the event included remarks from Distinguished Alumni Award recipient and Eberly College of Business Hall of Distinction member Regina Stover '75, who retired as managing director of the Bank of New York Mellon.
Advancement Support – Felicia Fred and Don Howe
Felicia Fred, a senior environmental consultant from Landsdowne, and Don Howe, a retired procurement manager from Burlington, New Jersey, received the Advancement Support Award. The Advancement Support Award recognizes alumni who continually inspire others to give back their time and treasures to advance IUP.
Fred, a 1981 marketing graduate, served on the IUP Alumni Association Board from 1998 through 2006, enriching relationships and engaging current and future alumni in the advancement of IUP. She helped to cofound the African American Alumni Scholarship Committee and is a participating member of the Black Experience Alumni Committee.
Howe, a 1979 human resource graduate, served on the Alumni Association Board from 1998 to 2006. He has also assisted in admissions efforts as a volunteer recruiter for IUP. With Fred, he cofounded the African American Alumni Scholarship Committee and is active with IUP's Black Experience Alumni Committee.
Affinity Services – Scott Rhodes
Scott Rhodes, a retired financial services-insurance executive from Thousand Oaks, California, a 1979 criminology graduate, received the Affinity Services Award. The Affinity Services Award recognizes a volunteer who engages alumni through reunions, departmental, and or college activities. Rhodes makes his home in California.
While a student at IUP, Rhodes was a member of the football program, Theta Chi fraternity, Interfraternity Council, and was a residence hall counselor. Rhodes was recognized for leveraging his undergraduate involvement and relationships to plan and organize one of IUP's most widespread reunions for alumni from the classes of 1975 through 1983. He has managed to identify a committee and plan this large-scale event not once, but twice, due to the pandemic.
Aspiring Alumni Award – Mikayla Dokos
The Aspiring Alumni Award was presented to Mikayla Dokos, a senior mathematics education and mathematics double major from Homer City.
Daughter of Michell and Theodore McCaulley and Phoebus Dokos of Athens, Greece, she is a 218 graduate of Homer-Center Junior/Senior High School. She is the former president of the IUP Ambassadors, IUP's student-alumni association, and is currently the co-president of the IUP Math Club. She is a student worker in the Office of the Vice President for University Advancement, a student worker in the Development Math office, is a peer leader for "Peer-Led Team Learning," and is currently doing her student teaching at Indiana Area Senior High School.
She is the recipient of the Terry Serafini Scholarship for Math, the Ida Z. Arms Scholarship, the James A. Boytim Scholarship, and the Mildred M. Reigh Scholarship.
In her role with the IUP Ambassadors, she has routinely attended meetings of the IUP Alumni Association Board of Directors to present reports about the IUP Ambassadors and has been an active student representative at events with IUP alumni.
Tonya Hsiung '00, M'03, president of the IUP Alumni Association Board of Directors, presented the award to Dokos, recognizing her as an "exceptional student leader who continuously shows her dedication and care for IUP. Though the pandemic interrupted half of her collegiate career, she remained steadfast in her commitment to the IUP Ambassador program and modeling the way for younger members and other students."
Regional Impact Award – Dennis Cramer
The Regional Impact Award was presented to Dennis Cramer '75, M'82. The Regional Impact Award recognizes a volunteer who champions IUP in their region by engaging alumni through events, supports recruitment efforts, or provides internship or employment opportunities.
Cramer, a freelance musician from Kittanning, has spent more than 25 years volunteering as a performer, composer, and arranger with the IUP Trombone Choir and Ensemble. He organized and administered the 2011 and 2021 IUP Trombone Studio Reunions and was part of a committee that established the Christian Dickinson Trombone Fund in 2021. He has been the historian for the IUP Trombone Studio since 1996 and has composed and arranged numerous works for the IUP Trombone Choir. He established the Armstrong Concert Band Scholarship to be awarded to a trombone student attending IUP, has acted as an ambassador for the IUP Music Department on numerous occasions, served as a guest lecturer, and performed at the 2019 Veteran's Day concert in Fisher Auditorium.
In addition to this recognition, Cramer received the College of Fine Arts and Humanities Outstanding Alumni Award for Service in 2021.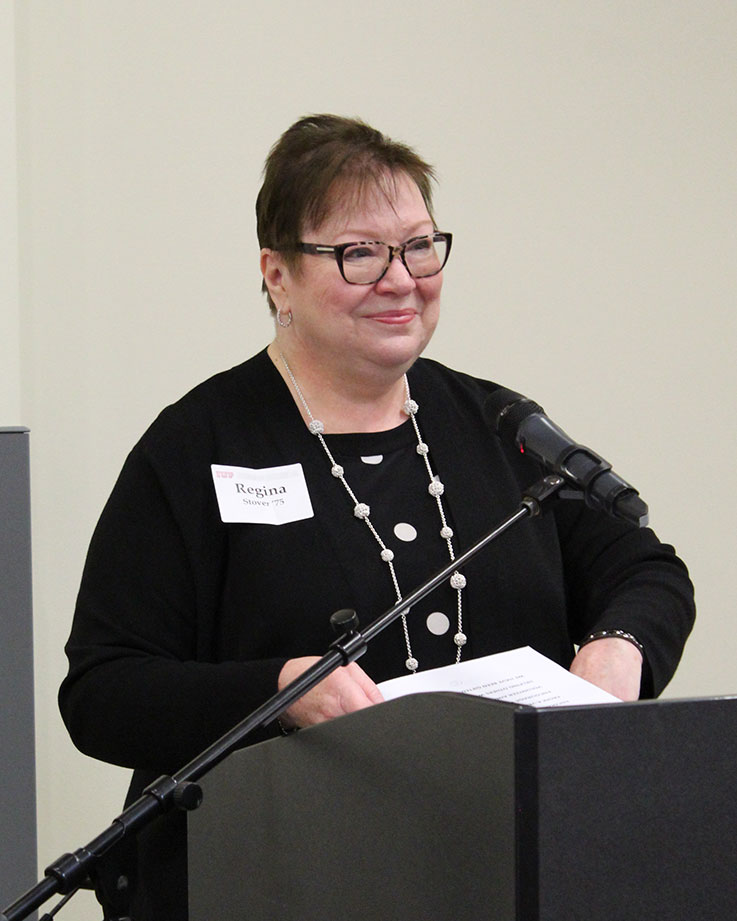 Keynote speaker Stover shared her own experiences as a volunteer with IUP and elsewhere.
Stover began her career at Mellon Bank in the Auditing Department.
In addition to her accounting degree from IUP, Stover earned an MBA from the University of Pittsburgh. She is also a graduate of the Bank Administration Institute School of Banking at the University of Wisconsin. She is a certified internal auditor, certified bank auditor, and certified fiduciary and investment risk specialist. Regina is a founding member of the Trust Compliance Managers Roundtable.
She is a trustee emeritus of Carlow University, a past member of the alumni board of the University of Pittsburgh, a past director of the Foundation for IUP, a member of the Business Advisory Council for the Eberly College of Business at IUP and the Financial Advisory Board for the Sisters of St. Joseph, and chair of the Audit Committee for her church's Finance Council. She has also served in leadership roles for other groups and associations.
In addition to her Distinguished Alumni Award from IUP, she received Distinguished Alumni and Distinguished Service awards from the University of Pittsburgh. In 1999, Stover was nominated for the Athena Award, presented by the Pittsburgh Chamber of Commerce to women who help women achieve personal and professional success.
She and her husband, Dennis Stover, a 1976 graduate, established the Stover Endowed Business Speaker Series at IUP in 2015 to bring speakers of national and international prominence to speak at IUP.
Distinguished Alumni Award Gala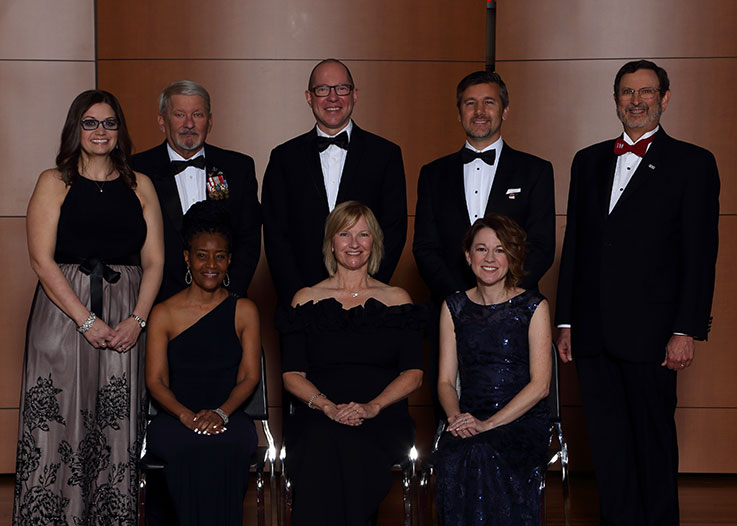 Over the past 35 years, the IUP Alumni Association has honored fewer than 370 out of its more than 145,000 alumni with the Distinguished Alumni Award. This award is the highest award given by the IUP Alumni Association to university alumni. It is presented to alumni who have achieved distinction in their chosen fields or who have demonstrated loyal and active service to their alma mater.
Distinguished Alumni Award Recipients for 2022
Nicolas Arino, M'10. He and his wife, Natalia Lardone, are the first Argentinians to obtain an Eberly College of Business MBA degree. He also set an alumni benchmark when he attained the regional management level at the New York Stock Exchange, where he is the head for Latin America, Bermuda, and the Caribbean.

Thomas Buggey '73. After a career in education at the primary to college level, Buggey is now a private consultant, trainer, and speaker in video self-modeling for children with autism and chief science officer at Invirtua.com. He taught in Pennsylvania and Canada's Newfoundland and along the way earned a Clarion special education master's degree and a Penn State early intervention doctorate. For nearly two decades, he taught at the college level in Tennessee, where he still lives, winning many academic awards, making numerous conference presentations, and publishing widely. He recently rekindled his passion, which originated years ago in Brockway, for relief woodcarving and sculpture.

Jordan Golin, D'96, president and CEO of Pittsburgh's Jewish Family and Community Services, with which he has been associated since 2001. A licensed psychologist, he has maintained a private practice for over 20 years and was director of the psychology department at Sharon Regional Medical Center. The Miami native received a bachelor's degree from the University of Florida and a master's from Jerusalem's Hebrew University. A recipient of numerous awards in his role at JFCS, he guided his organization in helping Pittsburgh recover from the Tree of Life Synagogue massacre by providing words of hope and healing and by arranging interventions for hundreds who suffered trauma reactions.

Larry Gottardi '71. He grew up near the IUP main campus and went on to spend 35 years on active duty with the US Army, retiring in 2006 with the rank of major general. In 2009, he was appointed to the Senior Executive Service. Most recently, he has been acting deputy under the secretary of the Army and director of the Civilian Senior Leader Management Office. The recipient of a Penn State journalism master's degree in 1980 and of numerous awards, medals, and decorations, he served with the Army throughout the US and at posts abroad. Today, he lives in Georgia.

Catherine Marcum D'08, upcoming chair of Appalachian State University's Department of Government and Justice Studies, having come from Georgia Southern University. Published in over 60 peer-reviewed journals and author or coauthor of 20 books, she is a past editor of Corrections: Policy, Practice, and Research and current editor of the International Journal of Cybersecurity Intelligence and Cybercrime. She is an elected trustee of the Academy of Criminal Justice Sciences and president of the Southern Criminal Justice Association, which named her Educator of the Year in 2015. A native of East Bank, West Virginia, she received bachelor's and master's degrees from West Virginia State College and Marshall University, respectively.

Rebecca Stossel Stapleton '84. Stapleton retired two years ago as senior executive vice president and chief banking officer at S&T Bank. She previously served as chief human resources officer, having worked in human resources at the bank since 1988. At the same time, she taught at IUP, Penn State, and the University of Pittsburgh. She serves on the Indiana Regional Medical Center board and the Eberly College of Business advisory council. Passionate about helping women advance, she was the Pennsylvania Bankers Association's Women in Banking state committee chair and the first recipient of its Champion for Women award. A self-employed consultant, she focuses on human resources, executive coaching, and women's initiatives.

A retired senior official with the FBI, Pittsburgh native Debra Evans Smith '81 had a stellar career with the bureau for 30 years, beginning as one of the first 50 Black female agents in the 1980s and ending in the top ranks. A spy chaser most of the time, she won top honors for her role in such cases, including one of the most important in US history—that of Robert Hanssen. After retirement, she returned to the FBI and managed a priority initiative under directors James Comey and Christopher Wray to address what had been the bureau's inadequate record on diversity, equity, and inclusion.