Internationally Known Tubist, IUP Graduate Jim Self to Do IUP Residency
Posted on 3/21/22 2:58 PM
Internationally known tubist Jim Self, a 1965 graduate of Indiana University of Pennsylvania, will be a guest artist in residency at IUP March 27 through March 30.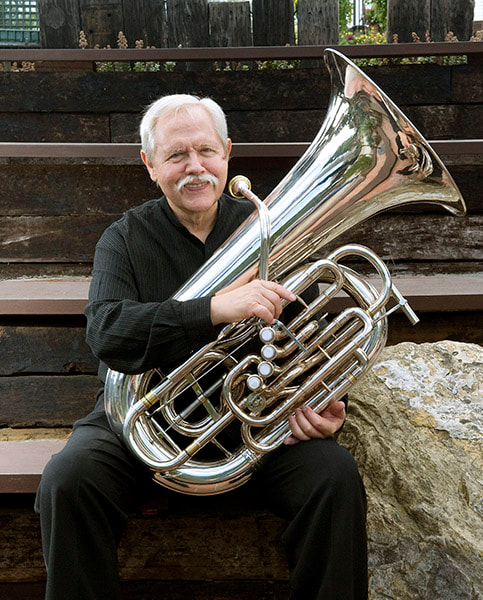 Self, a native of Franklin who also lived in Oil City, is a 2003 IUP Distinguished Alumni Award winner. He is a Los Angeles-based freelance musician and has done studio work there since 1974. He has worked for all the major Hollywood studios, performing for more than 1,500 motion pictures and hundreds of television shows and records. His solos in major films include John Williams's scores to Jurassic Park, Home Alone and Home Alone 2: Lost in New York, and Hook. He was the "voice of the mothership" from Close Encounters of the Third Kind.
"Our alumni are generous with their talents, their contacts, and their resources, donating funds for scholarships and other student-centered resources, and making time for residencies like this," Curt Scheib, dean of IUP's College of Arts and Humanities, said. "Jim Self is a prime example of someone who has built an extraordinary career and continues to give back, inspiring and guiding ongoing generations of music students at IUP.
During his residency at IUP, there will be three concerts, all free and open to the public, featuring Self in performance, performances of Self's music, and music from a collection of CDs produced by Self.
The first concert is part of IUP's fifth Tubaphonium Day on March 27. Tubaphonium Day is a chance for tuba, euphonium, and baritone players of all ages to join the IUP Tuba and Euphonium Studio for a day of performance and learning.
In addition to master classes and a recital from guest artist Self, the day ends with a gala concert at 6:00 p.m. in IUP's Cogswell Hall featuring Self, the Tubaphonium Day Mass Tuba-Euphonium Ensemble, and the IUP Tubaphonium Ensemble. 
A concert featuring the chamber music of Jim Self will be held March 29 at 6:00 p.m. in Gorell Recital Hall, located on the second floor of IUP's Sutton Hall. IUP students and family will perform solo and chamber works by Self.
The final concert of the residency is March 30 at 7:00 p.m. in Gorell Recital Hall. This concert, "The Music of David Angel," will feature selections from Self's 2020 CD set of the music of Los Angeles-based jazz composer David Angel. IUP students, faculty, and alumni will perform Angel's music.
Self and his wife, Jamie, continue to support IUP and IUP music students through a variety of initiatives. The Selfs provided funding to establish the Legacy Brass Quintet, the honors student brass quintet. The Legacy Brass Quintet performs advanced quintet repertoire and receives specialized coaching from the IUP brass faculty. They also continue to support student musicians with the Jim and Jamie Self Tuba Scholarship, and they have provided funds for the Jim Self Chamber Brass collection house in the Orendorff Music Library.
In honor of their contributions to IUP, in 2012, a room in IUP's Cogswell Hall, home to the IUP Department of Music, was named the Jim and Jamie Self Brass and Jazz Room.
A number of concerts by IUP faculty and students have featured works by Self, including concerts during the university's OcTUBA Fest.
Jim Self and IUP music faculty member Zach Collins are both recipients of the Roger Bobo Award for Excellence in Recording. Collins's award was for his album Chronicle, which includes Self's composition "Dozeanddeeze."
As a solo artist, Self, a Yamaha Performing Artist, performs regularly worldwide.
In addition to his work with motion pictures, Self holds principal tuba positions with the Pacific Symphony, Pasadena Symphony, and the Hollywood Bowl Orchestra and the principal tuba/cimbasso position in the Los Angeles Opera Orchestra, which recently did a two-year run of the Wagner Ring Cycle and won a Grammy for Kurt Weill's "Mahagonny."
Self is a past president of the International Tuba Euphonium Association. He is a former faculty member of the University of Tennessee, Principal Tuba in the Knoxville Symphony, and a former member of the United States Army Band, Washington, DC.
In addition to his degree from IUP, Self holds a degree from Catholic University and a doctor of musical arts degree from the University of Southern California Thornton School of Music, where he is adjunct professor of tuba and chamber music. At USC he organized the USC Bass Tuba Quartet which won first prize for chamber ensembles at the 2014 ITEC at Indiana University.
For 35 years, Self was the leader of Tuba Christmas in Los Angeles. For several years he sponsored Creative Tuba Scholarships at various American universities. In 2011 he formally endowed the biannual Jim and Jamie Self Creative Award through ITEA. In December 2008, Self was invited by Gene Pokorny to play a week of Symphonie Fantastique with the Chicago Symphony.
Self was three times voted the Most Valuable Player Award for Tuba by the National Academy of Recording Arts and Sciences and named Emeritus winner in 1987. In June 2008, Self was given the Lifetime Achievement Award by the International Tuba-Euphonium Association at the Cincinnati Conservatory. At that same conference, he was also awarded the first Roger Bobo Award for Excellence in Recording (Jazz) for his CD InnerPlay. At the next ITEC in Linz Austria in 2010 he was awarded the Harvey Philips Award for Excellence in Composition for his piece for eight tubas and drums, "Woojoo."
Self is also a published composer and arranger. He has about 60 titles for brass, string, and woodwind chamber music, works for band, orchestra, solo tuba, and trombone.
The Pacific Symphony commissioned him to write a feature work for the orchestra called "Tour de Force: Episodes for Orchestra." The 13-minute piece was premiered at the Renee and Henry Segerstrom Hall in Orange County on April 17–20, 2008, to great acclaim. He has since scored "Tour de Force for Wind Ensemble, which had its east premiere at IUP in 2009. A Brass Band version was premiered in six concerts by the River City Brass Band in 2013.
In addition to their scholarships and other financial support to IUP, the Selfs endowed instrumental scholarships at Oil City High School and tuba scholarships at the University of Tennessee. In 2012 they endowed a Creative Tuba Award through ITEA and offered the seed money for ITEA to establish a general endowment. Self is actively commissioning new works.