Over the last few weeks, I have begun to receive questions about IUP's plans for the spring 2022 semester. IUP will start the semester as planned, with in-person classes beginning Tuesday, January 18.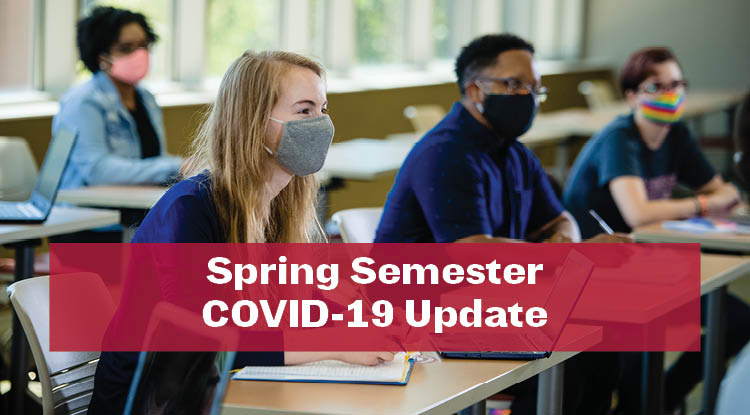 This decision comes after careful deliberation with my leadership team and the IUP COVID-19 Response Committee, and it is based on a few important factors:
The IUP community has done exceptionally well over the past two years in following our COVID-19 mitigation efforts, from wearing masks to participating in contact tracing. Thank you for everything you have done to help keep yourself and one another safe. We have kept positive cases at a manageable rate, and I am confident that by following these guidelines, we can continue to do so.
All students living on the Indiana and Punxsutawney campuses are housed in suite-style residence halls. Most of these students have their own bedrooms, to minimize potential exposure.
Our indoor masking requirement and sanitation work have been effective. Based on contact tracing, we have seen low transmission rates in IUP classrooms, and we expect that trend to continue.
We know that testing and vaccines are effective in limiting both COVID-19 transmission and severe health issues. Starting January 10, both tests and vaccines are available again this semester at the IUP Health Service.
We continue to work closely with local health authorities to make sure we have the resources and capacities in place for changing or unpredictable situations.
IUP students continue to tell us that the best, and most successful, way to learn is through in-person classes.
As I've stressed in previous communications, we will continue to monitor conditions and adjust as necessary based on potential changes in the situation and/or in the guidelines of the Centers for Disease Control and the Pennsylvania Department of Health. As it stands, the Spring 2022 Academic Calendar will remain in place as originally planned.
Recent media reports about the Omicron variant suggest it is more contagious but may present milder cases, especially in vaccinated individuals. This means we might see an increase in positive cases compared to the fall 2021 semester. It also makes following our COVID-19 Response Plan—highlights of which are below—vital to maintaining a safe campus environment that allows for in-person instruction throughout the semester.
Face coverings continue to be required indoors. Masks are required for everyone on campus while in a building, including vaccinated individuals. Free masks are available for every member of the IUP community at campus entrances.
Free COVID-19 testing is available at the IUP Health Service. Starting January 10, students can get tested regardless of whether they feel sick. Details on how to schedule an appointment and on community testing options are available online.
Free COVID-19 vaccinations are available for IUP students and employees. Starting January 10, the IUP Health Service will again offer free COVID-19 vaccines and booster doses to students and employees. Indiana Regional Medical Center also will host free vaccine clinics at the Kovalchick Convention and Athletic Complex throughout the semester on January 11, February 15, March 8, and April 12.
Safety kits will be available during and after move-in. The kits, which are available to all students, include masks and other hygiene items. Closer to move-in, we will share details about the location, times, and dates to pick up your kit.
Please continue to participate in contact tracing. If you get a call or text from the Pennsylvania Department of Health or the IUP Health Service about contact tracing, please help! Your information can help prevent others from getting sick.
We are following CDC guidelines on isolation and quarantining. Students who test positive for COVID-19 should isolate for five days and wear a mask for an additional five days. Contact the IUP Health Service with any questions.
Self-isolation options are available on and off campus. Self-isolation rooms in Delaney Hall are available for students who have a confirmed positive test for COVID-19 or who are presumed positive and awaiting test results. Students can also choose to self-isolate off campus for the recommended period.
As in past semesters, we will continue to provide weekly student case updates on the IUP COVID-19 dashboard. Expect to see the first update on Friday, January 21.
I am excited to welcome all of our students back on campus for the spring 2022 semester. IUP is at its best when we all work together. Let's all continue to work on stopping the spread of COVID-19 on campus and in our community.
Sincerely,
Michael A. Driscoll
President