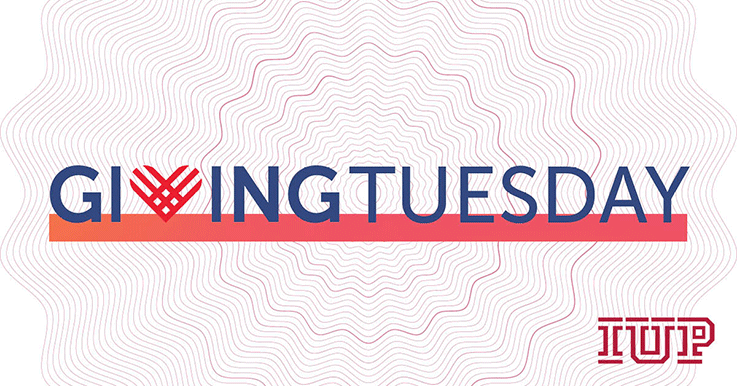 Indiana University of Pennsylvania nearly tripled its fundraising goal for Giving Tuesday 2021, raising more than $29,000 with gifts from 152 donors. The majority of these funds will be used for student scholarships.
With this year's total, $111,928 has been donated during this one-day event in just four years.
Giving Tuesday is a national effort, scheduled each year for the Tuesday after Thanksgiving. IUP began its Giving Tuesday tradition in 2017.
"Members of the IUP family continue to demonstrate how dedicated they are to meeting the needs of our students," IUP Vice President for University Advancement Khatmeh Osseiran-Hanna said. "Time and time again, our donors not only answer the call, they shatter fundraising goals," she said. "They are amazing in the passion, care and concern that they have for our students and for this university."
The 2021 initiative provided opportunities for donors to choose the designation for their gifts, with a special emphasis on university-wide scholarships.
The 2020 Giving Tuesday campaign, which focused on the Student Assistance Fund established to help students cover costs associated with unexpected technology, travel, and other needs, including those related to the pandemic, generated $46,528 from 223 donors, more than doubling the $20,000 goal. The 2020 Giving Tuesday campaign was part of IUP's Imagine Unlimited comprehensive campaign, which had a goal of $75 million but raised $81.36 million, and closed six months ahead of schedule in December 2020.
In 2018, a total of 144 donors made gifts totaling 16,247 during the Giving Tuesday project. Of these gifts, 121 donors gave $8,700 to support the creation of the IUP Food Pantry and Help Center, now open and located in the Suites on Pratt. The Center offers food staples, school supplies, and some clothing.
Imagine Unlimited is the largest comprehensive campaign in the Pennsylvania State System of Higher Education, past or present, and included the university's largest one-time gifts: one of $23 million and one of $7 million. This record-breaking campaign drew broad-based support at all levels, including more than 22,000 donors making 63,700 gifts. The campaign also saw a 171 percent increase in student giving since 2015.
The Imagine Unlimited campaign priorities included enhancing science and mathematics, academic excellence and innovation, student success, and leadership through athletic competition.