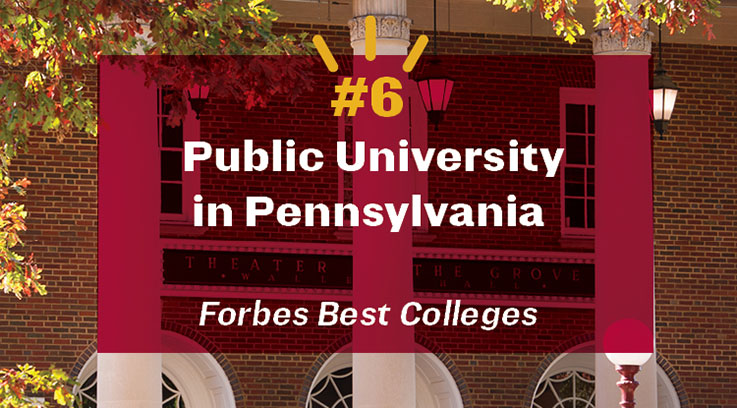 Indiana University of Pennsylvania is one of only six public universities in Pennsylvania selected as one of "America's Top Colleges 2021" by Forbes Magazine.
IUP is one of only 35 colleges and universities in Pennsylvania chosen for the recognition, and was also selected for the best "public colleges" listing, best "research universities" listing, and best "in the northeast" listing.
The ranking showcases the institutions that deliver outstanding return on investment, accessibility for qualified students, and student outcomes, including salary, according to Forbes editors.
The list includes only 600 out of the 2,700 degree-granting postsecondary institutions in the United States.
IUP offers more than 120 undergraduate majors and more than 60 graduate programs. In addition, students can complete more than 65 minors and scores of specialized tracks and certificate programs, including certificates in athletic coaching, gerontology, photography and digital imaging, popular music, and public history.
IUP continues to add state-of-the-art programs of study for its students. Its newest undergraduate majors are public health and environmental engineering, both in-demand careers in Pennsylvania and throughout the nation. With the addition of a PhD in business program, IUP now offers 14 different doctoral degrees. IUP is one of only four public, doctoral research universities in Pennsylvania.
IUP is routinely selected by national publications and websites for excellence, including College Magazine's "top 10 colleges and universities in Pennsylvania; U.S. News & World Report's "Best Colleges" list; Washington Monthly's national ranking of universities based on contributions to society; and in a number of rankings for excellence and affordability of online programs.