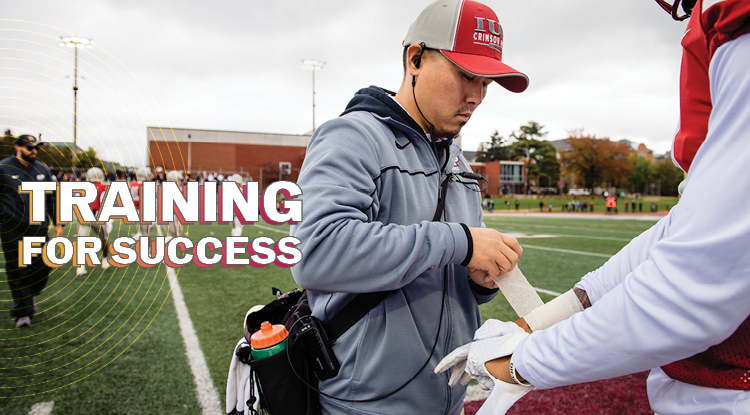 The next time you're watching a sporting event, look at the sidelines. You'll see a somewhat hidden, but incredibly important, part of a team or athlete's success.
"We're sort of the unsung heroes of the sports world," said Mark Wolfe, one of IUP's four full-time athletic trainers. "We don't do it for the publicity, but it's really important."
"We're sort of the unsung heroes of the sports world. We don't do it for the publicity, but it's really important."
Athletic trainers work early hours and late nights with athletes to prevent injuries and then to treat them when they do happen. They treat everything from blisters to broken bones, from concussions to contusions. At IUP, Wolfe, along with Rob Baron, Jamie D'Andrea, and Shannon Hestor, take care of the physical needs of the more than 400 student-athletes who make up IUP's 19 varsity teams.
It can be a thankless job at times, but it's a growing one. According to the US Bureau of Labor Statistics, the job market for athletic trainers is projected to grow 23 percent from 2020 to 2030, which is much faster than the average for all occupations. The bureau estimates there will be 3,100 openings for athletic trainers every year, on average, over the decade. The median pay for athletic trainers in 2020 was just under $50,000 per year.
So for anyone who might want to get into this line of work, finding a college program that gives you both the knowledge and the experience to land a job at the high school, college, or professional level is imperative. If you ask Wolfe, he'll recommend you check out IUP's undergraduate major in pre-athletic training and its master's level athletic training program.
He would know. He's an alumnus.
"I think IUP does a really good job of teaching students to be ready, so they can get a job as a trainer," said Wolfe, who earned his bachelor's degree from IUP in 2011 and his master's in 2012. "It all starts in the classroom, but then they get to come into a setting and put those skills to work, and then they're ready when they graduate."
IUP's undergraduate education happens mostly in the classroom, where students learn about the human body and the background on techniques used to help athletes perform their best. It also prepares students to enroll in a master's program, like IUP's, which is a prerequisite for most jobs in the field.
Jim Racchini—an IUP faculty member in the Department of Kinesiology, Health, and Sport Science, who also serves as the graduate coordinator for the MS in Athletic Training program—said graduate students can take the knowledge gained as an undergrad and apply it in a variety of settings that will help them see all areas of the field.
"We have to ensure students get a variety of clinical experiences," Racchini said. "They'll spend one semester at a high school working with its teams. They can spend another one at a hospital or medical center in non-orthopedic settings. They'll get to shadow the doctors at the Human Motion Institute. They can do a rotation at Indiana Total Therapy. There are a lot of opportunities they'll get. By the time they graduate, they will have a well-rounded education in the field."
Like Wolfe, Racchini is an IUP graduate. He learned from faculty members such as Ron Trenney and José Rivera the skills that translate to a career in the field, and now he's passing them on to new groups of students every year.
Racchini '94, D'07 said one of the most important things he teaches is that athletic trainers must see themselves as part of a team—and that the strength of the team is the team.
"Interprofessional education and practice is really important," he said, "but so is teamwork. When you work in the real world, you have to be good teammates with physicians and coaches and the athletes. That's interwoven in our program that you can't do it all yourself."
Wolfe, a native of New London who was hired at a high school in Virginia after earning his master's at IUP, said those kinds of experiences are critical to being able to handle diverse populations of athletes in all sports.
"They're getting a leg up on other students, because they get an early picture of what will be expected of them," he said. "That's important, because you have to be a people person. You'll work with people from all different walks of life, and being able to communicate with them and to listen to them is really important."
"Our students have not had issues finding jobs. Our alumni are always looking out for our students. We have established a pretty good network of alumni who want to help our students get jobs."
After earning their master's degrees, IUP graduates work in the field at a variety of levels. The most common is at high schools, but Racchini said some land careers in unusual places. One recent IUP graduate works at a Harley-Davidson plant helping workers heal from on-the-job injuries.
But no matter where they land, Racchini said IUP graduates who are qualified to work as trainers are in demand. He said it's common for IUP alumni to help new IUP graduates find work as athletic trainers.
"Our students have not had issues finding jobs," Racchini said. "Our alumni are always looking out for our students. We have established a pretty good network of alumni who want to help our students get jobs."
The athletic trainers in the sports world work with athletes to keep them healthy and ready to take the fields and courts. But injuries are just as much a part of sports as wins and losses, so those must be treated properly. The trainers use a variety of techniques, including exercises, equipment, and weight training, to help athletes recover as quickly as possible so they can get back on the field.
"The level of student-athlete we have here, plus the level of success our teams have had, makes this an environment where everybody wants to help and make sure everyone succeeds."
Wolfe said it's a rewarding career. For him, it's made even better by the fact that he's practicing it at the place he first learned the craft. After spending nine years at the high school in Virginia, Wolfe returned to IUP in the summer of 2021 following the retirement of longtime trainer Frank Trenney.
"It felt comfortable coming home, but I didn't expect to come back here, because it's kind of a dream job," he said. "I never thought it would happen, but I am really glad that it did. The level of student-athlete we have here, plus the level of success our teams have had, makes this an environment where everybody wants to help and make sure everyone succeeds."