Indiana University of Pennsylvania is ranked as one of the top universities in the nation in the Wall Street Journal/Times Higher Education College 2022 Rankings (released in 2021).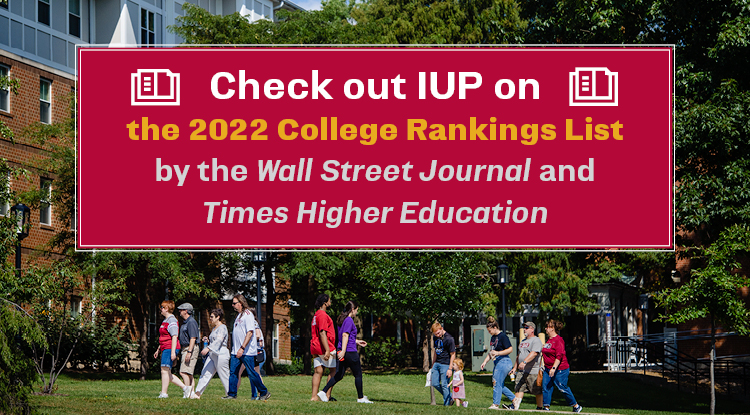 The ranking is based on four categories: resources, engagement, outcomes, and environment. Editors selected these categories to address the "questions that matter the most when choosing a university." In addition to nationally reported data from the university, the rankings also include student surveys.
IUP is ranked highly for engagement, which includes a measurement of student engagement, student recommendations, student interaction, and breadth of opportunities for involvement, and also is strong in the environment rankings, which measures international students, student diversity, faculty diversity, and student inclusion.
IUP offers more than 120 undergraduate majors and more than 60 graduate programs. In addition, students can complete more than 65 minors and scores of specialized tracks and certificate programs, including certificates in athletic coaching, gerontology, photography and digital imaging, popular music, and public history.
IUP continues to add state-of-the-art programs of study for its students. Its newest undergraduate majors are public health and environmental engineering, both in-demand careers in Pennsylvania and throughout the nation. With the addition of a PhD in business program, IUP now offers 14 different doctoral degrees. IUP is one of only four public, doctoral research universities in Pennsylvania.
IUP is routinely selected by national publications and websites for excellence, including College Magazine's "top 10 colleges and universities in Pennsylvania; U.S. News & World Report's "Best Colleges" list; Washington Monthly's national ranking of universities based on contributions to society; in Forbes Magazine as one of "America's Top Colleges;" and in a number of rankings for excellence and affordability of online programs.