Indiana University of Pennsylvania's Bachelor of Science degree in nursing has been ranked as one of the "best prelicensure bachelor of science in nursing (BSN) programs in the state" by Nursing Schools Almanac.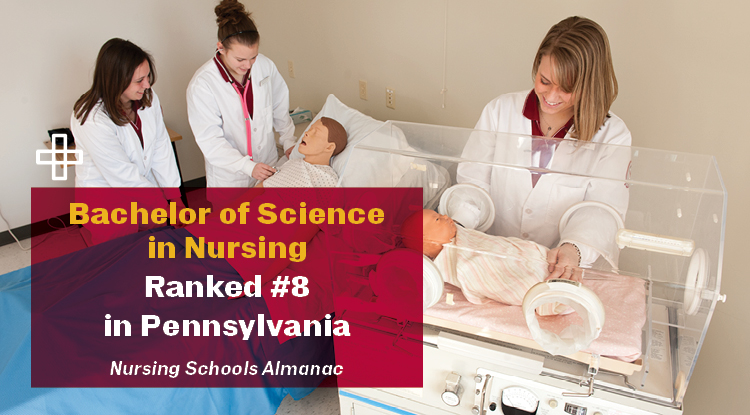 IUP was ranked eighth in the publication's comprehensive review of programs in Pennsylvania.
To be selected for the ranking, editors reviewed the success of the graduates of the program in the National Council Licensure Examination for Registered Nurses (NCLEX-RN). IUP's graduates hold a 93.5 percent first-time passing rate on this exam. IUP's rate reflects testing results from 2010 through 2020.
As editors noted, "aspiring registered nurses in the United States must pass this examination before they may commence practice. Thus, student performance on the NCLEX-RN exam provides an excellent benchmark for comparing the relative quality of bachelor's degree programs."
IUP nursing graduates' first-time passing rate exceeds the national rate of 86.57 percent, (calculated for 2020 first-time test takers by the National Council of State Boards of Nursing) and the average Pennsylvania first-time pass rate for 2020 of 91 percent.
Annually, more than 130 nursing students graduate from IUP's Nursing and Allied Health Professions program, which holds accreditation from the Commission on Collegiate Nursing Education.
"Our program is rigorous, but our students are bright and committed to their studies," Dr. Theresa Gropelli, chairperson of the Department of Nursing and Allied Health Professions said. "We do everything in our power to help our students to succeed, and we continue to be proud of this first-time test taker pass rate."
Nursing and Allied Health students at IUP spend the first year of studies completing required science and liberal studies courses. Nursing courses and clinicals begin in the first semester of the sophomore year. Clinical sites utilized in the program include a variety of agencies within approximately a 60-mile radius of Indiana, Pennsylvania, including Greensburg, Latrobe, DuBois, and occasionally the Pittsburgh area. Throughout the last six semesters, clinical experiences in patient care are provided in acute and long-term care facilities as well as community settings.
IUP has state-of-the-art simulation laboratories for nursing students, which includes equipment to provide experience and preparation for students interested in working in home health care. The simulation laboratory also provides hands-on training for students in the use of electronic medical records. IUP has an innovative program combing nursing and theater, with student actors serving as patients to give nursing majors experience in a diverse variety of health-care situations.
IUP offers more than 120 undergraduate majors and more than 60 graduate programs. In addition, students can complete more than 65 minors and scores of specialized tracks and certificate programs, including certificates in athletic coaching, gerontology, photography and digital imaging, popular music and public history.
IUP continues to add state-of-the-art programs of study for its students. Its newest undergraduate majors are public health and environmental engineering, both in-demand careers in Pennsylvania and throughout the nation. With the addition of a Ph.D. in business program, IUP now offers 14 different doctoral degrees. IUP is one of only four public, doctoral research universities in Pennsylvania.
IUP is routinely selected by national publications and websites for excellence, including "College Magazine's "top 10 colleges and universities in Pennsylvania; "U.S. News & World Report's" "Best Colleges" list; "Washington Monthly's" national ranking of universities based on contributions to society; in "Forbes Magazine" as one of "America's Top Colleges;" and in a number of rankings for excellence and affordability of on-line programs.