Indiana University of Pennsylvania's Council of Trustees today approved naming spaces in IUP's Cogswell Hall, home to the Department of Music, in honor of two long-time faculty members.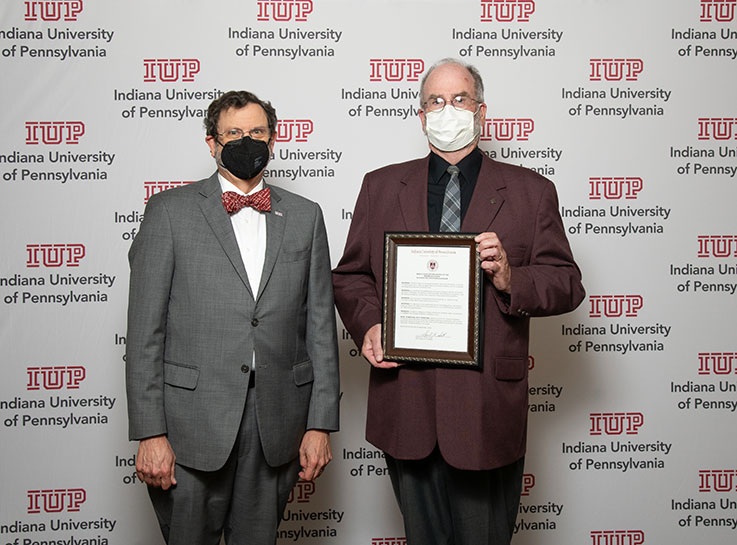 With the approved resolutions, the trombone studio space will be named in honor of Christian Dickinson in recognition of his "exemplary work and significant impact on music and the lives of IUP students" ss the Christian Dickinson Trombone Studio.
The music theater hall will be named in honor of Sarah Mantel as Sarah Mantel Music Theatre Hall, in recognition of Mantel's "service and dedication" as director of IUP's Opera and Music Theatre program, and for her talents that "greatly enriched the university, the Indiana community, and the lives of IUP students."
"These faculty are truly beloved by the alumni—and fellow faculty members—whose lives they have touched," IUP Dean of the College of Arts and Humanities Curt Scheib said. "This is a truly fitting honor for these talented musicians and dedicated teachers, and a great way to continue their legacy."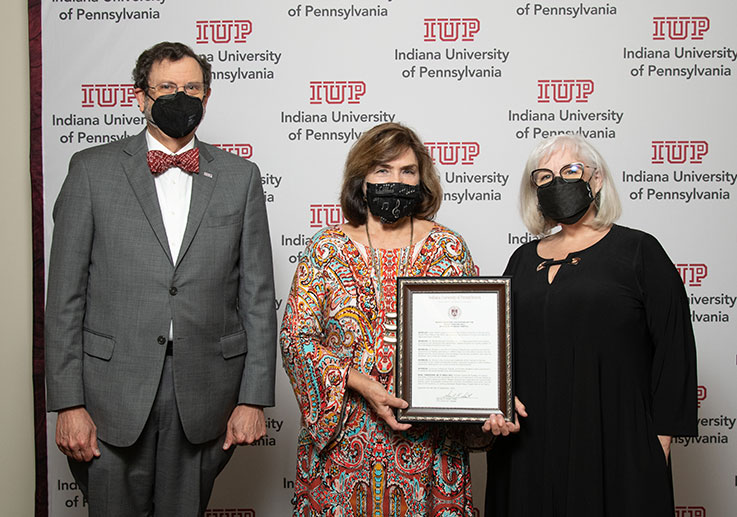 Dickinson began teaching at IUP in 1985 and retired in June of 2021. In addition to teaching trombone to generations of IUP students, he also taught music theory and brass methods and conducted the Brass Ensemble and Trombone Choir.
He has performed as principal trombone with the Johnstown Symphony Orchestra, the Keystone Wind Ensemble, the McKeesport Symphony, and the Altoona Symphony and was a member of the Jacksonville Symphony. As a soloist, he has performed with the Johnstown Symphony, US Army Orchestra, North Pittsburgh Philharmonic, Ohio University Summer Band, Frostburg State Chamber Players, IUP Orchestra, Percussion Ensemble, Wind Ensemble, Concert Band, and Symphony Band.
He has appeared as soloist at the Eastern and International Trombone workshops and has presented clinics at Eastern MENC and PMEA conventions. He has also performed for Frankie Avalon, Lew Christie, Peter Nero, Olivia Newton-John, Frankie Valli, Leann Rimes, and Bernadette Peters.
As a member of the Keystone Wind Ensemble, Dickinson has recorded 12 discs featuring all styles of wind music. He is the trombonist with the HoodleBug Brass, the faculty brass quintet at IUP. The HoodleBug Brass has recorded three CDs, the latest being a commercial recording of Christmas favorites. In October 2012, he toured Russia with the HoodleBug Brass, performing at venues in St. Petersburg and Moscow.
He holds the bachelor of music education and master of music degrees from Florida State University, and the doctor of musical arts degree from Catholic University of America.
Colleagues, friends, and former students made contributions to establish the Christian Dickinson Trombone Fund in 2021. The committee responsible for the initiative included alumni Dennis Cramer (a 1975 bachelor's and 1982 master's graduate of IUP); Daniel Toven, a 1991 and 1992 graduate); friends of the university Harry Watters and Greg Fritze; retired faculty emeritus Jack Stamp (a 1976 IUP graduate) and Gary Bird; Dean of the College of Arts and Humanities Curt Scheib (a 1977 bachelor's degree and 1978 master's degree graduate of IUP); and current faculty members Kevin Eisensmith (a 1978 IUP graduate), Zach Collins, and Assistant Dean of the College of Arts and Humanities David Ferguson.
Mantel served as professor of voice and director of Opera and Music Theatre at IUP from 1986 to her retirement in May 2013. During her tenure, she directed more than 60 mainstage opera and musical theater productions and developed the opera/music theater program to include a season of two mainstage productions each year.
In addition to development of a consistent program for undergraduate training in opera and musical performance skills, in 1990, she joined with the Department of Theater and Dance in 1990 to begin a collaboration between the two departments for the production of a mainstage musical each academic year that showcased many music and theater students. This collaboration continued for 23 years.
Mantel is the founder and co-director of the Festival of Women Composers, hosted by IUP, which presented nationally and internationally known women artists in concert and featured the premieres of many original compositions by women composers. The festival launched in 1990 and continued through 2014. She is the recipient of grants from the Pennsylvania Council on the Arts, Meet-the-Composers, and the National Endowment for the Arts to sponsor performances and commissions of the works of women composers. She has published 13 articles in national and state refereed journals. She has held national offices in the National Operate Association and was an active member of the National Association of Singing, the College Music Society, and the International Alliance for Women in Music.
Contributions from colleagues, friends, and former students established, and continue to fund, the Sarah Mantel Vocal Arts Endowed Fund, which provides funding to enhance the academic and programmatic needs of the Music Department's opera, music theater, and vocal productions