Indiana University of Pennsylvania's Council of Trustees approved the naming of the dining room in the Allenwood, a teaching restaurant in IUP's Ackerman Hall, as the Isabella Wilkinson Green Dining Room in her honor and memory.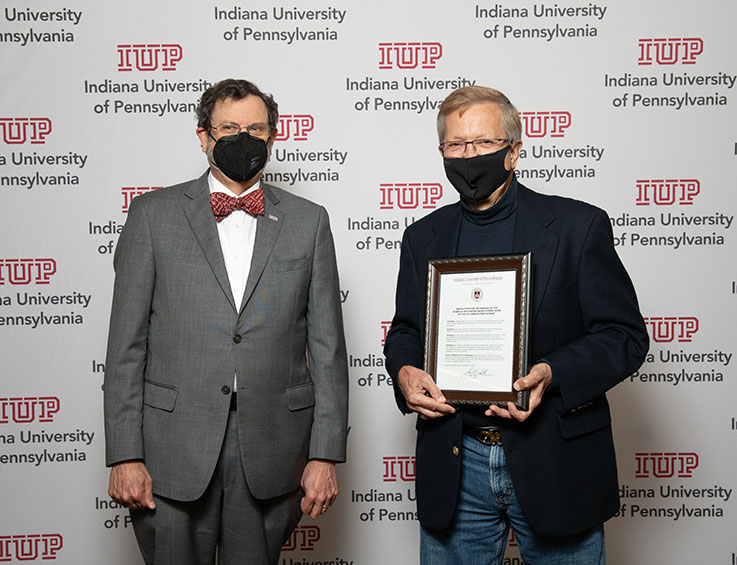 The naming is in recognition of a gift from Donald Green, son of Isabella Wilkinson Green, in honor of his mother, Isabella Wilkinson Green, who was one of the first two students in 1927 to receive a bachelor's degree in home economics from Indiana State Teachers College.
This gift follows Green's 2008 gift to IUP that established the Isabella Wilkinson-Green and Kathryn Cepull-Woleslagle Scholarship to help students in good academic standing who are also engaged in community service. Kathryn Cepull-Woleslage, also a graduate of Indiana State Teachers College, was a lifelong friend of Isabella Wilkinson Green.
Green retired from the position of senior vice president of Fifth Third Bank. He makes his home in both western Pennsylvania and Florida.
"Mr. Green's generosity and confidence in the university are remarkable, and we couldn't be prouder in the way he has made this gift to honor his mom and her long-time alumna friend. This legacy will continue for many generations, corroborating how incredibly loyal IUP alumni are and how their alma mater changed their lives for the better."
The Allenwood is named in honor of the late Allen Woods, professor emeritus and former chairman of the Department of Hospitality Management. The Allenwood is part of the hospitality program curriculum, providing hands-on experience in food production techniques and safe food handling procedures, team building, communication, and leadership skills. Students also apply and develop managerial functions of planning, organizing, influencing, and controlling an operation.
IUP's Department of Hospitality Management is recognized for its excellence in hospitality management education, ranked number nine of 50 on the list of "2021 Best Bachelor's Degree in Hospitality Management" in the United States by Study.com in the nation and first in Pennsylvania.