Indiana University of Pennsylvania's Council of Trustees today approved the naming of the terrace at Breezedale Alumni Center in honor of the late Mary Jo Banks Lyttle.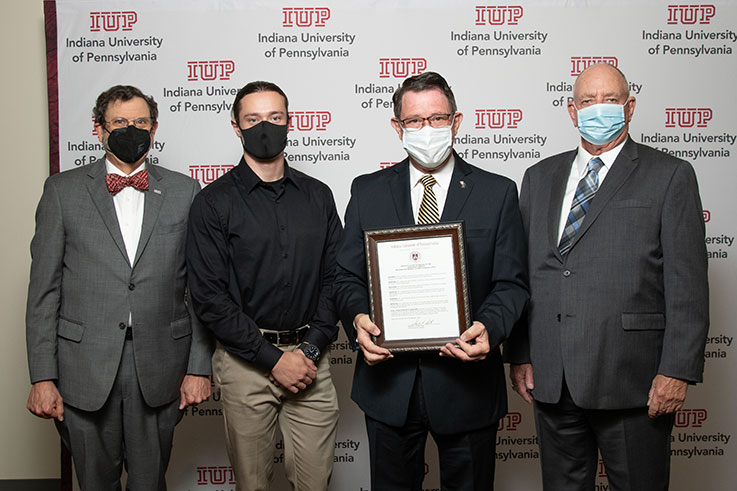 Lyttle served as director of the Office of Alumni Relations from 1992 to 2015. She began her work at IUP as assistant director of the Office of Alumni Relations from 1989 to 1992. She earned both her bachelor's and master's degrees from IUP.
The resolution recognized Lyttle for being instrumental in building a strong network of volunteers for the IUP Alumni Association, for leading the Alumni Association Board of Directors in building revenue streams to support alumni programming, and for directing the Board and office staff through two strategic planning processes that continue to shape the Alumni Association. She played an active leadership role in many university committees, task forces, and initiatives.
The resolution also praised Lyttle as "devoted to IUP and to building relationships with alumni in all possible ways."
In approving the resolution, Trustees recognized "the incredible dedication of Mary Jo Banks Lyttle and the contributions of time and treasure of Kim Lyttle and Carl Johnson."
Johnson and Kim Lyttle, Mary Jo Lyttle's husband, came together to raise funds for restoration of the terrace in Mary Jo Lyttle's memory and honor. Kim Lyttle is a 1972 bachelor's and a 1974 IUP master's degree graduate; Johnson is a 1973 IUP graduate. The two men were Phi Sigma Kappa fraternity brothers at IUP and remained friends since their time at IUP.
Breezedale was very special to Mary Jo, not just because of her love for IUP and her work, but because her father's family rented and lived in Breezedale during World War II, Kim Lyttle said.
"As a young boy, Mary Jo's dad, Ted, would go up in the cupola and look for German airplanes," Lyttle said. "Breezedale was a special stop for the Banks family during family reunions."
After Mary Jo's passing in 2016, Johnson contacted Kim Lyttle to ask how he could help. Lyttle said that restoring Breezedale's patio had been on Mary Jo's wish list. Together, they have funded the restoration project, which will be completed in 2022.
The patio restoration will enhance alumni receptions and events, but the area is also used by students, employees, and guests.
Prior to gifts for the Breezedale Alumni Center terrace restoration, Johnson and Kim and Mary Jo Lyttle had established scholarships at IUP. Johnson's scholarship, the Carl and Linda Johnson Memorial Scholarship, honors his parents by enabling students with financial need to continue their studies. The Lyttle Family Scholarship for Outstanding Leaders recognizes student leaders who go the extra mile outside the classroom.