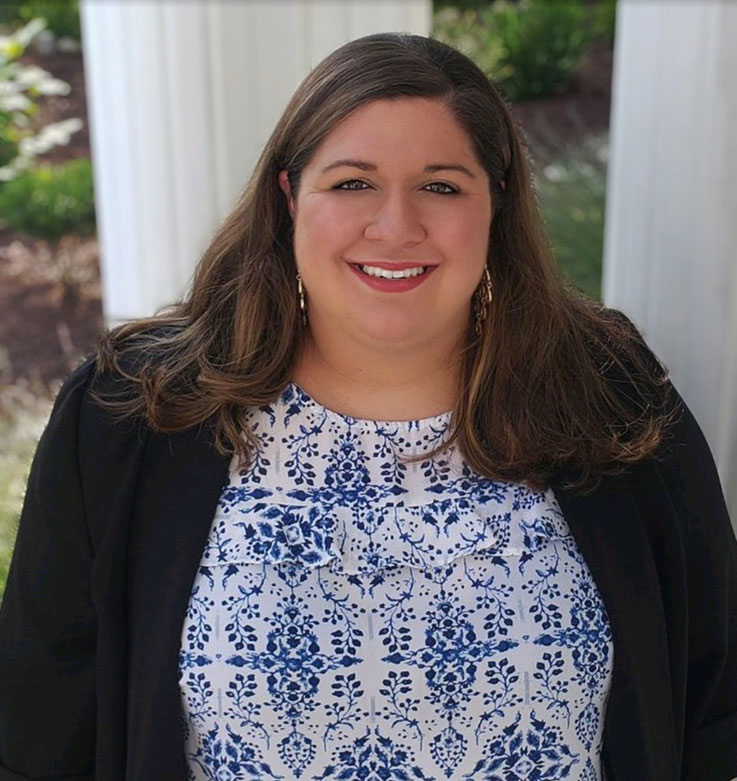 Rachel DeSoto-Jackson, associate professor of Applied Theatre and faculty member in the Department of Theatre, Dance, and Performance, has been selected by Provost and Vice President for Academic Affairs Timothy Moerland to serve as the next director of the Center for Teaching Excellence.
DeSoto-Jackson will take over the leadership role from Stephanie Taylor-Davis, faculty member and chairperson of the Department of Food and Nutrition. Taylor-Davis began service as the Center director in 2014 and has held various volunteer co-director positions with the Center since 2002.
 "Stephanie has done an incredible job as director of the Center, and I want to offer her our profound appreciation for her work," Moerland said. "Outstanding teaching continues to be our goal here at IUP, and she truly understands that mission and the work and resources needed to achieve that goal. 
"She has been outstanding on all fronts related to faculty development, including diversity, equity, and inclusion programming, and that extends to her work with the online learning summer academies," he said. "These programs have been critical to our pivot to hybrid teaching and learning, and she has been critical to the success of this initiative.
"She's leaving a very sound, respected, and forward-looking program, with a group of strong volunteers who have shown great commitment to teaching excellence," he said.
Moerland also has high praise for DeSoto-Jackson and expressed his confidence in the leadership transition.
"Rachel has a proven track record with the Center, has won awards for her innovative teaching, and has a strong background and extensive experience with diversity, equity, and inclusion, which is an important part of the Center for Teaching Excellence portfolio, both now and for the future," Moerland said.  
The leadership transition will be effective starting in the 2021–22 academic year.
IUP's Center for Teaching Excellence is committed to stimulating best practices in teaching and learning, with a focus on promoting excellence in teaching in all its forms. The Center celebrated its 30th anniversary in 2020 with a special publication with tips from faculty about their successful teaching practices.
The Center was established at IUP during the 1988–89 academic year and has since grown to include numerous programs, resources, and recognition events. The Reflective Practice project offers year-long programming through faculty trainings, Large Group Meetings, Teaching Circles, and guest speaker events.
Faculty groups who form Teaching Circles are eligible to apply for a mini-grant to support projects focused on the growth and development of teaching practice at IUP. Faculty recognition awards are presented annually to acknowledge and honor faculty excellence and high-impact practices. Faculty resources, including best practice guides and high-impact practice publications, are frequently published on the CTE website.
The CTE also partners with other programs on campus to support university-wide initiatives, such as the more recent Elephant in the Room workshops series on diversity, equity, and inclusion. Additionally, the Center offers continual support for advising and teaching consultation throughout the year for individual faculty and departments, as well as support for new faculty and programming at New Faculty Orientation.
"The Center for Teaching Excellence is a powerful resource for IUP faculty, providing opportunities for innovating their teaching, for learning advising best practices, and for engaging with other faculty around shared interests," Lara Luetkehans, dean of the IUP College of Education and Communications, said. 
"As director, Dr. Taylor-Davis created a safe and welcoming space for IUP faculty to develop their professional practice. Dr. Taylor-Davis was also instrumental in supporting our faculty as we migrated to primarily remote instruction and advising back in March of 2020. She and her team of collaborating faculty have continued and strengthened that support over the last 18 months. We are so grateful to Dr. Taylor-Davis for her leadership," Luetkehans said.
"Professor DeSoto-Jackson is a great fit for this leadership role, and will bring her experience with teaching innovation, commitment to student success, and her demonstrated commitment to diversity and equity to the director role," Luetkehans said.
DeSoto-Jackson has been an active member of Center for Teaching Excellence since she joined the IUP community in 2016. She has been involved with Center leadership since 2017, serving on the advisory board before being appointed the co-director of Cross-Disciplinary and Department Teaching Circles in 2019.
In 2020, DeSoto-Jackson received the Teaching Excellence in Innovation Recognition Award, and in 2021 she was inducted into the IUP chapter of Phi Kappa Phi. She holds an MFA in performance pedagogy, MA in theater and performance studies, and an MA certificate in film studies from the University of Pittsburgh.
DeSoto-Jackson currently serves as co-president of the Pedagogy and Theatre of the Oppressed international organization and on the editorial board of the organization's journal. She is on the steering committee of the Latinx Theatre Commons and is a member of the national board of the Smithsonian Latino Center. She is a current member of the Association for Theatre in Higher Education and the Association for Standardized Patient Educators.
DeSoto-Jackson has developed workshops, presentations, lectures, and course designs on various applications of applied theatre and its interdisciplinary use in building empathetic communication and diversity, equity, and inclusion practices. She was honored in 2019 with the Association for Theatre in Higher Education Innovative Teaching Award.
At IUP, she teaches the "The Performance of Caring" course, designed to build skills in empathy, active listening, and verbal/nonverbal communication to improve trust and effective communication in patient, client, and colleague interactions within any field.
She currently serves as co-chair of IUP's Difficult Dialogue initiative working to build trainings that support university-wide programming using dialogue to engage challenging topics both inside and outside the classroom.
"Teaching is the core of our university, and the Center for Teaching Excellence has been a place for faculty to reflect on teaching practice since its inception," DeSoto-Jackson said. "Stephanie has been an instrumental leader in growing the CTE to reflect the high-impact practices led by our faculty. I am grateful for her many years of service and the influence she has had on the CTE.