IUP to Honor 2020 and 2021 Distinguished Alumni Award Recipients
Posted on 4/14/21 7:02 PM
Indiana University of Pennsylvania will honor the 2020 and 2021 Distinguished Alumni Award recipients for their career achievements and service in a virtual ceremony on April 17.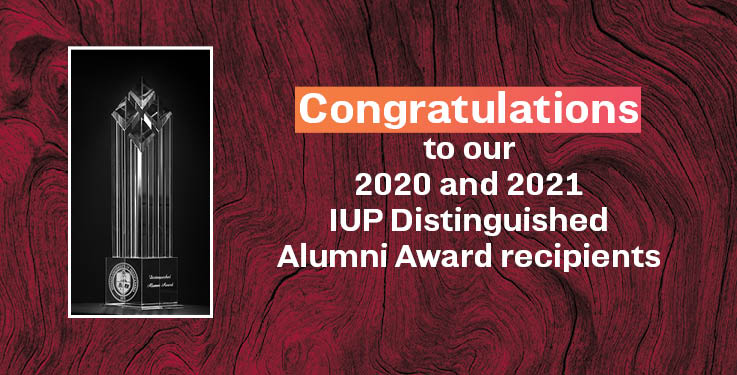 Over the past 37 years, the IUP Alumni Association and the university has honored less than 400 out of its more than 150,000 alumni with the Distinguished Alumni Award. This award is the highest award given by IUP and the IUP Alumni Association to university alumni.
The award is presented to alumni who have achieved distinction in their chosen fields or who have demonstrated loyal and active service to their alma mater. The program will include remarks from the recipients and congratulations from IUP President Michael Driscoll; Vice President of the IUP Alumni Association and chair of the Alumni Recognition Committee Tonya Hsiung; and Alumni Association Treasurer Mike Moyer.
The awards program was not held in 2020 due to the pandemic.
Recipients of the 2020 Distinguished Alumni Award include several recipients with local ties, including:
Courtney Barilar Vose
1992 graduate from Indiana
Since 2014, Vose has been vice president and chief nursing officer, Nursing and Patient Care Services, at New York–Presbyterian Hospital/Columbia University Irving Medical Center, and two other affiliates with responsibility for a team of more than 3,000 employees. She is also a clinical instructor at Columbia University School of Nursing, a member of the board of directors of Capital Blue Cross in Harrisburg, and a frequent national conference speaker. Beginning her career as an emergency room nurse in Philadelphia, she attained executive posts in Allentown and Bethlehem and earned two master's degrees and a doctorate in nursing practice.
Michael Baughman
1986 graduate from Hempfield Township, Westmoreland County
A US marshal for the Western district of Pennsylvania, Baughman is responsible for securing three federal courthouses and protecting the district's federal judiciary, US attorneys, public defenders, jurors, and federal court witnesses. He entered federal government service soon after his IUP graduation and in 1990 became a deputy US marshal in Washington, DC. Throughout his career, he has risen in the US Marshals Service, assuming progressive levels of supervisory responsibility. He was appointed to his present post last fall after serving in an acting capacity since early 2018.
Tracy Butler
1985 graduate and Pittsburgh native
Chicago's longest-running female meteorologist, Butler joined ABC 7 (WLS-TV) in 1994 and appears on the station's morning and midday programming. She also provides weather updates for ESPN 1000 Radio. She obtained meteorological certification from Mississippi State University and worked in Wheeling, Youngstown, and Richmond before heading to Chicago. In addition to preparing and producing forecasts, she has interviewed such luminaries as Bon Jovi, Tiger Woods, Jim Lovell, and Susan Lucci and has been recognized for extensive community service and volunteering activities. Her ABC 7 weather team received a regional Emmy in 2014 for special reporting.
Aaron Chapman
1986 graduate and Pittsburgh native
San Francisco physician Chapman has been medical director for Alameda County Behavioral Health Care Services for the past nine years. In this position, he oversees the provision of medical psychiatric services within the county as well as the work of psychiatrists and other prescribers. A Brooklyn native, he came to IUP from Pittsburgh, later receiving an MD degree from Temple University and completing psychiatric training at Stanford University. Despite his predominantly administrative position with the county, he continues to provide client care and, as a Spanish-speaking provider, serves populations that might otherwise have limited access to psychiatric services.
Maj. Gen. Bryan Owens (retired)
1983 graduate from Butler
A senior defense industry executive, since 2018 Owens has served as Afghanistan country manager for Fluor Corporation, leading an organization of more than 6,500 professionals that provide logistics support for military operations. This includes food, fuel, water, waste management, transportation, air operations, laundry, and more. In addition to his IUP undergraduate degree, he earned two master's degrees while pursuing a long Army career that culminated in command of US Army Alaska. By the time of his active-duty retirement in 2017, he had also fulfilled assignments in Pennsylvania, Washington, DC, North Carolina, Kansas, Georgia, Hawaii, South Korea, the United Kingdom, and Germany, along with deployments to Kosovo and Iraq and to New Orleans after Hurricane Katrina.
Linda Sidor Willett
1969 graduate from Johnstown
A current resident of Manhattan, Willett is senior vice president, general counsel, and secretary at Horizon Blue Cross Blue Shield, New Jersey's largest health insurance company. After graduation from IUP, she taught secondary school science and earned two master's degrees before joining American Cyanamid's family of companies in the '80s. Leaving to attain a JD degree, she built a practice after law school in which she defended medical device and pharmaceutical companies in mass tort litigation. She joined her largest client, Bristol-Myers Squibb, in 1996 and in 2010 assumed her current position at Horizon.
Joann Schaeffer Sierra
1985 graduate from Harrisburg
Sierra was raised in Lima, Peru, but returned to the commonwealth during high school. She spent a semester in Spain and graduated with a double major in international studies and Spanish. For nearly three decades, she has been a video editor/producer for television and digital platforms with CNN and Univision and now is a freelancer. Her work has garnered numerous awards and nominations, both individually and as a team member. Among the highlights were three trips to the Oval Office to be congratulated by President Obama for her award-winning work. Her photography has also received recognition, as has her Washington, DC rowing team, of which she is a founding member.
Recipients of the 2021 Distinguished Alumni Award also include several honorees from the region:
John Ritter
1988 graduate originally from Wilkinsburg and Delmont, now of Ligonier
As principal of Ligonier-based Ritter Illustration, visual artist Ritter creates and produces original illustrations for a vast array of media, a few of which include the New Yorker, Scientific American, Sports Illustrated, Paramount Pictures, the Wall Street Journal, Anheuser-Busch, Apple, KFC, Taco Bell, Simon & Schuster, and Workman Publishing. A native of Wilkinsburg, he grew up in Delmont and headed after college to California, where he worked for Adobe Systems and Winterland Productions. Among his awards are recognitions by American Illustration, Communication Arts, Graphis, New York Society of Illustrators, Society of Publication Designers, and IUP College of Fine Arts.
John Simpson
1979 graduate from Trafford, now of North Huntingdon
Honored with the Distinguished Alumni Award for Service, IUP Alumni Association Board of Directors President Simpson retired last year after 22 years in marketing with the Pittsburgh Steelers. He contributes time and talent to the region as well as to the university. The Greater Pittsburgh Council of the Boy Scouts of America established a camp scholarship in his name, and the US Army presented him with the Freedom Team Salute award. In addition to the IUP chapter of the Honor Society of Phi Kappa Phi, he regularly plays key roles in IUP's annual Pennsylvania Sports Business Conference.
Eric Zahren
1990 graduate from Pittsburgh
Since 2017, Zahren has been president and secretary of the Carnegie Hero Fund Commission, the Pittsburgh-based foundation that since 1904 has recognized more than 10,000 individuals in the US and Canada. For 25 years, until his 2016 retirement, he was a special agent with the US Secret Service, ending his career as special agent in charge of the Pittsburgh Field Office. His previous assignments included presidential protection of Bill Clinton and George W. Bush and assignments in Newark, New Jersey, and Berlin, Germany. He received a degree from the University of London and also studied at Germany's Duisburg University.
Shaun Gabbidon
1996 doctoral graduate originally from England
Gabbidon earned degrees at Virginia's Christopher Newport University and the University of Baltimore before receiving a criminology doctorate from IUP in 1996. Now Distinguished Professor of Criminal Justice at Penn State Harrisburg, he has been honored with many awards, has been a fellow at Harvard University's W. E. B. Du Bois Research Institute, and has taught at the University of Pennsylvania's Center for Africana Studies. His more than 100 scholarly publications include more than 70 peer-reviewed articles and 13 books. In 2019, he was named a fellow of the Academy of Criminal Justice Sciences.
Eric Monaco
1992 graduate, originally from Glenmoore
Seven-time Emmy Award-winning producer Monaco has spent nearly his entire career at NFL Films. After a short stint at a small television station, he joined the iconic Mount Laurel, New Jersey, company as a production assistant and has climbed the creative ladder. His first Emmy winner came in 2007, when "Finding Your Butkus" was honored as Outstanding Long Feature. Five more winners were Hard Knocks features on, in chronological order, the Cincinnati Bengals, New York Jets, Bengals again, Houston Texans, and Tampa Bay Buccaneers. His most recent Emmy, in 2019, recognized Outstanding Trans-Media Sports Coverage of NFL 100 Greatest.
Douglas Roblin
1975 graduate originally from New Kensington/Natrona Heights
With a master's in anthropology from the University of Chicago and a doctorate in anthropology from the University of Michigan, Roblin lives and works in Rockville, Maryland. As a senior research scientist for Mid-Atlantic Permanente Medical Group, he designs research projects with a focus on health-care access and quality of care, develops and submits research grant applications, directs research project teams, and writes abstracts and manuscripts that describe research findings. Before assuming his present position in 2017, he was a health management and policy professor at Georgia State University and had worked for Kaiser Permanente in other roles.
Alysia Burton Steele
1997 graduate from Harrisburg
Steele is associate professor of journalism instruction at the University of Mississippi, an acclaimed book author, and the winner of prestigious national awards. Internships at three Michigan newspapers led to jobs at the Columbus Dispatch, the Dallas Morning News (where her photo team's coverage of Hurricane Katrina won the 2006 Pulitzer Prize for Breaking News), and the Atlanta Journal-Constitution. She received a master's degree in photography from Ohio University and in 2015 published Delta Jewels: In Search of My Grandmother's Wisdom. The book has occasioned more than 90 speaking engagements, including at a Smithsonian museum.
Rose Mary Zbiek
1983 graduate from Chase, Luzerne County
With a long history of classroom instruction at the secondary and college levels, Penn State professor Zbiek teaches undergraduate and graduate courses in mathematics education, content, and research at University Park and far beyond through World Campus, Penn State's online arm. Widely recognized for her research activities, she has also filled leadership and administrative roles, including professor in charge of mathematics education and of secondary education, director of graduate studies, and department head. She earned a master's degree at Bucknell and a doctorate at Penn State.