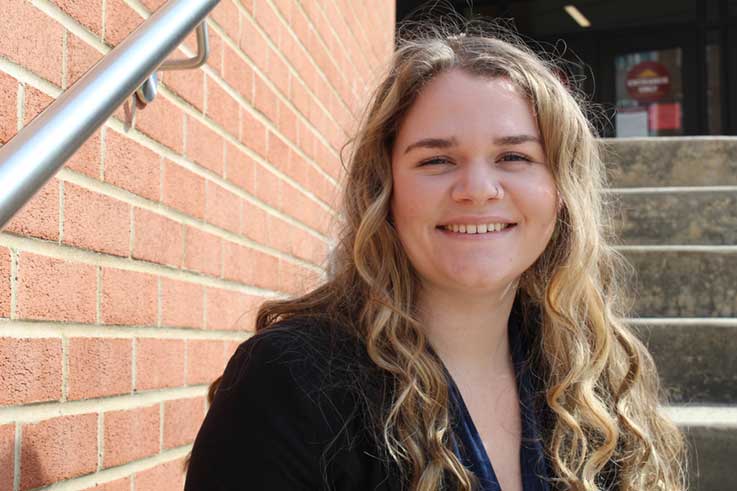 Marissa Willson, an anthropology major at Indiana University of Pennsylvania's Cook Honors College who will graduate in May, has been selected for a Pittsburgh Urban Leadership Service Experience (PULSE) Fellowship for the 2021–22 academic year.
Willson, daughter of Tom Willson and Yvette Willson of Oakmont Road, State College, is a 2017 graduate of State College Area High School.
PULSE, founded in 1994, cultivates a community of young servant leaders (PULSE Fellows) to transform Pittsburgh, inviting applications from talented university graduates to partner with Pittsburgh nonprofits for a year of service and leadership.
Willson will be matched with her agency in June or July, following an interview process with prospective agencies.
"I've always been drawn to doing work in social justice and public service," Willson said. "My mother is an attorney and worked for a long time with a nonprofit agency in my community, so that was an example to me, showing me how the system could be used to work for people.
"I started researching opportunities in my sophomore year, and I learned about PULSE," she said. "I knew I wanted to work with people and do some kind of public service and be purposeful with what I did after I graduated. As an anthropology major, I learned a great deal of theory behind this work, so I wanted to put what I had learned into practice. I've also been applying to graduate schools to learn how to manage nonprofit agencies."
Willson said one of the things that drew her to PULSE was the opportunity for a hands-on experience. Part of the PULSE program includes the Fellows living together while working and becoming involved in the Pittsburgh community. The program also includes a number of training and development opportunities. She will begin her Fellowship in August.
"Part of the PULSE mission is to bring young professionals back into the Pittsburgh community," she said. "The PULSE Fellowship offers a great opportunity to be integrated into the Pittsburgh community and its events.
"I really feel like service to others is my calling, so I am very excited to get started in this work," she said.
Since its founding in 1994, more than 375 PULSE Fellows have partnered with close to 200 Pittsburgh nonprofits, contributing some 550,000 hours of service to the city and its residents.
A dean's list student, Willson has worked as a resident assistant in two IUP residence halls. She is a peer advisor in the Office of International Education. To broaden her experiences and get outside western culture, she did an anthropology course in China during the summer after her freshman year. In the summer after her sophomore year, she completed "The Road to Santiago," a five-week study abroad course that includes a 550-mile walking trek across northern Spain along the Camino de Santiago.
She participated in the Undergraduate Summer Opportunity for Applying Research program; was a member and is a past president of IUP Anthropology Club; held positions as secretary, marketing coordinator, and treasurer of the IUP College Democrats; and is the current president of the IUP chapter of Kacie's Cause, an organization working to raise awareness of the opioid epidemic in Pennsylvania and the nation, and of the dangers of opioid use disorders through community activities. She is a member of Rho Alpha Sigma Resident Assistant Honors Fraternity.