By Elizabeth Laughlin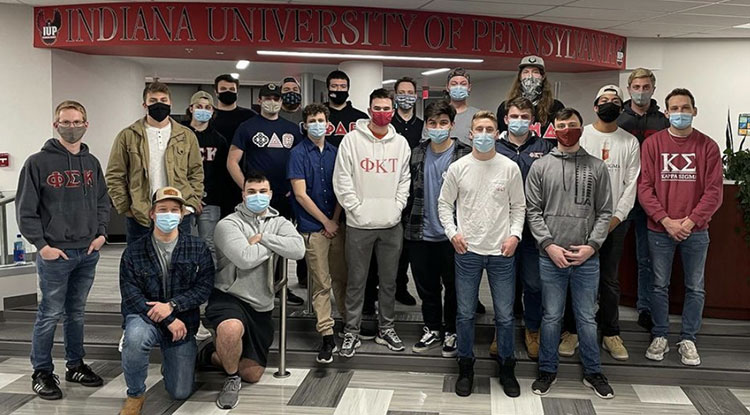 The governing organization for 10 IUP social fraternities, Interfraternity Council promotes community, leadership, service, networking, and more. Learn about the group this week in the Find Your People series.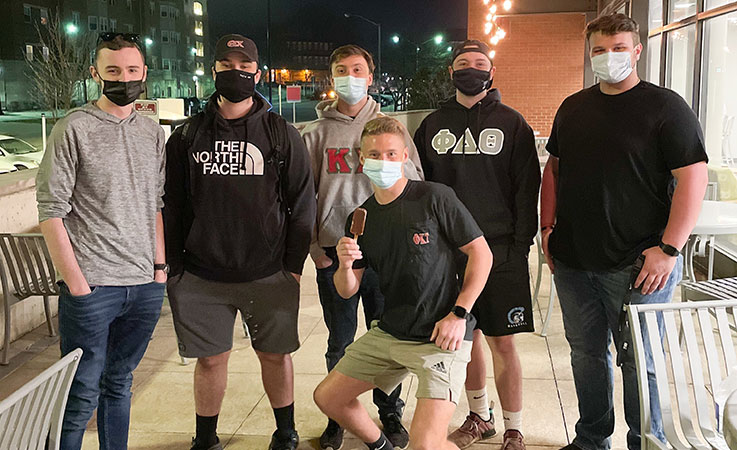 More about Interfraternity Council
Recruitment: Email go-greek@iup.edu for details.
Information: Email Patrick Milner, president, scly@iup.edu, or Ally Keller, advisor, kymcc@iup.edu. Or, see Crimson Connect.
Meetings: Every other Wednesday at 9:00 p.m. via Zoom
The Interfraternity Council continues to make a difference within the IUP community, in spite of the pandemic.
The organization promotes harmonious relationships among 10 IUP social fraternities and serves as their central government.
For the past year, the group has been getting together virtually, with delegates meeting every other Wednesday at 9:00 p.m. via Zoom.
Patrick Milner, an IUP junior majoring in political science, has been president of the organization since January. Before that, he was vice president for recruitment and retention.
As president, Milner oversees all the vice presidents: Tyler Kachmarchi, recruitment and retention; Cole Murphy, marketing and membership; Jacob Solomon, communications; Ryan Hornickel, scholarship; Ryan Mastovich, finance and philanthropy; and Shane Klein, health and safety.
Ally Keller, a student in the MA in Student Affairs in Higher Education program, is the group's advisor. She started working with Interfraternity Council in the fall.
Both Milner and Keller emphasized the importance of community within the group.
"We set our chapters up to succeed," Milner said, "and build community and life experiences that will shape their college careers."
"As undergraduates, the chapter leaders are very excited to have a group of friends and brothers," Keller said, "but I want them to see the bigger picture outside of Greek life. The leadership roles, the networking, the different committees—there's so much more out there than your own chapter's brotherhood."
Interfraternity Council is also very involved within the IUP community, they said. The group supports the IUP Career and Professional Development Center, the Center for Multicultural Student Leadership and Engagement, and the Student Government Association by attending events, volunteering, and encouraging fraternity chapters to do the same.
In February, Interfraternity Council started its recruitment with an in-person open house. Half the students met in Folger Student Center, and the other half met in Elkin Hall. Other recruitment activities, which gave potential new members a chance to learn about different fraternity chapters, were held online. During those sessions, interested students got to meet chapter brothers and alumni and play video games and watch sports and movies as a group.
Seventy-five students joined fraternities as a result of spring recruitment, Milner said.
Over two days in March, the council supported the Office of Fraternity and Sorority Life in its annual Greek 101 event, in which fraternity and sorority members completed virtual trainings. Topics included Green Dot bystander intervention, sexual violence awareness, LGBTQIA support, and diversity and inclusion.
Interfraternity Council also held a new-member social for everyone joining an IUP fraternity. Set up outside, the event gave new members a chance to interact in a socially distanced setting.
Greek Week, going on now, is an opportunity for fraternities and sororities to connect through competitions and other activities, again, while following safety guidelines.
"It's a bit competitive," Milner said. "We have games and Greek Music Awards. Fraternities and sororities chose songs that they will be lip-synching, and they record a music video, just like the MTV awards."
On April 26, Interfraternity Council, along with other Greek councils, will host an outdoor meet-the-Greeks event. This will give second-semester freshmen an opportunity to join a fraternity or sorority in the fall.
Both Milner and Keller discussed the difficulty of switching to a virtual format and keeping members engaged.
"Everything going virtual was the hardest adjustment this year," Milner said. "Overall, though, I was surprised at how supportive the chapter leaders are toward us, even with everything going on."
Members of Interfraternity Council are eager to return to in-person meetings and events, Keller said.
"A lot of students are upset about not being able to do community service or attend in-person events," she said. "But I am very excited for what the future holds."