All in the Pool
Posted on 4/16/21 12:48 PM
By Bob Fulton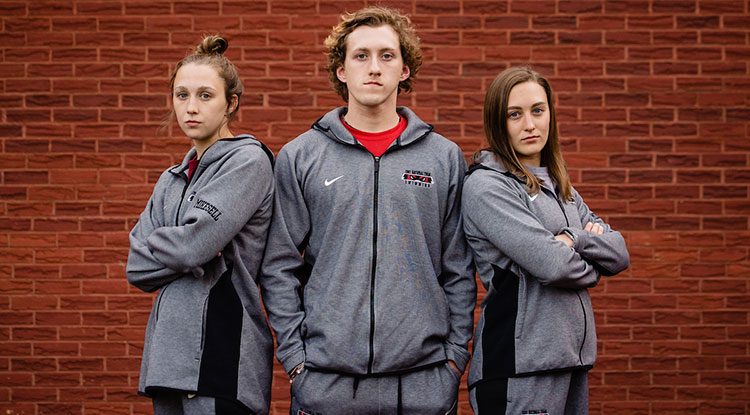 Not even multiple tornadoes could keep Paige Mikesell, herself a force of nature, from winning a national title.
Mikesell finished first in the 200 freestyle, earned All-America honors in seven events, and spearheaded a sensational IUP performance at the NCAA Division II swimming and diving championships in Birmingham, Alabama.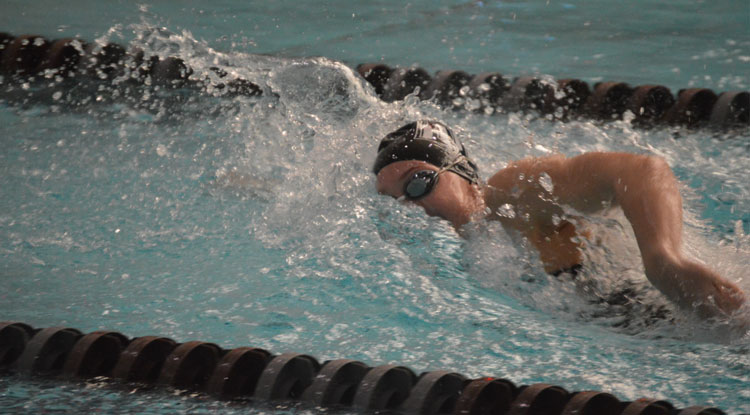 Her victory in the 200 free was something of a surprise, given that she was seeded 30th. Mikesell's relatively slow qualifying time was caused in part by a pandemic-related late start to the season, which limited the number of meets preceding nationals.
"If I would've had my fastest time, I would have been seeded in the teens maybe," she said. "Honestly, I just wanted to finish in the top eight. So to win, that was completely unexpected."
A junior from Clearfield, Mikesell also finished second in the 100 and 200 butterfly events and accumulated 59 individual points, which ranked her sixth among all participants. Her sister, Claire, a senior, placed second in the 200 breaststroke and added five All-America citations to the family haul. And brother Luke, a freshman, finished fourth in the 500 freestyle, giving the Mikesells 13 All-America honors.
Three siblings achieving All-America status is a feat unprecedented in IUP history.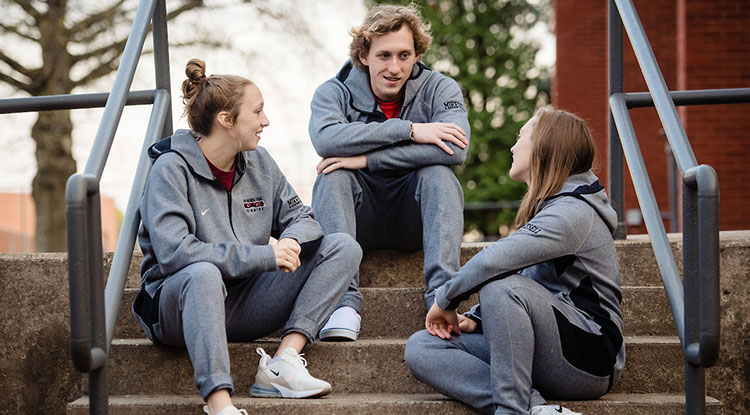 "I won't say we came here to do that," said Claire, a transfer from Ohio University who arrived at IUP with her sister in 2018. "I mean, I never once thought about it. We just thought it was going to be pretty cool for all of us to be on the same team together for the first time."
The Mikesell sisters, along with junior Rachel Johnson (five All-America honors) and senior Iliana Oikonomou (three) propelled IUP to a 13th-place finish in the women's team standings, the best in Chris Villa's 15 seasons as head coach.
A long weekend that ended with the swimmers receiving an escort through downtown Indiana and back to campus by a convoy of police cars, EMT vehicles, and fire trucks began with wailing sirens of another sort. A severe weather warning—several twisters did ultimately touch down near Birmingham—forced officials to alter the schedule and move the first day's finals to the next morning. To save time they skipped preliminaries in the affected events, the women's 200 free included, with the final order of finish determined by heat times.
Mikesell swam an IUP-record 1:48.36 in the second of five heats, chopping nearly four seconds off her qualifying time and rocketing into first place. Not that she expected to stay there, given that the top seeds hadn't yet competed.
"I knew my heat was really slow, all 1:52 qualifying times, and I needed at least a 1:49, which I had gone last year," she said. "So I knew I had to go really fast, beat everyone in my heat by a lot. That's all I was trying to do. And when I touched the wall in 1:48, I was like, oh, jeez, pretty quick."
Mikesell then waited poolside with her teammates, Villa, and assistant coach Adam Stoner to see if anyone could bump her from first.
"She swam in heat two and then she was with us, so we got to watch it unfold together," Villa said. "Heat three, heat four, she's still significantly ahead. We all looked at each other—OK, we've got a shot here. Then the last heat, they touch, and the scoreboard gives the split time first and then the final time. So we're waiting, basically holding our breath, and then it clicks, and we see that in fact she's the national champion."
The small IUP contingent erupted, jumping up and down, "going nuts," as Villa put it. Against all odds, Mikesell had won from a slower heat.
She collected All-America citations in four events that day—200 free, 100 butterfly, and the 200 free and 200 medley relays with her sister, Johnson, and Oikonomou—all in school-record time.
Claire nearly claimed a national title of her own. She clocked a 2:14.48 in the 200 breaststroke to place second and better her seventh from two years ago (she redshirted last season).
"It was the last day, the last session, everyone's exhausted," she said. "I was seeded fourth. I was just like, try to improve [on 2019], whether it's your place or your time. So last lap, I gave it all I had. I touched the wall and looked up and saw I was second. And I was ecstatic."
Luke joined his sisters as an All-American with a stirring effort in the 500 freestyle, his 4:24.67 breaking the school record he'd set in the prelims. He rebounded after a disappointing performance in the 200 free.
"The first day, that 200, I walked out on deck and I saw all the dudes that I was swimming against in that heat," he said, "and all I could think about was, I am an insect compared to these guys—so tall and so big. I was just so overwhelmed. But that was one of the reasons I did so well in the 500—I was so determined to do better."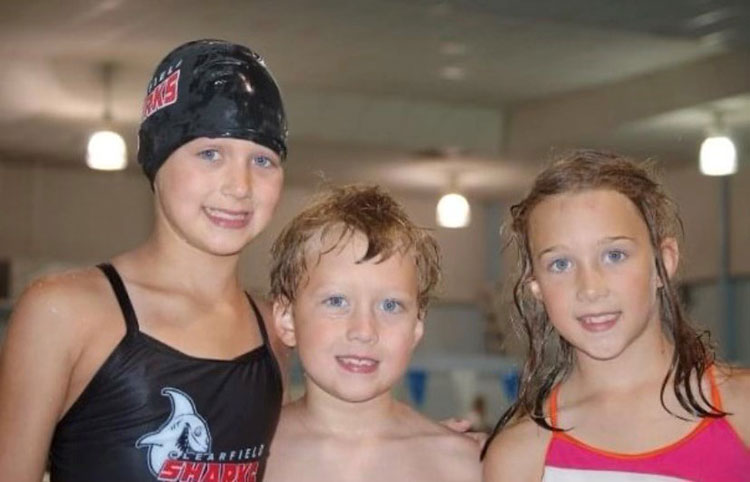 Luke and his sisters first appeared on Villa's recruiting radar while swimming at Clearfield High School, where their mother, Susan Potts Mikesell '90, competed and where dad Jon M'94 coached all three as an assistant to former IUP swimmer Jackie Pollick Morrison '85. Luke won four state titles and Paige one for the Bison, and all three Mikesells medaled numerous times.
The siblings are now thriving at IUP, in the pool and in the classroom. Paige, a health and physical education major, was named a CoSIDA Academic All-American last year and carries a 4.0 grade point average. Claire, also a health and physical education major, boasts of a 4.0 over her last four semesters and joined Paige as a Pennsylvania State Athletic Conference Scholar-Athlete. Luke posted a 3.75 GPA in his first semester as a criminology major.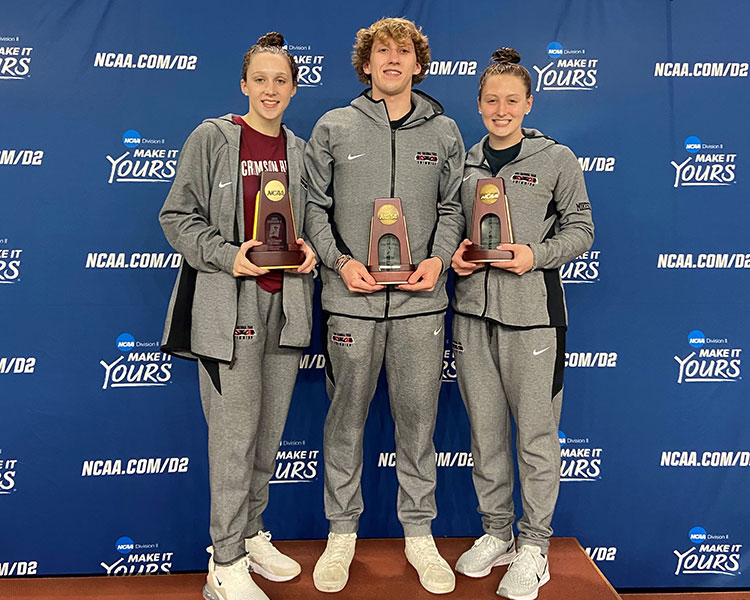 Their swimming numbers are just as eye-popping. The Mikesells have accumulated 19 All-America citations, a total that's sure to increase, given that all three will return next season. Claire plans to take advantage of an extra year of eligibility granted by the NCAA because of the pandemic.
With all three Mikesells back, Villa is looking for IUP to crash the top 10.
"We're very hopeful," he said. "We've got some more good swimmers coming in, too. [Director of Athletics] Todd Garzarelli is really supportive and thinks that we as a team can be very successful at the national level. So we're obviously very excited."
Especially since Paige Mikesell will likely contend for more national championships. Only next time, IUP's force of nature hopes Mother Nature won't disrupt the proceedings.