By Elizabeth Laughlin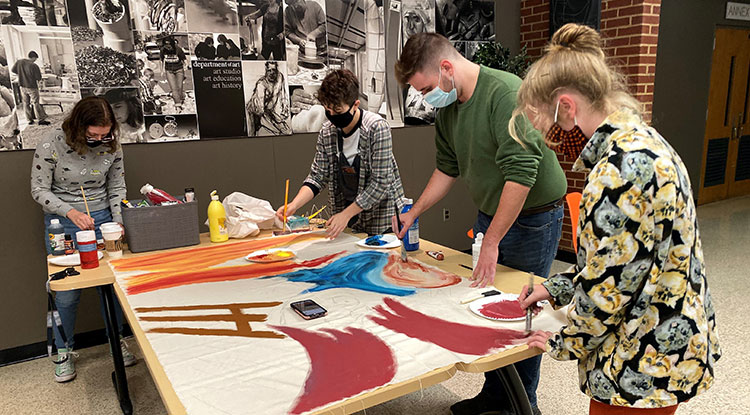 IUP's award-winning chapter of this national association, which gives aspiring art teachers experiences and opportunities in their field, is this week's focus in the Find Your People series.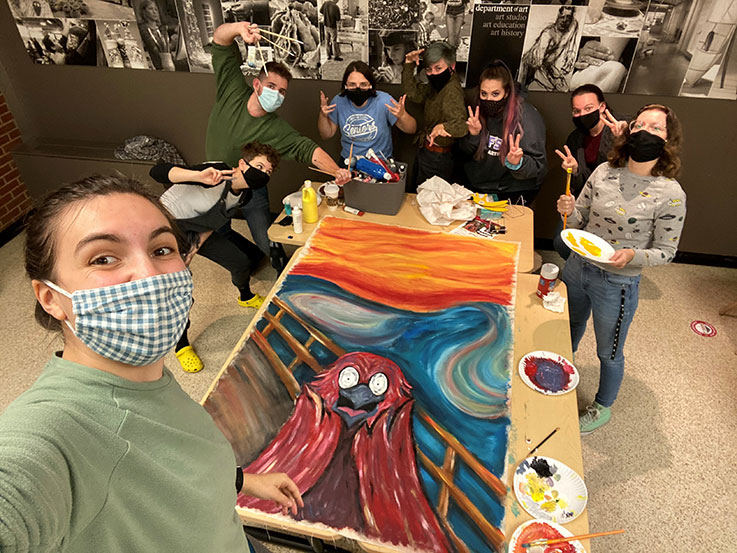 More about National Art Education Association
Meetings: Every other Thursday at 8:30 p.m.
Join: For more information or to join, contact one of the copresidents, Sydney Huston, hzmz@iup.edu, or Brianna Adkins, rwvw@iup.edu. On Crimson Connect, see National Art Education Association.
IUP's chapter of the National Art Education Association helps art education majors grow on a professional level.
The IUP group won the Outstanding Student Chapter Award during the recent NAEA annual conference. Former copresidents Kaitlyn Carey and Tristin Croyle accepted the award virtually.
The current copresidents, Brianna Adkins and Sydney Huston, have been working together since the start of the fall semester.
Adkins is an IUP senior with a dual major in art education and interdisciplinary dance arts, and Huston is an IUP sophomore majoring in art education.
After she graduates, Adkins plans to teach art as well as choreograph musicals or work in a dance studio.
The executive board also includes treasurer Mary Crouse (sophomore), secretary Rose Burger (sophomore), and public relations officer Tristin Croyle (senior).
Marissa McClure Sweeny, associate professor of art education and assistant chair of the Department of Art and Design, is the chapter advisor.
The group meets every other Thursday at 8:30 p.m., usually through Zoom. When members meet in person, it is outside Sprowls Hall or in the designated art education room with social distancing and mask wearing.
Most members are art education majors, Adkins said.
The group strives to help IUP freshmen who are preparing to enter the education field. Meetings include discussions about clearances and student teaching.
"We have a bunch of people in the club who are student teaching," Adkins said. "It's good for us to hear what they're going through and what to expect."
The group also helps its members gain experience within their field.
"It's really hard as an education major, because you don't get much experience until student teaching," Huston said. "I want our members to take the opportunities that are available to them."
Before the pandemic, those opportunities included working with children on art projects at the Artists Hand Gallery in downtown Indiana and through Sweeny's SQUAD Art Studio.
Adkins summarized the group's objectives.
"Our goals are to make a support system for art education majors and to do outreach throughout the university," Adkins said. "Getting everyone else involved in art is really important to me."
During the fall semester, the organization entered IUP's Homecoming poster contest, creating a spin-off of Edvard Munch's The Scream featuring mascot Norm.
On April 17, the group will again collaborate with SQUAD Art Studio on an Art Walk event. Held on Philadelphia Street, it will feature arts and crafts activities for people in the community.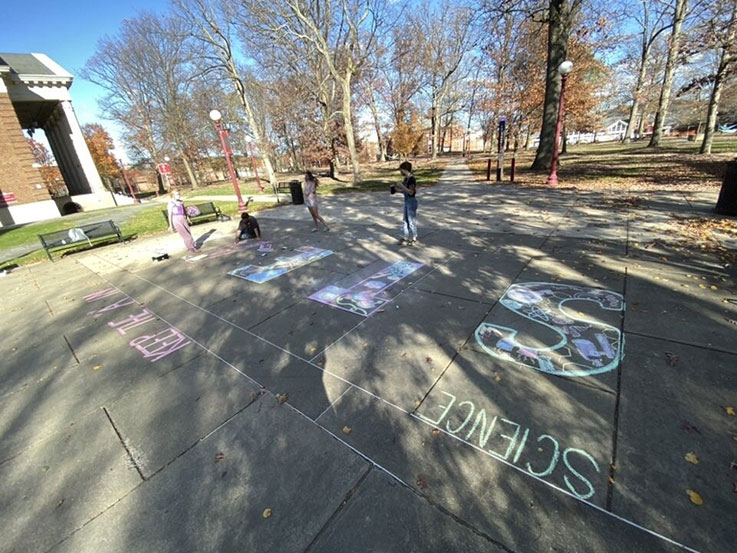 The group will also hold its Chalk the Walk event April 28 from 9:00 a.m. to 5:00 p.m. in the Oak Grove. Students can sign up for a specific category and section of the sidewalk and can win prizes for their work.
NAEA plans to host more in-person events such as craft shows and painting nights once COVID-19 restrictions are lifted.
Next week: Latino Student Organization (LaSO)