Indiana University of Pennsylvania's Criminal Justice Training Center was awarded national accreditation on March 26, 2021, by the Commission on Accreditation for Law Enforcement Agencies, Inc. in the Public Safety Training Academy Accreditation program.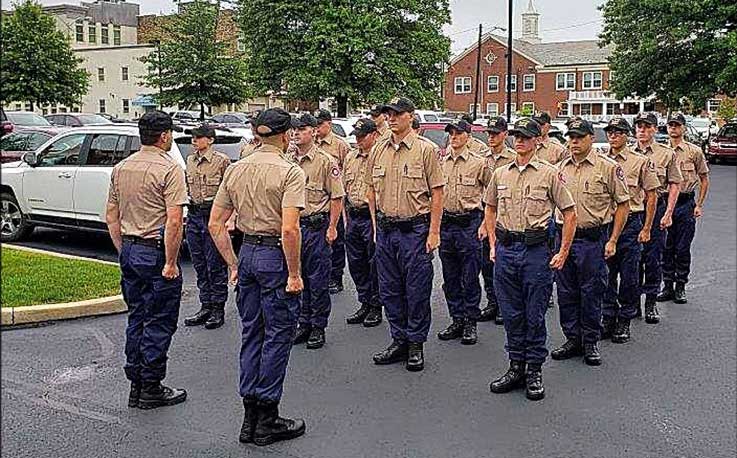 This is the IUP Criminal Justice Training Center's first award of national accreditation, and the IUP Criminal Justice Training Center is the first and only municipal police training center in Pennsylvania to achieve this designation.
"I have been impressed with the quality and professionalism of the Criminal Justice Training Center program for a long time," IUP Dean of the College of Health and Human Services Sylvia Gaiko said. "It is obvious that the CALEA accreditation agency and the reviewers of the program verified that excellence throughout the review process. Pennsylvania and IUP are fortunate to have this outstanding program."
The Commission was created in 1979 as a credentialing authority through the joint efforts of law enforcement's major executive associations: International Association of Chiefs of Police; National Organization of Black Law Enforcement Executives; National Sheriffs' Association; and the Police Executive Research Forum. The purpose of the Commission is to develop standards based on international best practices in public safety, and to establish and administer the accreditation process.
This accreditation program also provides public safety agencies an opportunity to voluntarily demonstrate that they meet an established set of professional standards based on industry best practices and approved by an all-volunteer board of commissioners.
This action by the commission follows a multi-year self-assessment phase and a meticulous site-based assessment by Commission assessors of the IUP Center's community engagement, policy, procedures, equipment, and facilities. Each agency is also reviewed by CALEA's 21-member Board of Commissioners.
Accreditation results are announced at the Commission's annual conference (held virtually due to the coronavirus pandemic). IUP Criminal Justice Training Center Director Dennis L. Marsili, who also serves as the accreditation manager, and Criminal Justice Training Center Program Coordinator Marcia Cole attended the CALEA virtual conference.
The IUP Criminal Justice Training Center now moves into CALEA's four-year accreditation cycle that includes four annual remote, web-based file reviews and a site-based assessment in the fourth year.
"This was not a simple or easy process, but we wanted that 'gold standard in public safety' that this accreditation signifies," Marsili said. "This definitely sets our Center apart from other police academies in the state," he said. "In addition, requirements to maintain accreditation will challenge our faculty and staff to perform at their best, translating into a more thoroughly trained police cadet and professional police officer."
"This award of accreditation does not come easy," CALEA President and University of Alabama at Birmingham Chief of Police Anthony Purcell said.
"Agencies must go through a rigorous review and evaluation of their organization and then implement the necessary policy and procedure changes. The process does not stop at that point. By voluntarily choosing to seek CALEA accreditation, the agency commits to an ongoing review of adherence to CALEA's standards.
"Each community with CALEA accredited agencies should be feel confident that their public safety organization is going above and beyond and operating under the highest standards in public safety," Purcell said.
Ultimately, the Commission's goals are to: strengthen crime prevention and control capabilities; formalize essential management procedures; establish fair and nondiscriminatory personnel practices; improve service delivery; solidify interagency cooperation and coordination; and increase community and staff confidence in the agency, Commission officials said.
About the Criminal Justice Training Center

The IUP Criminal Justice Training Center opened in 1975. Its premier program is the Act 120 Basic Police Officer Training Program, designed to certify individuals as municipal police officers in the Commonwealth of Pennsylvania. More than 5,000 police officers have been trained at the Center since 1975.
Over the years, the Center expanded from the its initial location on the IUP campus to 10 separate satellite locations throughout western and central Pennsylvania. As populations in the region have declined, the number of satellite centers have reduced to two: one at California University of Pennsylvania and one at Robert Morris University.
The IUP location is the Center's flagship academy, housing the administrative offices and the site for extensive training facilities. The Center is currently located on the IUP campus in the Robertshaw building. The center has three full-time employees and 63 part-time instructors.
The faculty are practitioners from diverse backgrounds and experiences, including district court judges; former county district attorneys; current and former criminology faculty, often from police ranks; police chiefs; detectives; SWAT officers; and patrol officers. This cadre of instructors has been assembled over the years and has gelled into a highly effective teaching force producing well-prepared police cadets.
The Center's full time administrative staff includes Marsili, a former detective sergeant from the New Kensington Police Department who has a bachelor's degree and master's degree from IUP; and Cole, a former sergeant from the Arnold Police Department and IUP bachelor's degree graduate who is currently completing a master's degree at IUP. Both Marsili and Cole are graduates of the IUP Police Academy. Dolores Karcher is the program secretary.
For further information, please contact:
Indiana University of Pennsylvania
Criminal Justice Training Center
Robertshaw Building, room 005
650 South 13th Street
Indiana, PA 15705
Phone: 724-357-6943
Fax: 724-357-3989
www.iup.edu/crimjustice