By Elizabeth Laughlin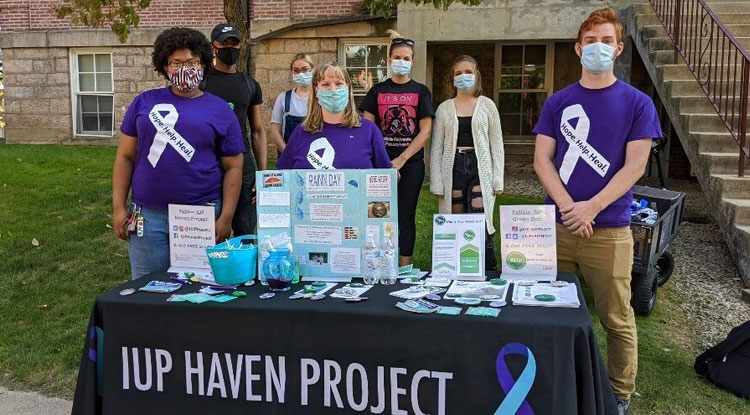 IUP's Haven Project tackles violence, stalking, relationship issues, and other tough topics with the help of students. The project is featured this week in the Find Your People series.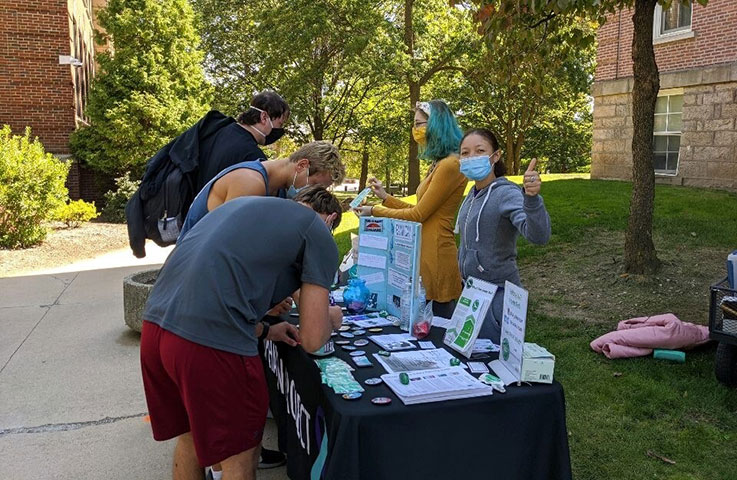 More about the Haven Project
Office: Suites on Maple East, G-2
Get Involved: For more information or to get involved, email haven-project@iup.edu. See the Haven Project on Crimson Connect, Facebook, Twitter, or Instagram.
In spite of the pandemic, the Haven Project continues to help the IUP community.
This department assists students with issues of sexual violence, domestic and dating violence, and stalking. It also provides confidential counseling and resources for students facing these issues.
Chloe DePaola, a second-year doctoral student in the Clinical Psychology program, is the graduate assistant for the Haven Project. She has worked with the project almost two years and assists mainly with the educational component.
"We provide education and resources to students on important topics like sexual and domestic violence, stalking, toxic masculinity, bystander intervention, and healthy and unhealthy relationships," DePaola said.
The Haven Project also works with the IUP Counseling Center. Jessica Miller, chair of the Counseling Center, has been Haven's director since 2016 and has been involved with the project since 2010.
Although Haven has faced challenges from the pandemic, it has stayed active throughout the fall and spring semesters. Many of its events have taken place via Zoom and outdoors in the warmer months, with members wearing masks and social distancing.
"We are trying to come up with new and innovative ideas to keep students interested," DePaola said. "These are very difficult topics. It's been such a humbling experience to educate students and to work closely with people who are also really passionate about this."
The group offers a lot of opportunities for IUP students to get involved, including as volunteers or peer educators.
Haven will hold a Sexual Violence Awareness volunteer training on Tuesday, March 30, from 5:00 to 6:00 p.m. via Zoom. Students also have the opportunity to help at the Haven Project's informational tables. These tables will be set up around campus starting in April, which is Sexual Violence Awareness Month.
The Haven Project also hires students as peer educators, who teach other students about these difficult subjects. Students interested in this job opportunity for the 2021-22 school year should email haven-project@iup.edu.
March is Green Dot Bystander Awareness Month, and the Haven Project will mark it with Green Dot Action Days on campus. These days, March 12-22, will focus on raising awareness about bystander intervention, or how to step in safely during a situation to prevent violence.
Members will make posters about Green Dot intervention and hang them around campus.
Haven also collaborates on many events. It recently participated in the Queer Conversations series with a session on healthy vs. unhealthy relationships. It will also have a table to provide information and resources during Just Paws with the Therapy Dogs, hosted by Health and Wellness Promotion in the Folger Student Center.
Earlier this month, the Haven Project collaborated with IUP sorority Alpha Xi Delta on two separate occasions to discuss dating and domestic violence and bystander intervention.
Any other organizations interested in collaborating should contact Haven with the topics they would like the presentation to cover.
On April 14, Haven will hold its Take Back the Night event virtually. This is a platform for victims and survivors of sexual assault to share their stories.
"Even though we aren't meeting in person, at least these stories and voices can still be heard," DePaola said.
Anyone can submit a story to the Haven Project for Take Back the Night. These stories will be read by Haven members in a video shared online.
Next week: Math Club