By Elizabeth Laughlin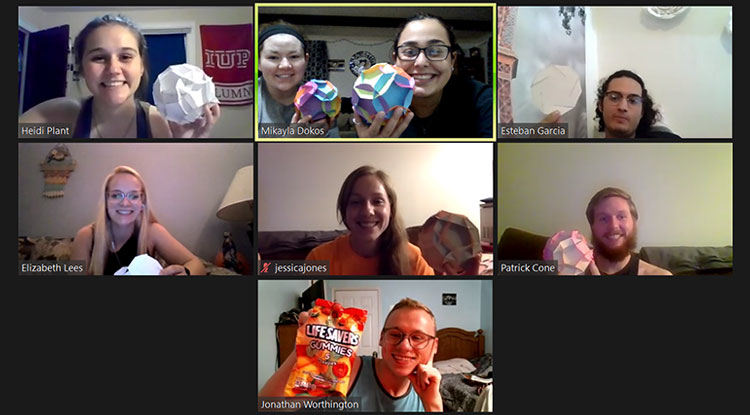 In addition to having fun with numbers, Math Club members have built friendships around the interest they share. The club is featured this week in the Find Your People series.
More about the Math Club
Meetings: Every other Friday from 8:00 to 9:00 p.m.
Join: For more information or to join, contact Mikayla Dokos, president, sdmw@iup.edu, Micayla Schambura, copresident, tbdy@iup.edu, or Timothy Flowers, advisor, flowers@iup.edu. On Crimson Connect, see Math Club.
The Math Club welcomes all students who have an interest in math.
Mikayla Dokos has been the club's president since last fall. She is an IUP senior double-majoring in math and math education.
"Math Club isn't solving insane calculus problems on a Friday night," Dokos said. "It's a good way for us to hang out and have fun."
Micayla Schambura, an IUP junior majoring in chemistry and minoring in math, is the club's copresident.
Timothy Flowers, professor of mathematics and assistant chair for Mathematics programs, is the group's advisor.
The executive board also includes graduate students Vincent Thompson, secretary, and Esteban Garcia, treasurer.
The group meets every other Friday from 8:00 to 9:00 p.m. Since the rise of coronavirus last spring, meetings have been held over Zoom.
The copresidents are responsible for planning activities each week, which has become more difficult in a virtual setting, they said. To keep students engaged, they plan activities such as an origami craft or a game of Skribblio.
During its meetings, the Math Club also plays interactive games such as Wheel of Fortune and Mathegories—the organization's spin on the popular game Scattergories.
The copresidents emphasized the club's welcoming environment and said that the members have all become close friends.
"What drew me to Math Club was the community around it," Schambura said. "I think one of the best parts of the club is that you don't have to be a math major to understand what's going on."
They also described the impact of the department (formerly the Mathematics Department and now the Mathematical and Computer Sciences Department) on their education and how it is closely linked to Math Club.
"Our department is phenomenal," Dokos said. "A lot of our professors have formed close relationships with all of us."
The club encourages its members to attend conferences and present their research. Conferences include the Student Paper Meeting, which Youngstown State University held virtually in February. Dokos, Schambura, and Elizabeth Lees, along with Flowers, all attended this conference.
"We just want everyone to further their own professional growth while also making new friends," Schambura said.
Also in February, Math Club officers participated in an international contest titled the Consortium for Mathematics and Its Applications Mathematical Contest in Modeling. They will learn the results in April.
Several members are involved with IUP's S-COAM (Scholarships—Creating Opportunities for Applied Mathematics) program. In addition to providing funding, the scholarship program pairs master's students with undergraduates to establish connections.
This spring, the Math Club will hold a sale of formal and casual shirts, with proceeds benefiting a movie night at the end of the semester. They plan to stream a film related to mathematics in some way. In the past, they have shown The Theory of Everything and 21.
Next week: Sign Language Club