Students—especially freshmen—have a lot of questions. Just knowing what office to ask can be a challenge.
Hours of Operation
The Hawks Q&A Center's regular hours:
Mondays and Thursdays, 10:00 a.m.–6:30 p.m.

Tuesdays, Wednesdays, and Fridays, 10:00 a.m.–4:30 p.m.

Saturdays, 1:00–5:00 p.m.

Sundays, 5:00–9:00 p.m.

Thanks to a new initiative, the Hawks Q&A Center, students have a one-stop shop they can turn to for help with just about anything. If the center's staff members can't help a student directly, they find someone who can.
"I just want students to feel supported," said Director Amber Racchini. "Helping is always inherent in the work that I do."
About 90 percent of the time, the questions are completely answered by the Hawks Q&A Center staff, which includes two faculty members, Racchini and Armani Davis, acting assistant director. Also on the staff are graduate assistant Jacob Cribbs and work-study student Jordan Weir.
The staff tries to respond to questions within 24 hours and can usually manage that. Extra time may be needed if they have to work with someone in another office.
"I already had a relationship with a lot of the offices [before the center started]," Racchini said. "It was easy to talk with them about how we could work together to support students. It's nice that we have developed partnerships to directly support our students."
How Does It Work?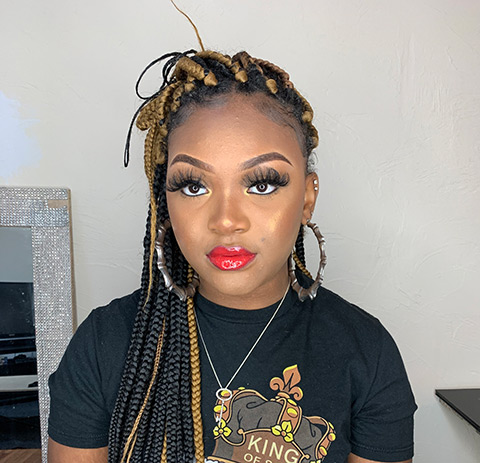 Currently, students can talk with a Hawks Q&A Center staff member by phone or on Zoom whenever the office is open. There are some evening and weekend hours built into the schedule to make it more convenient for students to talk with someone directly.
Students also can contact the staff anytime, even when the center is closed, by completing an ihelp ticket, a simple form that gathers contact information and the student's question. Most questions come through ihelp or email.
One freshman who contacted the center, Essie Josey, got her questions answered, along with the kind of support that made her feel better about her first semester in college. "I'd recommend it for upcoming IUP freshmen, because a lot of their concerns can be resolved," said Josey, a political science/pre-law major. "I think they are very helpful."
What Are Students Asking?
Since the Hawks Q&A Center opened in August 2020, staff members have been collecting information to analyze who is using the center and the kinds of questions they ask the most. This helps the staff prepare to respond to common questions.
Based on data from the center's first semester, the most common questions can change as the needs of the semester unfold. Generally, questions about academic concerns, scheduling classes, and billing are more common than those about technology issues, housing, I-Cards, student employment, mail, and student life.
"The range of questions you get is really unique, anywhere from meal plans to 'the toilet in my residence hall isn't working,'" Racchini said. "I use my own background knowledge, partnerships around campus, and the website to answer questions. It's a little like being an investigator."
Who's Using the Center?
In the first few months it was open, the Hawks Q&A Center received about 400 requests for help.
Though most people had one question or issue, one student contacted the center five times last semester.
It's not surprising that freshmen are using the center the most, but sophomores, juniors, seniors, and graduate students are also taking advantage of this helpful resource. There have even been questions from a few parents, alumni, and advisors.
"It's a helping platform that is university-wide," Racchini said.