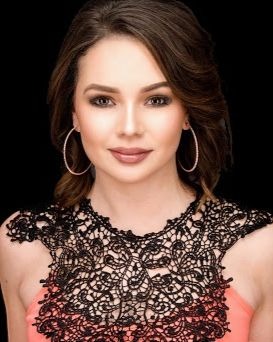 Brittany Scott, a 2011 hospitality management graduate of Indiana University of Pennsylvania originally from Butler, has been selected as a Silver Winner by Women World Awards in its thirteenth annual 2020 Women in Business and the Professions World Awards.
The competitive annual awards program is designed to recognize the world's best in leadership, innovation, organizational performance, new products and services, and milestones from every major industry in the world. Organizations of all types and sizes are eligible to submit nominations.
Scott was recognized in the Outstanding Female Professional of the Year in Sales/Business Development category.
Scott, 30, is a 2008 graduate of Butler High School. She is the daughter of Carrie Scott and granddaughter of Margaret Scott, both of Butler.
Now living in Tampa Bay, Scott is an experienced sales leader and entrepreneur and is vice president of SMB sales at KnowBe4, where she is responsible for leading a team of sales professionals. Scott also founded a nonprofit organization called Gals4STEM, which is an outreach organization aimed at educating, inspiring, and mentoring girls and women about STEM (Science, Technology, Engineering, and Mathematics) careers and degrees.
Scott volunteers her time mentoring children through the Big Brother Big Sister Foundation and leads the board for the women in technology group at KnowBe4.
"I wouldn't be where I am without IUP and the professors in hospitality shaping me and showing me who I wanted to become," Scott said. "The experiences IUP afforded me from the hospitality honor society and through the Disney internships program really gave me the confidence I needed. Those experiences and my professor's direction and care prepared me to become a professional executive at such a young age."
Scott remembers faculty member Linda Sullivan in hospitality management sharing her resume of experience and stories of her career while teaching courses. Those stories motivated Scott to work harder and strive to get out of her comfort zone, which in turn, made a lasting impression.
"I looked up to her," Scott said. "She pushed me to be better. Her background and what she accomplished in such a short time impressed me. I was raised by a single mom and grandmother and, as an only child, I knew what strong women looked like. I went to IUP as a girl, but left as a woman because of the confidence and support that IUP gave me."
Scott participated in the Disney College Program twice while a student at IUP and had a professional internship after her graduation with Disney vacation sales, where she fell in love with work in sales. Scott feels grateful to be working at KnowBe4, a company that allows her to uses her strengths to contribute.
"I really believe in supporting women and mentoring young colleagues to help them get into executive roles," Scott said. "I'm in technology and in our field, only 7 percent of CEOs are women. There's a stereotype that you have to be abrasive and cutthroat as a women leader, and it's just not true. I help other women to be themselves and find their confidence. For me, that trait was shaped by IUP."
KnowBe4, the provider of the world's largest security awareness training and simulated phishing platform, is used by more than 35,000 organizations around the globe. KnowBe4 helps organizations address the human element of security by raising awareness about ransomware, CEO fraud, and other social engineering tactics through a new-school approach to awareness training on security.
Judges from a broad spectrum of industry voices from around the world participated, and their average scores determined the 2020 award winners. Winners will be celebrated and receive their awards during a virtual ceremony in December.