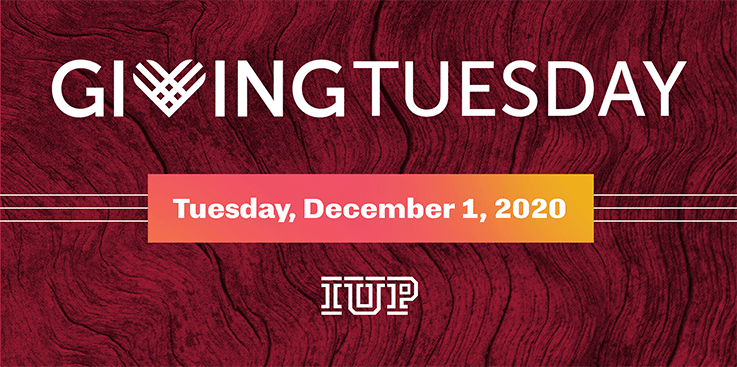 In the face of an international pandemic, Indiana University of Pennsylvania's Vice President for University Advancement Khatmeh Osseiran-Hanna knew that help couldn't wait.
On March 19—three days before the university transitioned to its March 23 online delivery of classes for all students due to the coronavirus pandemic—Osseiran-Hanna and her team established the Emergency Response Fund, designed to help defray costs experienced by students associated with technology, unexpected travel, and other unanticipated expenses related to the pandemic.
In August, the university renamed the Emergency Response Fund as the Student Assistance Fund in recognition of the ongoing needs of students due to unforeseen situations. The goal for the Student Assistance Fund is $1 million.
This year, IUP will focus its Giving Tuesday efforts on the Student Assistance Fund.
Giving Tuesday is a national effort, scheduled the Tuesday after Thanksgiving (December 1). IUP joined this national effort in 2017. Since that initial year, students, employees, alumni, and friends have donated more than $36,400 to assist students.
"For the last three years, funds raised during IUP's Giving Tuesday have been directed to providing assistance to students in emergency situations," Osseiran-Hanna said. "Focusing on the Student Assistance Fund for Giving Tuesday donations is the right fit."
IUP will focus promotion of this opportunity to "give back" on Giving Tuesday through the university's social media platforms: Facebook and #GivingTuesday on Twitter and the IUP Giving Tuesday website.
Fundraising for the Student Assistance Fund is one of the priorities of the university's Imagine Unlimited $75-million comprehensive campaign.
The Imagine Unlimited campaign—currently at 99 percent of goal—will enable IUP to step forward as a national leader by transforming the student experience through scholarships, program enhancements, and new and modernized facilities. The campaign is expected to reach—and perhaps surpass—$75 million by the end of the calendar year.
"When times are challenging and uncertain, support from our alumni, employees, and friends becomes even more important in our efforts to provide stability and growth for our promising students, and our donors continue to show us that they believe in IUP and its future through their generosity. The love and passion that they have for IUP—and our students—is inspiring," Osseiran-Hanna said.
"When COVID-19 really hit in March, we saw so many of our students with families facing job losses because businesses were shut down. My immediate instinct was that our students needed help immediately. Families could no longer help their student with rent or food, and so many students lost their own jobs that were helping to finance their education," Osseiran-Hanna said. "We couldn't be in a mode of 'let's meet about it, let's send a mailing'—we had to act now."
Osseiran-Hanna is quick to point out that while the Emergency Response Fund/Student Assistance Fund has met the immediate needs of 433 students through the $295,437.47 raised to date, the need is still very real, present, and ongoing.
"IUP has a well-deserved reputation for being a family, a place where you find your home away from home, where alumni and friends pay it forward," Osseiran-Hanna said. "The Student Assistance Fund provides that one-time support to help students in immediate need.
"Everyone has been affected by this pandemic. There are so many unknowns, but our students are resilient, and they want to continue their studies, to make a better life for themselves, for their families, for our nation, and for our world," she said. "They just need a little help to stay on track.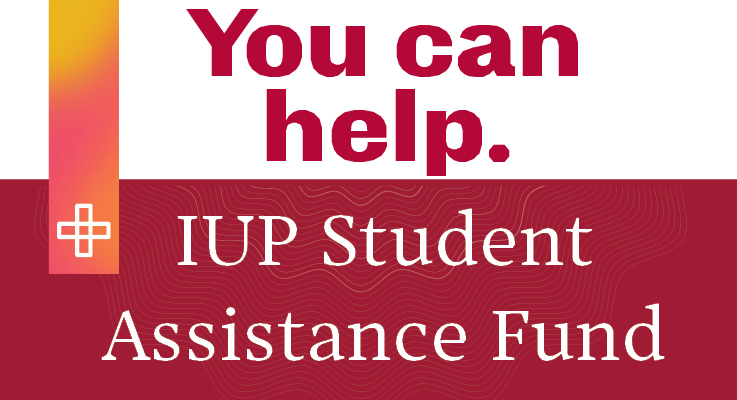 Through the spring semester, students applied for funding from the ERF/Student Assistance Fund through an online application; currently, students work with the Office of Financial Aid to make an application. Student requests have been modest in scope, focused on items critical to maintaining academic progress.
"Student requests were realistic and appropriate," Osseiran-Hanna said. "We heard from students who just needed a little help with rent for a month because they lost a paid internship when classes went remote. Students needed technology help—funding for laptops and computer programs required for coursework, and for help paying for internet. One student asked for help to pay for her nursing certification exam, because she had lost her off-campus job due to the pandemic. Another asked for help with her Wi-Fi bill for a month, until she was able to resume her off-campus job," Osseiran-Hanna said.
"Our students are so appreciative of the help they have received," she said. "One of the most heartwarming video thank-yous posted to our website by an ERF recipient is a pledge to 'pass the favor on,' and I believe with all my heart that this student will do what she promised."
Long after graduation, IUP alumni continue to appreciate the financial help they received while a student.
"So many of our alumni donors tell us that they benefited from a scholarship, or a grant, and they want to return that favor—and most do, in a far greater amount than what they received, because they believe so deeply in IUP as a place of opportunity."
While the ERF/Student Assistance Fund had several significant gifts—including gifts of $50,000 from Terry Serafini (a 1961 graduate) and from Deb and Tim Cejka (1973 graduates); gifts of $15,000 each from the IUP Alumni Association Board of Directors and the Leonard and Mary Jane Schafer Foundation; gifts of more than $14,000 from the IUP president and members of the president's cabinet; and a $5,000 gift from Rotary Club of Indiana—this fund was built on the generosity and caring of more than 800 people.
"Gifts ranged from $5 to $50,000; the average gift was just over $350," Osseiran-Hanna said. "A number of people were moved to donate several times; 49 people have made multiple gifts. This says something very special about an institution, when so many alumni and friends have a heart for giving to our students."
While many donations to IUP related to student needs caused by the pandemic focused on the ERF/Student Assistance Fund, donors have also been strong in support for IUP's Food Pantry and Help Center. IUP created the Food Pantry and Help Center in fall 2019 to address student food insecurity; the project has grown to provide hygiene items and school supplies. The project received a significant donation from Terry Serafini. Since March, more than $4,688.50 has been donated by 73 individuals.
"Our donors truly understand that our students have basic needs that are in danger of not being met, and they have stepped up in all possible ways to help," she said.
Osseiran-Hanna relates her feeling of urgency related to the needs of IUP students to her own childhood and to her native country of Lebanon.
"My home country has faced war and invasion. People lost their homes in an instant. That was the feeling I had as the pandemic hit the United States and our IUP alumni and friends all over the world. So many of our students and their families are living on the edge.
"My biggest driver is the sense of urgency that I see from these students in need. We can't get bogged down in bureaucracy or over-analyze the situation. We need to meet the needs of our students. It's just the right thing to do."