Adapting creatively is at the heart of theater, so it's only natural that students in the Department of Theatre, Dance, and Performance would find a way to put on a show and stay safe doing it. While the production is called Much Ado about Nothing, the way these theater students brought it together is truly something.
Look backstage at what students were doing and thinking as they prepared.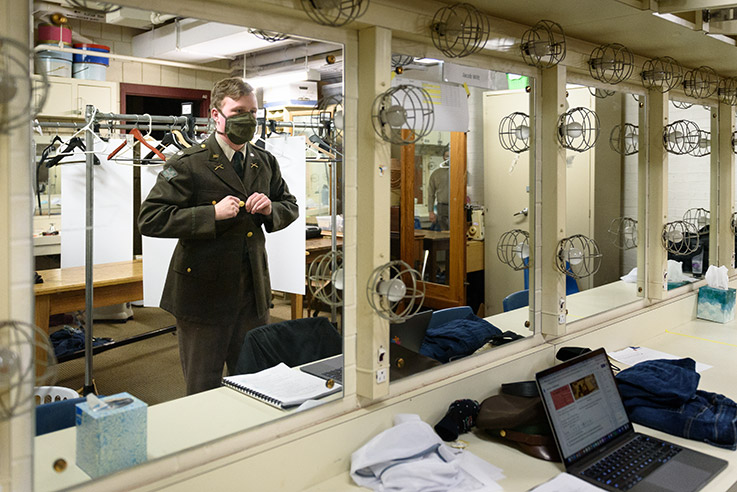 Pictured above, Jacob Wilt, a junior social studies education major, dresses for the role of Benedick. Costuming, like all aspects of the show, had unique challenges this year, said Caitlin Chavis, who worked as the assistant costume designer.
"Things were constantly changing, and we had to adapt the show in all aspects to fit CDC guidelines," Chavis said.
"As for the production team, we held all our meetings on Zoom and were changing performance plans and precautions each week to make sure we were being as safe as we could. Trying to collaborate while not being able to see each other face to face was frustrating but not impossible. We did the best we could to make theater happen in such a stressful time. Something good that has come out of this for me is the experience. I will be able to take this into the professional world and show the work I was able to do in the middle of the pandemic."

See the Performance
Get a taste of live theater done virtually. Theater-by-the-Grove's production of Shakespeare's Much Ado about Nothing will be streamed live Thursday, Oct. 22, and Saturday, Oct. 24, starting at 7:30 p.m. Order tickets for the virtual performance.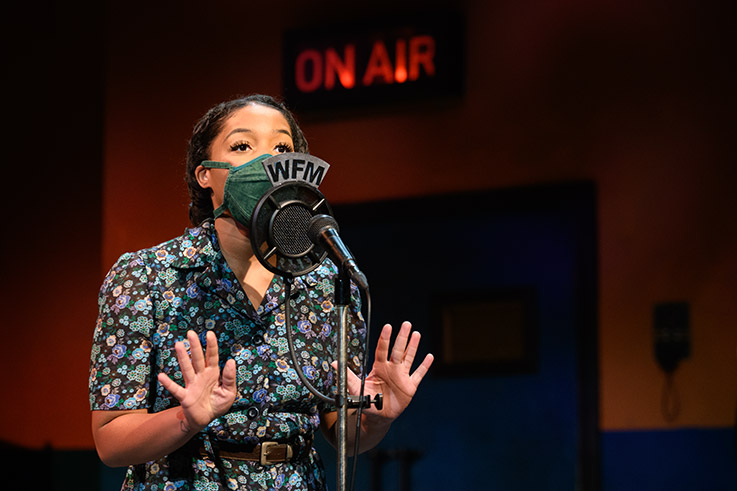 Nia Golden, pictured above, a theater major, plays the role of Ursula. As a sophomore, she has future college shows to look forward to. For Adeline Grace Riley, playing the role of Claudio, it's a final IUP performance.
"Having virtual performances means having art be more accessible," Riley said. "It's amazing being able to watch live theater from the comfort of your own home, especially if traveling or seating is an obstacle for those with health issues. Knowing that members of my family are able to see my final performance at IUP in times like these brings me so much joy."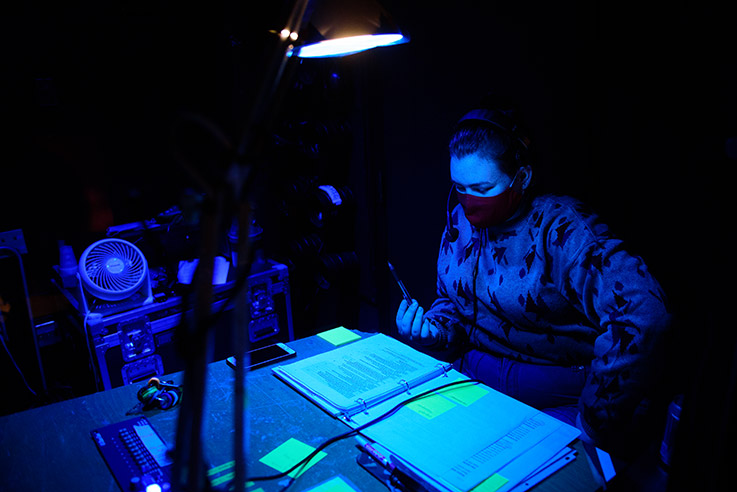 Seen above, Abby McCoy, a senior theater major with a communications media minor, stage manages the production, calling light and sound cues from the control booth in Waller Hall.
Emma Russek, who plays Beatrice, said the students were careful with mask wearing and social distancing to make sure they could continue to do the show.
"The cast and crew were all very dedicated during such an unsure and difficult time and really put their heart and soul into the show," Russek said. "The student designers and crew, such as Sam Magill and Sam Benson, took on a massive array of responsibilities and absolutely blew it out of the water. I am constantly impressed by the talents and dedication of the students of the arts at IUP."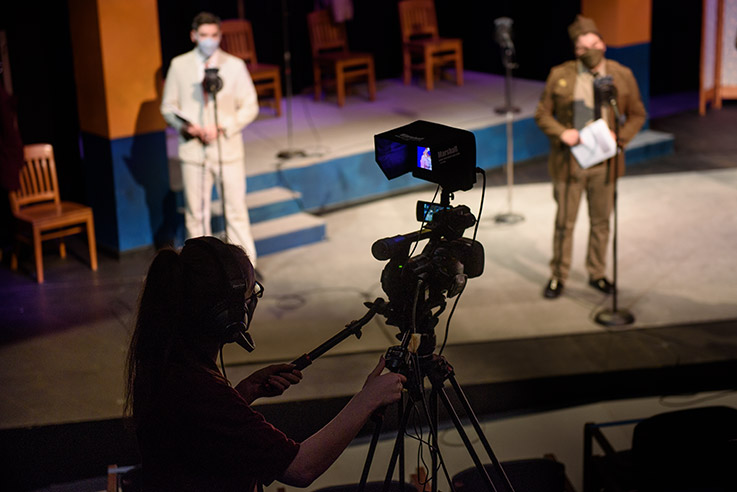 Students are also helping to bring the show to viewers. From back left, Riley Guers, a junior theater major, plays the role of Leonato, and Addison "Addie" Minich, a sophomore musical theater major, plays the role of Borachio. Megan Carpenter, a freshman communications media major with a concentration in media production, operates a video camera to live stream the show.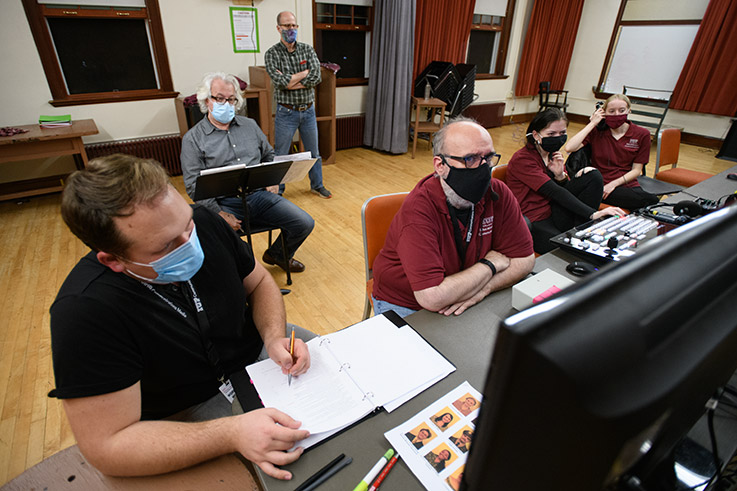 It takes a great team in the control room, as well. From left: Sam Benson, assistant director of productions; Richard Kemp, director; Brian Jones, technical director; Jeff Fratangeli, director of the Center for Media Production and Research; IUP senior Erica Samios, and IUP graduate student Allison Goodlin during a run-through of the performance.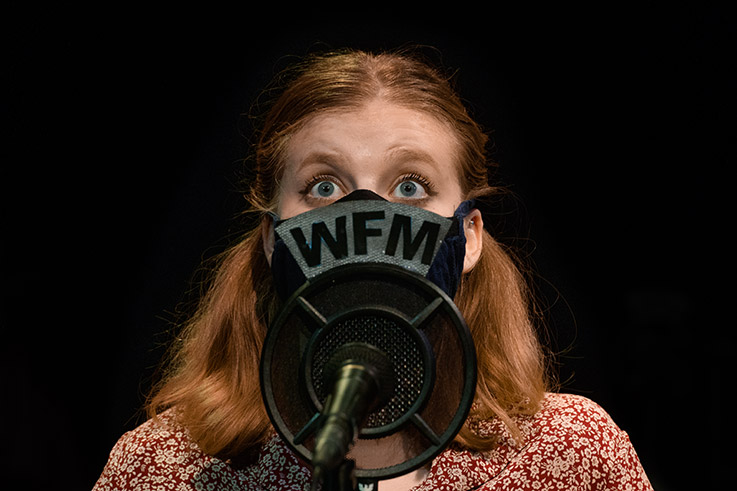 Emma Russek, a senior theater major with a communications media minor, plays Beatrice. As a December 2020 graduate, this show is both her senior project and her final production at IUP.
"As an immunocompromised person, there were times that doing this show was genuinely scary for me," she said. "But we took extensive precautionary measures to make sure to maintain everyone's health (which we succeeded in), and that was a great comfort for me. The faculty regularly checked in to make sure I was healthy and comfortable with what we were doing. Being able to put on such a wonderful production in such an uncertain time is incredibly encouraging to me as I go into the professional world. I am also just so incredibly grateful for all the hard work of my peers and the faculty, and that, in itself, is a good thing."