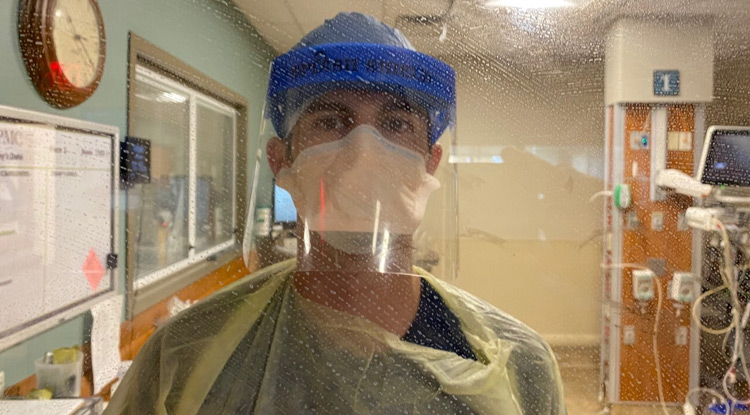 Zach Isenberg thrives on chaos.
The 2011 graduate of IUP's Respiratory Care program loves that every day on the job presents different problems to solve and new people to help. A respiratory therapist in UPMC Presbyterian's cardiothoracic unit, he helps transplant patients learn to breathe with their new lungs—not an intuitive action for the patient—and provides breathing treatments and other therapies to keep patients alive and comfortable. But when the COVID-19 pandemic hit western Pennsylvania, he experienced an abrupt change in his work.
While the unit still completed transplants, and all but the dire surgeries were placed on hold, the hospital combined units in preparation of COVID-19 patients. And then they started to arrive.
"It has been busy—really busy," he said. "And everything that I know will work has proven me wrong."
Isenberg explained that the lungs of COVID-19 patients lose elasticity, requiring more pressure to pump in air.
"I've known of a lot of people who are my age [mid-30s] who were stroking because of blood clots"
"The lungs of COVID-19 patients don't expand, so it's harder for us to ventilate them. We need to put more air in but can't, because the lungs are stretched to the limit. At that point, we become concerned that we'll cause trauma."
He said it's not abnormal for the airways of sick patients to close. Respiratory therapists are trained to employ different maneuvers to open them. Unlike flu patients, COVID-19 patients don't respond to those maneuvers.
"Lung expansion is one problem, and blood clotting with COVID-19 patients is a huge issue—in their lungs and micro clots in their fingers and toes. I've known of a lot of people who are my age [mid-30s] who were stroking because of blood clots," he said. "I haven't taken care of many patients that aren't on a ventilator. The COVID patients all complain about how hard it is to breathe, the sharp pain they have when they have to take a deep breath."
Isenberg said the virus's novel status—that it is new—is one of the biggest challenges he has seen in health care. While a great deal of data has been collected, it has been collected too quickly to properly analyze it and use it to improve treatments and make better recommendations for both the medical profession and the public.
Zach Isenberg talks about his IUP experience
"We've been lucky—for how many patients we've received. For how many had to stay in the hospital, and, ultimately, for how many of gotten to go home," he said, noting concern about a second wave of COVID-19 hitting the western Pennsylvania region.
"At first, we all were extra cautious with stay-at-home orders. It made a big difference that people weren't around each other," he said. "But now that we've been through yellow and now green phases, people are going out more. To more restaurants. We've always gone to grocery stores, but I think people are more comfortable now."
Just as he wears a mask during flu season when he works with transplant patients, Isenberg recommends donning a mask now, during the pandemic.
"Wearing a mask is going to decrease the possibility of you giving the virus to someone else, especially if you are asymptomatic. We know so many people are asymptomatic," he said. "It doesn't necessarily protect you so much, but it protects the people around you. If you spray inside your mask, your mask protects me."
Pandemic or not, he finds the respiratory care field to be one that is vital and rewarding.
"What I love about my job is that it's hectic. I love the drama. I take care of some of the sickest people in the hospital, so it's really rewarding, and I really feel like I do make a difference, but I like the pace. And even though I graduated almost 10 years ago, my job still challenges me, and I'm still learning things every day that make me better at my job."