In response to needs at two regional medical centers due to the COVID-19 pandemic, Indiana University of Pennsylvania has donated a variety of personal protective equipment to health care workers in the region.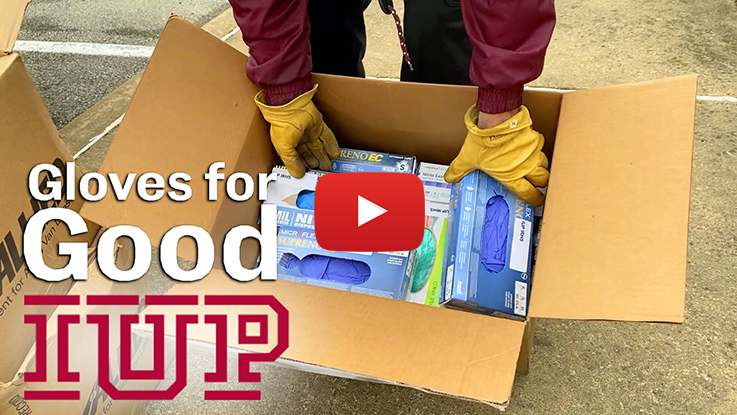 "With the shift to distance education, IUP had supplies that were not in immediate demand for use," IUP President Michael Driscoll said. "And, IUP had the opportunity to support our community health care facilities—and our health care workers on the front lines—in this very direct way."
Since March 27, IUP has provided hundreds of pairs of gloves, protective aprons, gauze, and N95 masks to Indiana Regional Medical Center and to Punxsutawney Area Hospital.

"We are grateful to have received these generous donations from IUP," Katie Donald, Punxsutawney Area Hospital Recruitment/Public Relations specialist, said. "Safety for our employees and patients is our first priority, and with these donations we are able to continue to provide exceptional care in the safest environment possible."
The items donated were originally designed for students in science and health coursework, including students at the IUP Institute for Rural Health and Safety.
"The Indiana Healthcare Foundation and Indiana Regional Medical Center are incredibly grateful for the continued support of IUP," Heather Reed, executive director of the Indiana Healthcare Foundation, said. "As we navigate the waters of these trying times of COVID-19, we appreciate IUP's partnership to enable us to continue to put the safety of our employees and patients as our number one priority."
IUP and IRMC are collaborating on a project to bring same-day, local COVID-19 testing to IRMC. The project is directed by IUP's N. Bharathan, professor of biology, and uses IUP equipment at a specialized IRMC laboratory. Testing began on April 20.
IUP is also lending its expertise and financial resources to the Indiana County COVID Avengers, a group of area students who are using 3-D printers to make face shields for healthcare workers. IUP's Research Institute donated $1,800 for materials and the use of 3D printers to create the face shields for hospitals here in the region and in New York City.