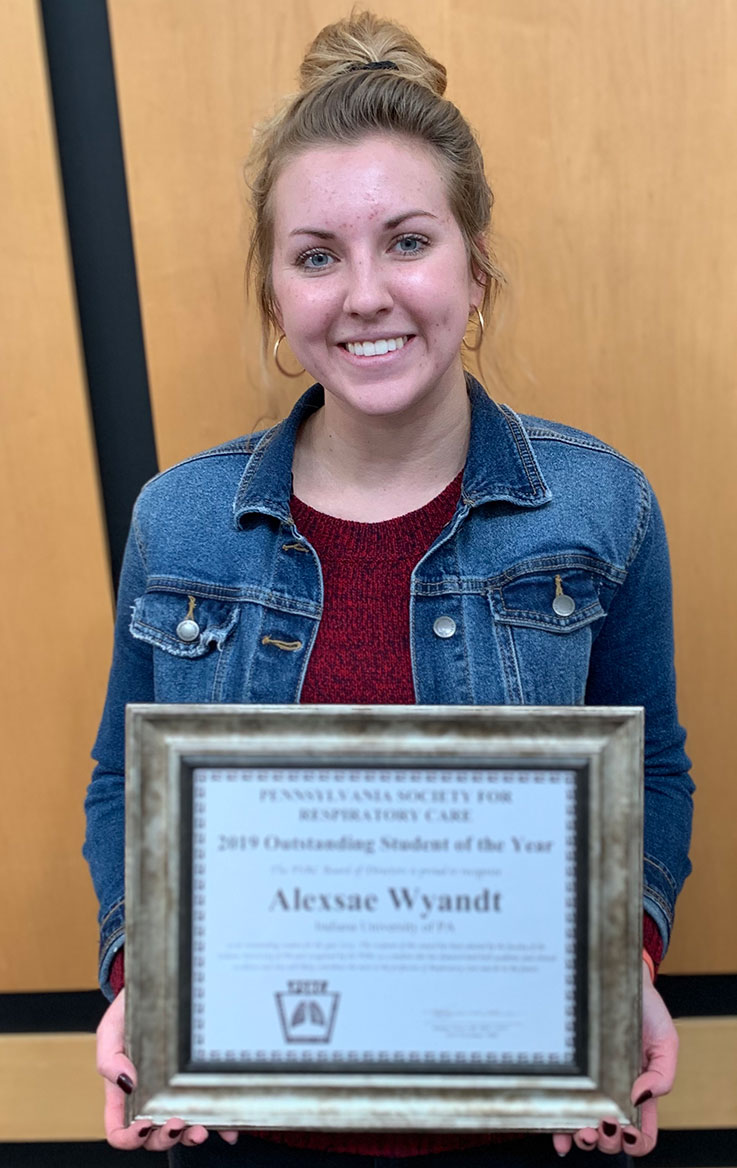 Alexsae Wyandt, a senior respiratory care major at Indiana University of Pennsylvania, has been selected by the program faculty as the IUP "2019 Pennsylvania Society for Respiratory Care Outstanding Student of the Year."
She was recognized at the Pennsylvania Society for Respiratory Care Western Regional Conference, held earlier this fall.
Wyandt, of Roaring Spring, is the daughter of Gregory Wyandt and Erin Wyandt. She is a 2016 graduate of Central High School.
She serves as president of the IUP Respiratory Care Club student organization. She volunteered to teach cadets in training at the IUP Police Academy on assessing vital signs and taught second grade students from Williamsburg Elementary School on the topic of healthy lungs. She also is a Ronald McDonald House volunteer. A dean's list student, she is completing an internship this fall.
Each year, the Pennsylvania Society for Respiratory Care recognizes students who have demonstrated both academic and clinical excellence, and who will likely contribute greatly to the profession of respiratory care, both now and in the future.
All respiratory therapy schools in the state of Pennsylvania that are fully accredited by the Commission on Accreditation for Respiratory Care are eligible to present this award once each calendar year.
Award winners receive a one-year membership renewal in the American Association for Respiratory Care, free registration to next year's conference, and a certificate signed by the Pennsylvania Society for Respiratory Care president.
Candidates for the award must exhibit academic excellence, commitment, and dedication to the profession; excellence in clinical rotations and patient care; professionalism; and be judged as most likely to contribute to the PSRC mission.
"Alexsae has shown real leadership qualities, true interest in her profession, and academic discipline," Kathryn Kinderman, assistant professor in the Department of Nursing and Allied Health Professions and director of IUP's Respiratory Care program, said. "The faculty and I are very proud of her and our respiratory care students."