Zeta Tau Alpha sorority at Indiana University of Pennsylvania raised $4,000 for breast cancer education and support for survivors in October, matching the amount raised in 2018.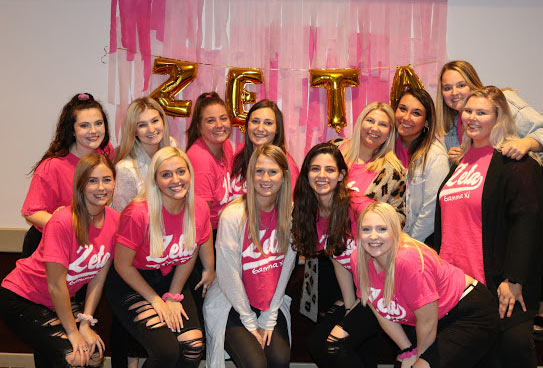 The 36-member sorority sponsored or volunteered for 11 different fundraising and awareness events during the month at IUP and in the region. The sorority's national philanthropy is breast cancer education and awareness.
Abby Jett, a child development and family relations major from Newtown, and Lydia Williams, a sophomore family and consumer science education major from York, are co-chairs of the philanthropy committee of the sorority.
"Definitely, October is our busiest month," Williams said. "Everyone gets involved, and while it's a lot of work, it's very rewarding. Everyone comes together to support us, that's one of the things that makes Greek life special."
Service and philanthropy are a major part of the sorority's activities, Williams and Jett said.
"After being in the chapter for a year, it is just an amazing feeling seeing not only the Greek community, but also the Indiana community, come together to support such an amazing cause," Jett said. "Seeing the impact that we have made just makes all of our hard work worth it."
The sorority also participated in several community and regional events, including the Indiana Business and Professional Women's Bras for the Cause program.
Almost the entire membership volunteered for the October 6 "pink out" at the Pittsburgh Steelers' game, handing out hundreds of pink ribbons to spectators to create awareness. (Nationally, pink is the color associated with philanthropy and awareness related to breast cancer.) The IUP chapter joined members of Zeta Tau Alpha chapters from other universities in the region in participating in this event.
IUP's chapter members continued the tradition of volunteering for the American Cancer Society's Making Strides Walk, held October 13 in Altoona. "We've been at this event for the past several years, and it's very moving, especially meeting cancer survivors," Williams said.
The sorority's "Pink Week" in October was a focus for many of the month's fundraising events: Pie a Zeta (make a donation to throw a whipped cream pie at a sorority member); a t-shirt sale; Hot Dogs for Hope (hot dog sale); Queso for a Cure (sale of Buffalo chicken dip); Chipotle night; Heels for Hope (a relay team event that required the male racers to wear high heels); and a spaghetti dinner.
"The dinner was really well attended. We had more than 200 people buy a meal, and alumni and cancer survivors came to the event," Williams said. Many of the dinner items were donated, including breadsticks from the Olive Garden restaurant, and spectators the event also had baskets that were raffled.
About 900 IUP students are members of IUP's 31 sororities and fraternities.