Indiana University of Pennsylvania has been selected for the inaugural Pennsylvania National Guard Associations Guard Friendly School designation.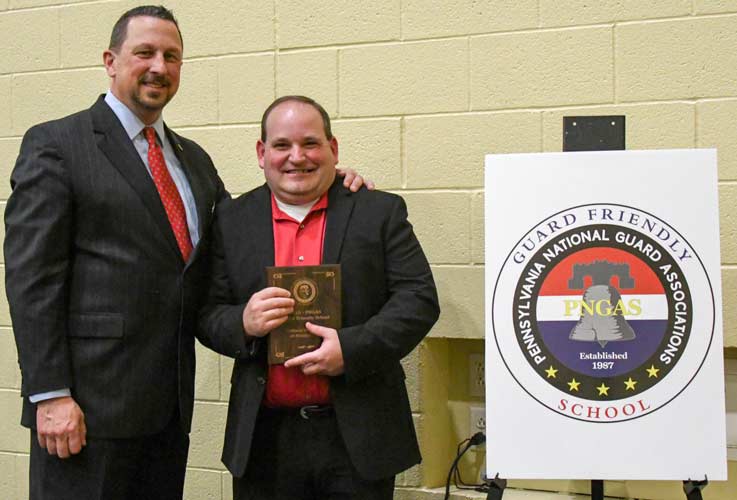 More than 480 educational institutions in Pennsylvania were eligible for the recognition; IUP is one of only 30 chosen for the designation.
The director of IUP's Military and Veteran's Resource Center, Cory Shay, attended the November 8 recognition celebration.
Developed by the PNGAS Education Advisory Council, the PNGAS Guard-Friendly School standards were designed to recognize colleges, universities, and trade schools which meet or exceed 10 baseline criteria that create a supportive learning environment to assist members of the Pennsylvania Guard pursuing post-secondary degrees.
"Guardsmen have unique responsibilities that active duty troops and reservists do not have, and this creates different challenges for them when pursuing a degree," retired Brig. Gen. George Schwartz, chairman of the PNGAS Education Action Council, said. "These 30 schools have made a deliberate effort to be flexible, accommodating, and supportive of Guardsmen-students and are deserving of recognition."
PNGAS is a nonprofit organization, not associated with or legally connected to the Pennsylvania National Guard, the state or federal government, the US military, or the Pennsylvania Department of Military and Veterans Affairs. Its mission is supporting the men, women, and veterans of the National Guard and their families.
IUP's MVRC, opened in January 2014, provides both a physical space and a system that coordinates services, information, and guidance for military-affiliated students. The center is staffed by student workers who are veterans or military-affiliated.
Almost 1,000 of IUP's current students are active military, veterans, or military-affiliated. IUP has graduated 12 generals and one Navy rear admiral.
IUP has one of the largest ROTC programs in the nation; IUP ROTC commissioned its 2,000th cadet in May 2015. IUP's ROTC program was selected for the 2014 MacArthur Award, given to the top program in the country, and has won the Governor's Trophy, presented to the most outstanding military science program at a Pennsylvania college or university, three times.