A former dean of the College of Health and Human Services and his wife have continued their commitment to Indiana University of Pennsylvania's Academy of Culinary Arts with a donation to benefit its students.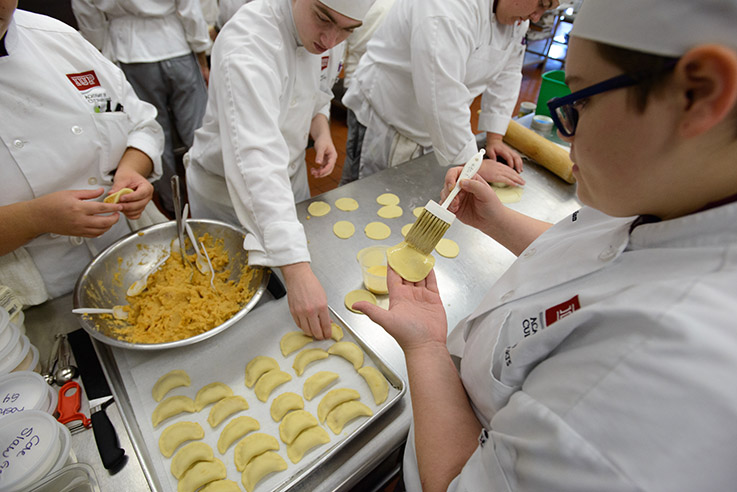 Hal and Betty Wingard, of Indiana, donated $25,000 to support the new Academy of Culinary Arts Building. Administrators at IUP are currently in the process of selecting the design architect for the new academy after the Foundation for IUP gifted three buildings for the project.
Wingard serves on IUP's Punxsutawney Regional advancement council and is a member of the College of Health and Human Services advancement council. However, the couples' connection to the Culinary Academy extends almost 30 years. Wingard was part of the original group of administrators who envisioned the academy and conceptualized its creation. Wingard believes the academy, and what it has become, is a dream come true.
"Graduates are well prepared to meet the challenges in the culinary field as they leave the academy with great skills and a hard-working attitude," Wingard said. "These exemplary students possess an accountability that serves their business well."
IUP Academy of Culinary Arts faculty members are dedicated to a developing curriculum that responds to industry demands. In 2019, the Baking and Pastry Arts program will become a stand-alone certificate program, and academy graduates will be able to earn an Associate of Science degree in Culinary Arts with an additional semester of study at IUP.
Having opened its doors in 1990, the academy has outgrown its current facility and seeks to build a new one to match its academic prestige and reputation. IUP, in close partnership with the Foundation for IUP, has taken the first step to rectify that.
In September 2018, the Foundation for IUP, IUP's nonprofit fundraising office, gifted three buildings in downtown Punxsutawney to the university to facilitate the academy's expansion.
"We believe there is great potential for growth at our Academy of Culinary Arts," said IUP President Michael Driscoll. "Securing these buildings leverages the advantages we already have in Punxsutawney, which includes not only our current facilities, like the Fairman Centre and our west end living-learning building but our strong partnerships and a joint commitment to offering educational opportunities in this community."
The Wingard's contributions to the community extend beyond their support of IUP. Betty is active in the Women's Club of IUP, Indiana County Back to School Bash (offering school supplies to financially needy children), and Katie's Closet, a program through Indiana's Zion Lutheran Church offering gently used clothing to needy individuals.
In 2015, Wingard was chosen by his peers as the Male Civic Leader of the Year. He is proactive in educating the public about heart health and has been active with the Indiana County chapter of the American Red Cross, the Indiana County United Way, and serves on the Executive Board of Citizens' Ambulance Service.
The Wingard's donations are part of IUP's Imagine Unlimited $75-million comprehensive campaign, which currently has gifts totaling over $62 million. The campaign will enable the IUP community to reach its shared vision and step forward as a national leader, distinguished by new thinking that has no limits and that cuts across traditional academic boundaries.