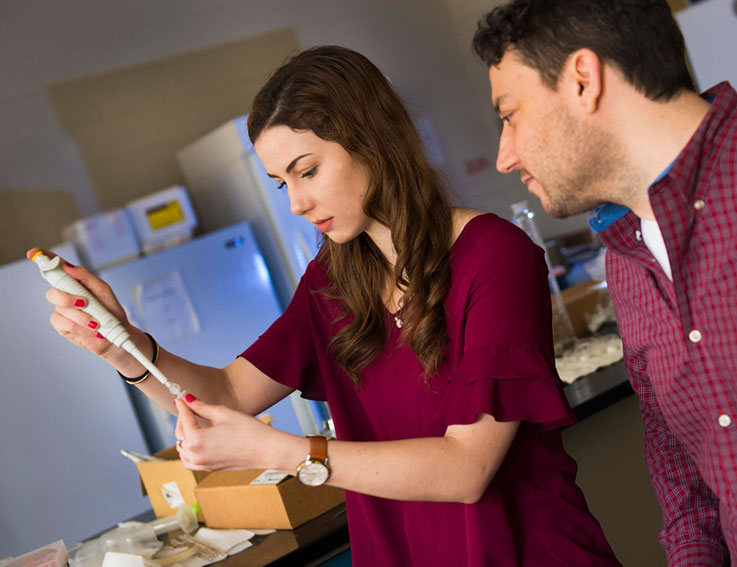 Morgan Glasser, a junior biology major and chemistry minor at Indiana University of Pennsylvania from Marion Center, is spending her summer doing research at an internationally known cancer center in Houston.
Glasser's research is funded through the Kopchick Summer Fellowship program, established by IUP graduate John Kopchick, to enable students to do research at MD Anderson Cancer Center.
Kopchick, who earned a 1972 bachelor's degree and 1975 master's degree in biology at IUP, is a professor of molecular biology and the Goll-Ohio Eminent Scholar at Ohio University. A 1980 graduate of MD Anderson UTHealth Graduate School, Kopchick made a $10.5-million gift to the University of Texas MD Anderson Cancer Center UTHealth Graduate School of Biomedical Sciences. The endowment funds up to 15 student fellowships at the center as well as competitive research awards to students and their faculty mentors.
As part of the Kopchick Fellows initiative, one IUP student each summer is selected to do research at MD Anderson. Glasser will spend 10 weeks this summer there as part of the Women and Minority Faculty Inclusion summer program.
Glasser has been paired with a research mentor, Michael Galko, PhD, who studies treatment of pain in cancer patients. His work is focused on using the Drosophila fly (fruit fly) to understand the genetic makeup that causes pain receptors to fire.
Glasser is thrilled to be exposed to the complexities of genetics in Galko's lab.
"When scientists work with drosophila they've opened the door to really understand genetics at another level," said Glasser. "I am really hoping this summer I'll come back with a whole different idea of what genetics looks like."
Glasser started working in IUP biology faculty member Robert Major's lab as a sophomore, focusing on developmental biology and regeneration. Glasser works with the freshwater planarian (a simple flatworm). It can regenerate lost or damaged tissue from amputated fragments. Glasser is hoping her research will uncover a new understanding of tissue regeneration, stem cell behavior and tissue patterning.
"Morgan's brightness as a representative of our program comes from a unique combination of academic, clinical, and personality skills," said Major. "I continue to be very impressed with Morgan's ability to interpret results in the lab and to ask interesting questions that guide our research directions. She is more than deserving of this opportunity, and I have no doubt that she will excel and become an important part of the research being done at MD Anderson."
Glasser is the second student from IUP to be selected for the Kopchick Fellows program. In 2018, Denali Davis, a May 2019 biology major graduate of IUP, was chosen as the first IUP Kopchick Fellow.
"Denali's work was impressive," Michelle Barton, dean of the Graduate School of Biomedical Sciences in Houston, said. "She was personable, worked well with the students at the graduate level, and was a great ambassador for IUP. I have every confidence that Morgan also will do very well here."
IUP is also represented at MD Anderson by Elizabeth Travis, a 1965 bachelor of science graduate in biology and an IUP 2011 Distinguished Alumni. Travis oversees the Women and Minority Faculty inclusion summer program with Barton. The two are actively involved with students in the program, attending events and seminars with them.
Glasser is the daughter of Wendy and Fred Glasser and is a 2016 graduate of Marion Center Junior/Senior High School. She received the Academic Achievement Award in Chemistry as a freshman and second place in the Commonwealth of Pennsylvania University Biologists poster presentation. She is a member of the biology honors program, Alpha Chi Sigma professional chemistry fraternity, and the American Chemical Society. In her free time, Glasser mentors incoming freshman chemistry majors and cell and molecular biology students.
In her six semesters studying biology at IUP, Glasser has maintained a perfect 4.0 grade point average. As a freshman, she applied and was accepted to the Lake Erie College of Osteopathic Medicine through IUP's acceptance agreement with LECOM. Students who maintain a 3.2 grade point average in science courses and successful completion of the Medical College Admission Test are allowed provisional acceptance to LECOM's medical school program.
In April 2018, Kopchick and his wife, Char, a 1973 graduate of IUP, announced a $23-million gift to IUP, the largest philanthropic gift in the history of the university. These funds will be used for science and mathematics initiatives. In December 2018, the IUP Council of Trustees approved the naming of the College of Natural Sciences and Mathematics and the future facility for the sciences in the Kopchick's honor. Construction for John J. and Char Kopchick Hall, the new science building, is slated to begin in spring 2020 and completed in 2022.