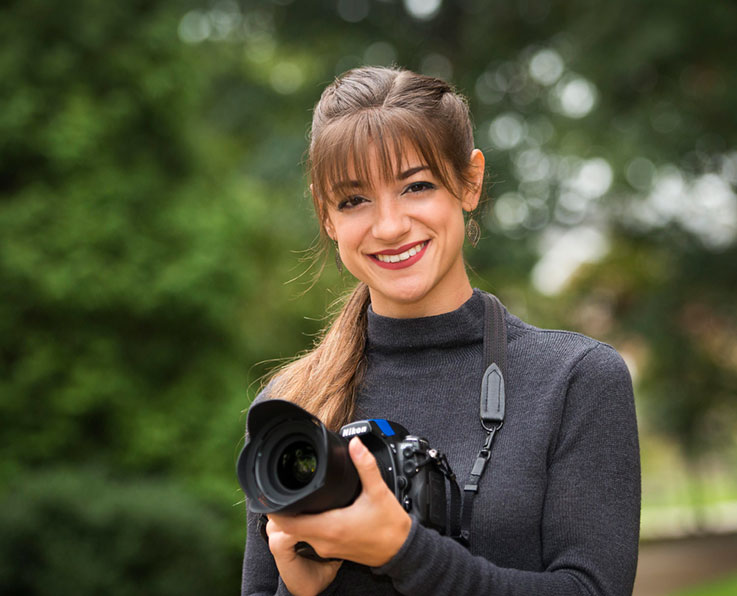 An Indiana University of Pennsylvania student from Bellwood has been selected for a three-month video production paid internship with Tesla Automotive company, based in Fremont, California.
Katie Campbell, a communications media major graduating in August 2019, will intern with the four-person video production team at Tesla. Campbell is the first person to be offered an opportunity for an internship with the video production team.
Campbell is the daughter of Jo Ann and Kenneth Campbell and is a 2015 graduate of the Grier School. At IUP, Campbell is a Sutton Scholar, Provost Scholar, and Dean's List student. She is active in the Coalition for Christian Outreach and Student Film Association. She is a student worker in the Office of Photography at IUP and volunteers with IUP's Center for Media Production and Research.
At Tesla, Campbell will help produce website imagery and marketing videos for the company, which markets itself a leader in sustainable technology.
Campbell expects the experience to grow her skills in cinematic video production while incorporating a wide variety of video equipment.
"The opportunity to work for such a forward-thinking company and be on the ground floor with professionals making video about a product that promotes sustainability and protecting the environment is really special to me," said Campbell. "I'm grateful to know that my studies at IUP have prepared me to join such an exclusive team."
Campbell has been guided in her career choices by her Communications Media faculty advisor, Mark Piwinsky, who became her advisor during her sophomore year.
"I was blown away with how much he cared about me in our very first meeting." Campbell said. "Since then, he has helped, no matter how many times I change my dream, to make the best path in college to achieve that career. He encourages me to always do my best. I feel so cared for through his dedication to my academic and career success."
Campbell is passionate about the environment and hopes to continue to be able combine her communications skills with sustainable practices. To that end, in October, Campbell completed a week-long research trip as part of the Science Technology Engineering and Math Student Experiences Aboard Ships (STEMSEAS) initiative, doing video and photography to document the trip. The STEMSEAS program gives college students hands-on learning experiences in STEM (Science, Technology, Engineering, and Mathematics).
Campbell has been invited to submit a video of her STEMSEAS experience to the "2019 National Science Foundation (NSF) STEM for All Video Showcase." The STEM video showcase is an annual online event. It features two- to three-minute videos from hundreds of federally funded projects that aim to improve STEM.
Campbell's video submission will present to viewers the problem the STEMSEAS researchers faced, how they fixed it, and program goals. Beyond educating the public about work in their field, the goal is for videos to enable leaders in the STEM field to learn about what other federal agencies are doing with grant money given by the NSF.
Following her Tesla experience, Campbell will complete the Disney College program in Florida.