During its annual Celebration of Philanthropy on the evening of April 5, Indiana University of Pennsylvania celebrated the volunteers and donors behind the ongoing success of its Imagine Unlimited comprehensive fundraising campaign.
The event included the presentation of the university's inaugural Award of Excellence in Volunteer Leadership to Tim and Deb Phillips Cejka, of Latrobe and Houston.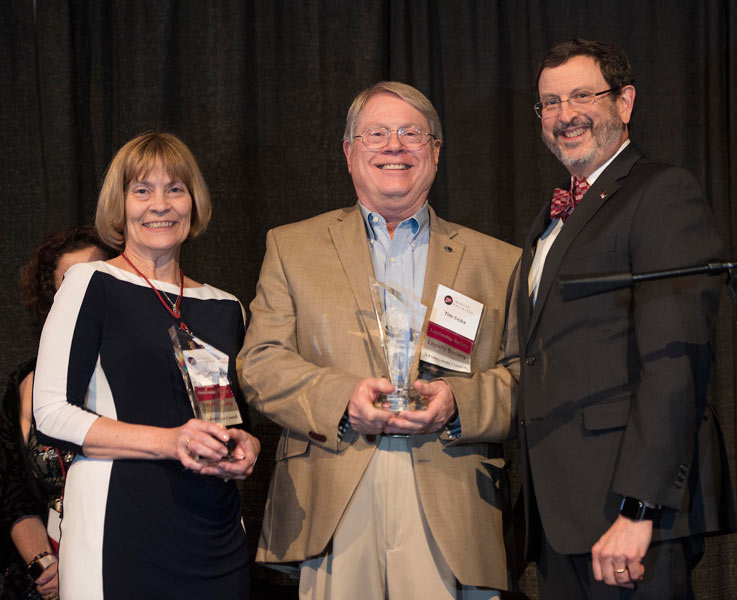 President Michael Driscoll and Khatmeh Osseiran-Hanna, vice president for University Advancement, also announced that the Imagine Unlimited campaign has raised $62 million and is at 83 percent of its $75 million goal. The event was attended by more than 450 guests comprised of donors, volunteers, and students.
The Cejkas are members of the IUP National Campaign Cabinet of the Imagine Unlimited comprehensive fundraising campaign and serve as chairs of the portion of the campaign that benefits the John J. and Char Kopchick College of Natural Sciences and Mathematics at IUP.
At the 2018 Celebration of Philanthropy event, the Cejkas announced that they would commit an additional $2 million to the $5 million they have already given to IUP. That additional $2 million contribution completed the match required by the Commonwealth of Pennsylvania Department of General Services to begin construction of a new facility for science and mathematics. Construction of the new building, John J. and Char Kopchick Hall, is set to begin in 2020, with completion of the new facility expected in 2022.
Tim Cejka was appointed to serve as a member of the IUP Council of Trustees in October 2018. Both Cejkas are 1973 graduates of IUP. In May 2018, the IUP Council of Trustees honored the Cejkas with a resolution to name the IUP planetarium and atrium in Kopchick Hall in recognition of the couple's ongoing generosity and support.
Tim Cejka retired as president of Exxon Mobile Exploration and vice president of Exxon Mobil. He received the IUP Distinguished Alumni Award in 2006.
"At this celebration last year, we unveiled our Imagine Unlimited Campaign with the announcement of two monumental gifts," Driscoll said. "One of those gifts came from Deb and Tim Cejka. Their generosity astounds us all, but their hard work on behalf of IUP is one of those things that is difficult to calculate.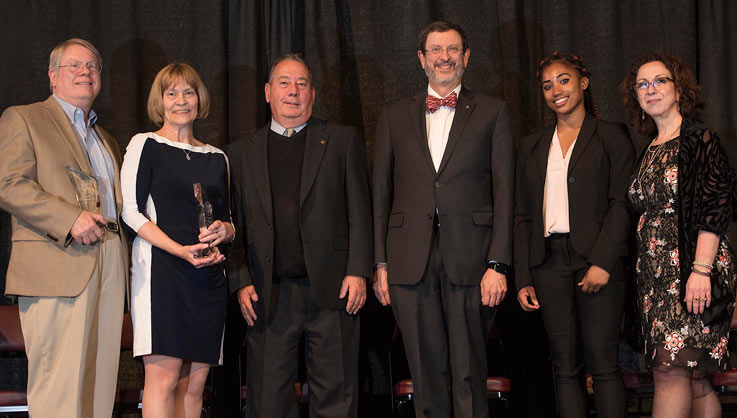 "They've been there for us every step of the way—opening doors, consulting on how our new science facility will best serve students, and advocating for IUP because they believe in what we do. They've hosted alumni, donor, and corporate events, they've been visible on our behalf and—well, they do almost anything we ask them to do, graciously and, frankly, with great success. Tim's insight as a new member of our Council of Trustees has been invaluable.
"The Cejkas are the definition of volunteers—the kind of people who understand that philanthropy is more than dollars. Great philanthropists also are willing to influence hearts and minds."
During the event, Osseiran-Hanna recognized the generosity of Terry Serafini, a 1961 graduate, who has established scholarships to benefit business and mathematics students, supported capital projects including the Grant Street Park, and "inspired students to learn their own lessons in philanthropy by providing matching funds in student giving campaigns," including the IUP Food Pantry project.
Dani Wade, a junior international business and accounting major from Penn Hills, discussed the issue of food insecurity on college campuses and the work of the Frederick Douglass Institute's Each One Reach One in offering a campus food pantry.
"This event is about our donors—those who choose to entrust IUP and the Foundation for IUP with their philanthropic investment," Osseiran-Hanna said. "We don't take the trust lightly. Because of our donors and volunteers, our students go on to change the world, armed with deep insight and critical thinking skills."
Imagine Unlimited campaign co-chair Bill Madia (IUP '69, M'71), highlighted successes of the past year, including a $23 million gift from John J. and Char Kopchick, announced at the 2018 at the Celebration of Philanthropy. The gift is the largest in the history of the university and in the Pennsylvania State System of Higher Education.
In December 2018, IUP's Council of Trustees honored the Kopchicks with the naming of the College of Natural Sciences and Mathematics and the new science building in their honor.
"Giving and dollars are a natural focal point for any event that celebrates philanthropy, but what's most important is the campaign's outcome," Madia said. "It will enable IUP to open young minds to all possibilities. It is, right now, cultivating transformation, and it is bringing us together to celebrate a university we all love and trust."
IUP's Imagine Unlimited comprehensive campaign recently enjoyed the following successes:
Launch of Crimson Crowdfunding, IUP's crowdfunding platform. A total of seven projects have raised $18,763. Two of the projects—the IUP Marching Band and the Labyrinth Center, a program for students with autism spectrum disorder—met or exceeded fundraising goals.

Giving Tuesday (Nov. 28, 2018), which far exceeded its $10,000 goal with a total of $15,247 raised from 144 donors. Nearly $8,700 of these funds are supporting the IUP Food Pantry to address food insecurity of IUP students.

IUP Giving Day on March 26, which generated more than $158,000 from more than 855 donors (685 of them students) in a 24-hour period; with matching funds from Serafini, the total raised is $203,000; gifts continue to come in.
Photos: Tim and Deb Phillips Cejka with President Driscoll; Tim and Deb Phillips Cejka, Bill Madia, President Driscoll, Dani Wade, and Khatmeh Osseiran-Hann, vice president for University Advancement. Photos by Keith Boyer