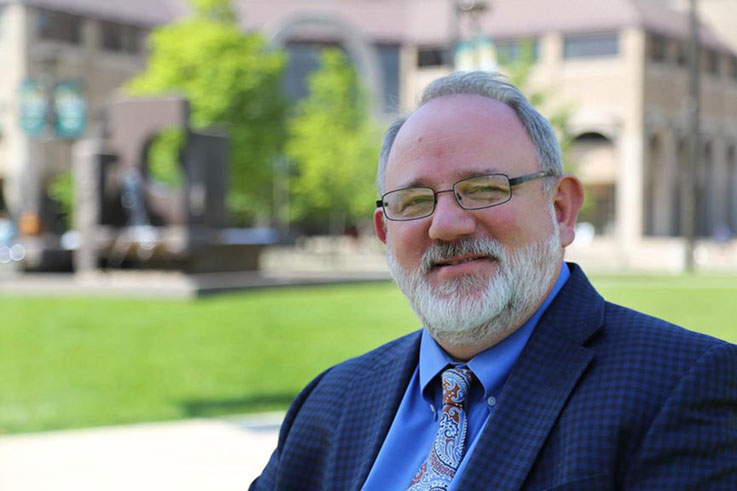 Following a national search, Erik Nordberg, interim assistant dean of the University Library System at Wayne State University, has been selected to serve as the dean of the Indiana University of Pennsylvania Libraries.
Nordberg will begin his work at IUP on May 1.
Nordberg brings more than 25 years of experience working in academic libraries and archives to the IUP role. Prior to his current position, he held leadership positions at the Walter P. Reuther Library at Wayne State, the Michigan Humanities Council, and the Van Pelt and Opie Library at Michigan Technological University.
"Dr. Nordberg brings an incredible wealth of talent and experience in so many aspects of his field, from university leadership to research to archival expertise," IUP Provost and Vice President Timothy Moerland said. "He clearly understands the changing expectations of a university library, as well as IUP's commitment to having all have a focus on student success. I'm very pleased he will be joining the IUP community.
"I want to thank the members of the search committee and our interim dean, Dr. Janet Guyden, for her work in not only keeping the ship afloat, but moving us forward in a very positive way."
Nordberg has a PhD from Michigan Technological University, a master of science degree in library science and certificate of archival administration from Wayne State University, and a master of philosophy degree in Anglo-Irish literature from the University of Dublin. His bachelor's degree in combined humanities is from the University of Ulster at Jordanstown, County Antrim, Northern Ireland.
"I'm honored and thrilled to be chosen to serve in this role at IUP," Nordberg said. "My wife, Jane, and I look forward to becoming part of the community as we make Indiana our new home. It is a welcome return to the friendly, small-town atmosphere we enjoyed for many years while working at Michigan Tech and living in Michigan's beautiful Copper Country."
"Academic libraries must prove their relevancy to their host institutions and directly advance teaching and research missions," Nordberg said. "It is imperative that we define and communicate the library's impact on student success, its role in teaching and learning, its coordination of the research exchange on campus, and how it collaborates with other educational stakeholders. I am excited to lead the IUP team in this important work."
While at Reuther Library, Nordberg created an Outreach Archivist position and he has led larger efforts to reshape the community engagement, marketing, and communication systems across the entire Wayne State University library system. In each of his professional roles, he has expanded public programming, exhibits, and speakers' series, successfully engaging campus communities and the public in the work of libraries, archives, and public history.
He advanced an integrated program of research, writing, exhibit, and promotional programs to mark the 150th anniversary of WSU's founding and attracted discretional institutional funding for the project. Externally, he has had significant success with grant-writing and philanthropic giving, including a successful effort to re-engage with the United Auto Workers union and an annual contract for a full-time professional archivist to support the collaborative work with the union's historical records.
Nordberg has been active with a variety of library, archival, and historical professional associations, he regularly presents at national conferences, and he has authored a number of articles in professional magazines and journals. His work has also been acknowledged with awards from state and national organizations.