Indiana University of Pennsylvania graduate Nathan (Nate) Spade, of Mechanicsburg, has been appointed by Pennsylvania Governor Tom Wolf and confirmed as a member of IUP's Council of Trustees. His term will extend through December 2022.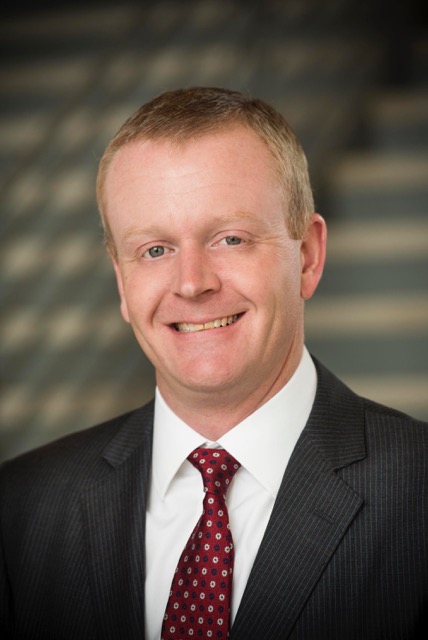 Spade, a 2001 graduate of IUP who earned a bachelor's degree in political science, replaces Mary Esther Van Shura, who served from October 2009 through January 2015.
In addition to Spade's appointment, the terms of two sitting trustees, Jonathan Mack and David Osikowicz, have been extended to 2022.
"It is a great honor and privilege to have the opportunity to serve my alma mater, its students, and faculty," Spade said. "IUP prepared me well for my career in public service, and I look forward to working with the Council and President Driscoll to further the mission of the university, carry on its tradition of greatness, and position it well for its future success."
The IUP Council of Trustees is responsible for financial oversight of the university and ensuring compliance of university policy with state law. The council meets quarterly. Its last meeting was December 15.
"We are excited about having Nathan join the Council of Trustees," IUP President Michael Driscoll said. "He's an alumnus who has turned his political science degree into a great career, working for the legislature and for Governor Tom Wolf.
"In talking with Nathan, it is clear that he has a passion for his home college, the College of Humanities and Social Sciences, and for the university as a whole. It's wonderful to have another well-informed, engaged individual join an already great group."
Governor Wolf appointed Spade to serve as deputy secretary of Legislative Affairs on February 2, 2015. In his role with the Wolf Administration, Spade serves as an interface between the administration and members and staff of the General Assembly. He is responsible for the oversight of the Governor's legislative agenda for nearly half of the agencies in state government.
Most recently, he worked closely with all four legislative caucuses to guide five bills addressing Pennsylvania's heroin/opioid epidemic through the legislative process to the Governor's desk following the Governor's September joint address to the General Assembly on this issue.
Spade's role also entails involvement in the state budget process and legislation associated with the budget. Last spring, he represented the administration in negotiations on oil and gas regulation legislation and amendments to the Pennsylvania Greenhouse Gas Regulation Implementation Act.
Prior to serving as a member of the Wolf Administration, Spade was employed by the Senate Republican Caucus for five years as executive director of the Transportation Committee. His responsibilities included managing and negotiating legislation reported from the Committee through the legislative process.
During his tenure with the Senate, he was instrumental in the passage of Act 89 of 2013, which raised an additional $2.4-billion annual investment in all modes of transportation, as well as Act 88 of 2012, Pennsylvania's public-private partnership law for transportation projects and initiatives.
Spade began his career with the Pennsylvania Department of Labor and Industry's Office of Legislative affairs. In 2002, he went to work for the House Republican Caucus as a budget analyst with the Appropriations Committee. There, he was responsible for fiscal analysis of legislation and agency budgets, focusing on healthcare, regulatory, economic development, and transportation matters.
Spade was elected to the position of Silver Spring Township supervisor, Cumberland County, in 2009 and served in that position from 2010 to 2015. He prioritized public safety and support of volunteer EMS providers, responsible development, farmland and open space preservation, and improved delivery of public services.